Missouri Attorney General Eric Schmitt vowed on Thursday to fight against vaccine and mask mandates and criticized employers who are requiring employees to be vaccinated, saying fear is a tactic "tyrants" and "dictators" use.
About 52 percent of Missouri's adults are fully vaccinated against COVID-19, and the state's lottery program appears to be an effective incentive, helping to drive up inoculations. However, the concept of vaccine requirements still faces pushback, with several health care workers walking out of their jobs in protest and state senators looking to ban businesses from requiring the shot as a condition of employment.
"Americans shouldn't have to live in some dystopian biomedical security state and I'm going to do everything I can as Attorney General to protect the rights of individuals," Schmitt tweeted Thursday, adding the hashtags "NoMaskMandates," "NoVaccinePassports" and "NoLockdowns."
Earlier in the day, a reporter asked Schmitt for his thoughts on whether it was a "sane" thing to use fear of losing a job to motivate people to get vaccinated. Schmitt responded that "every tyrant and dictator in the history of the world" has used fear to "accumulate, aggregate and maintain power."
Schmitt added that he believes people can decide for themselves whether to get vaccinated, noting that America is the "freest country in the history of the world." He vowed to do "everything I can to protect the rights of individuals in the state" while attorney general.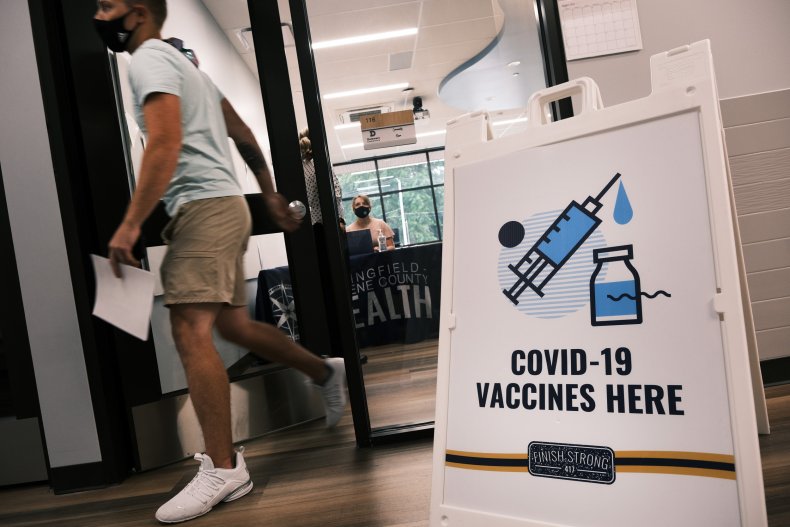 A law passed in June prohibits local governments from requiring proof of a COVID-19 vaccination to use public transportation and other services. But it left the decision on whether to mandate vaccines in private businesses up to the owners.
Most employers in Missouri are opting to encourage workers to get vaccinated. But some places, such as the Federal Reserve Bank of Minneapolis, have made it a condition of employment.
Neel Kashkari, president and CEO of the Minneapolis Fed, said implementing the decision was threefold. He noted that unvaccinated employees could infect other unvaccinated employees, as well as those who cannot be vaccinated for health conditions. Also, vaccinated employees have expressed concerns about getting infected and passing on the coronavirus to a family member who can't get vaccinated.
Kashkari also said the decision to require vaccinations would have been much harder if the bulk of employees weren't voluntarily vaccinated
A few states have banned businesses from requiring vaccines, and six Republican state senators are pushing Governor Mike Parson to do the same. In a letter last week, they asked him to call a special session so legislators could put a halt on vaccine requirements.
The Missouri Chamber of Commerce pushed back on the request, saying businesses should continue to have the right to mandate vaccines.
"Getting vaccinated is good for business, good for public health, and it's the only way Missouri can begin to put this pandemic behind us," said Daniel Mehan, president and CEO of the Missouri Chamber of Commerce. "The Missouri Chamber stands against attempts to place reckless new restrictions on the state's business community."
Newsweek reached out to Parson's office for comment but did not hear back before publication.