Missouri Averaging 3000 COVID Cases a Day, Hospitals Overwhelmed in St. Louis, Kansas City
A statewide COVID-19 surge has caused Missouri to record a seven-day average of more than 3,000 new infections per day. The high infection numbers have already started to overwhelm hospitals in the St. Louis and Kansas City areas as concerns grow about further outbreaks due to holiday gatherings and the quick-spreading Omicron variant.
The over 3,000 seven-day average is a stark increase from the less than 1,000 average seen in October, and now health leaders are worried about what may lie ahead if more people don't get the COVID-19 vaccine or follow other precautions that will reduce the risk of transmission.
"We worry that we are headed toward this perfect storm," Dr. Alex Garza, co-leader of the St. Louis Metropolitan Pandemic Task Force, said Tuesday.
The Centers for Disease Control and Prevention said in an update Monday that it has "identified the potential for a rapid increase in infections of the new variant" in the U.S. The public health agency has also announced that Omicron has become the dominant strain in the U.S., accounting for 73.2 percent of cases in the week ending December 18, CNN reported.
The variant surpassed the highly-contagious Delta variant quickly, which only made up 26.6 percent of infections in the same week.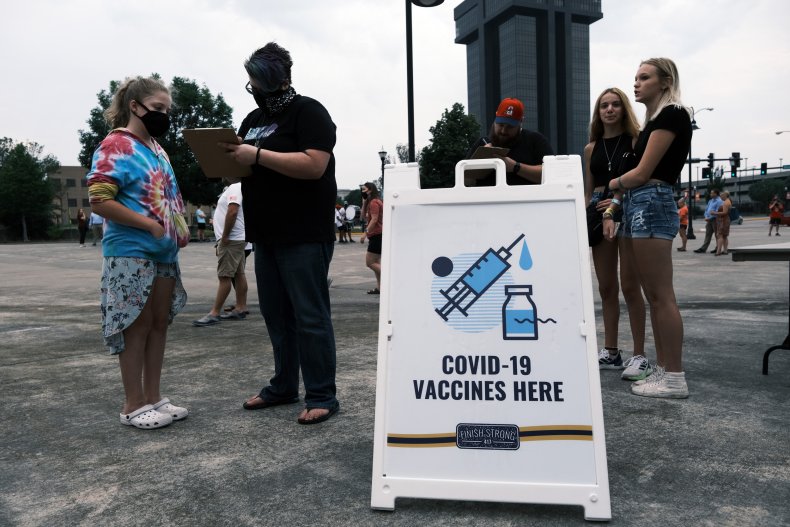 Dr. Hilary Babcock, an infectious disease expert with St. Louis-based BJC HealthCare, said scientists are learning that Omicron cases double every two to three days because of how easily it transmits and its short incubation period.
"Omicron will crowd out delta over a pretty short timeline, over the next week or so," Babcock told the St. Louis Post-Dispatch. "What we can expect is that there will be more cases."
Garza said the only defenses are vaccination and public health measures such as wearing a mask and social distancing.
"We are asking everyone—business owners, employers and individuals—to do whatever they can to decrease transmission of the virus. One of those best ways is to wear a mask in public," Garza said.
The Kansas City region is now averaging around 844 new COVID-19 cases per day over seven days, according to data tracked by the Kansas City Star. That's up from 748 average daily cases just last week, and it's the highest seven-day rolling average since January.
Forty people have died from COVID-19 in Kansas City in the past week, and some Kansas City hospitals are running out of beds to treat non-COVID-19 patients.
The Associated Press contributed to this report.