Missouri: Branson Duck Boat Tragedy Death Toll Rises
At least 13 people are dead, including children, after a duck boat capsized in stormy weather on Table Rock Lake just outside the city of Branson, Missouri, on Thursday evening.
The boat was carrying 31 people, reported CNN, and divers are working in the water to locate additional victims. The Southern Stone County Fire Protection District described the scene as a "mass casualty incident."
A video shot by a passenger on another duck boat shows two of the boats on the lake struggling against strong winds and big waves as they attempt to reach shore at around 7 p.m. The footage was shown by KSHB-TV. Four people remain missing.
Duck boats are amphibious vessels with large, open windows, that can also drive on land. They are used all over the world and are popular with tourists.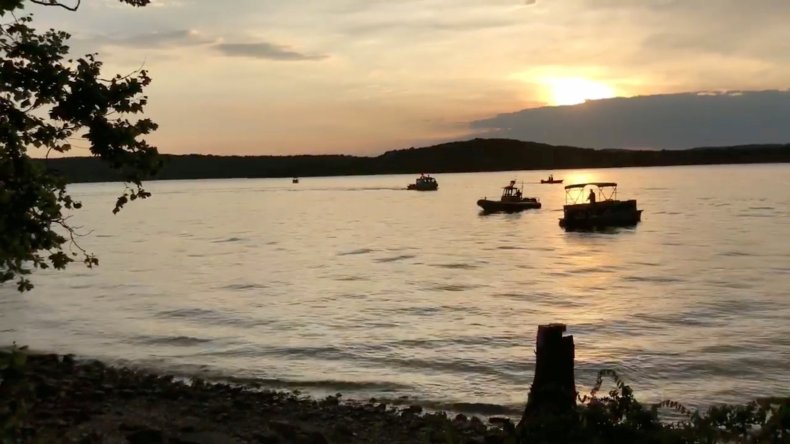 "I believe it was caused by the weather," Stone County Sheriff Doug Rader said at a media briefing. KOLR10 reported that radar recorded winds of more than 50 miles per hour in a storm that caused lots of damage locally and left thousands without power.
Cox Health Medical Center in Branson said on Twitter it was treating seven patients, at least three under the age of 18, and that two were in critical condition.
Branson's City Hall is open to victims and their family members. City officials also set up a command post.
"We thank everyone for the overwhelming outpouring of love, support and willingness to help their fellow neighbors during this tough time," said a statement by Melody Pettit, communications manager for the city of Branson.
"It is a true testament to the character and spirit of the residents of Branson and southwest Missouri. We ask that people respect the privacy of the victims and their families at this time as all of us walk through this process."
Ripley Entertainment owns Ride the Ducks Branson. "We are deeply saddened by the tragic accident that occurred this evening at Ride The Ducks Branson," Suzanne Smagala-Potts, a spokeswoman for Ripley, told Newsweek in an emailed statement.
"This incident has deeply affected all of us. We will continue to do all we can to assist the families who were involved and the authorities as they continue with the search and rescue.
"The safety of our guests and employees is our number one priority. We will provide updates as we have additional, confirmed information to share."
President Donald Trump offered his condolences to the victims' families.
"My deepest sympathies to the families and friends of those involved in the terrible boat accident which just took place in Missouri," the president tweeted. "Such a tragedy, such a great loss. May God be with you all!"
This article was updated to increase the death toll after new information and to add President Trump's condolences.