Suspect Passes Gas so Loudly That Police Locate His Hiding Spot, Officers Say They Were Able to 'Sniff Him Out'
A sheriff's office in Missouri has taken the unusual step of offering helpful advice to criminals, in a comical post that has already been shared more than 1,000 times.
On social media, the Clay County Missouri Sheriff's Office referenced an unfortunate incident (for the suspect, at least) that took place last weekend. A man was captured by officers after his hiding position was ruined by a thunderous bodily function.
"If you've got a felony warrant for your arrest, the cops are looking for you and you pass gas so loud it gives up your hiding spot, you're definitely having a [poop emoji] day," the department wrote, alongside an image of deputies hunting for a suspect with help from a K-9 unit.
While the police statement did not reveal specifics about the case, Missouri officials confirmed the person was detained on a warrant for possession of a controlled substance.
The arrest was aided by the Liberty Police Department. "We've gotta give props to Liberty PD for using their senses to sniff him out!" the sheriff's office post continued, pun intended.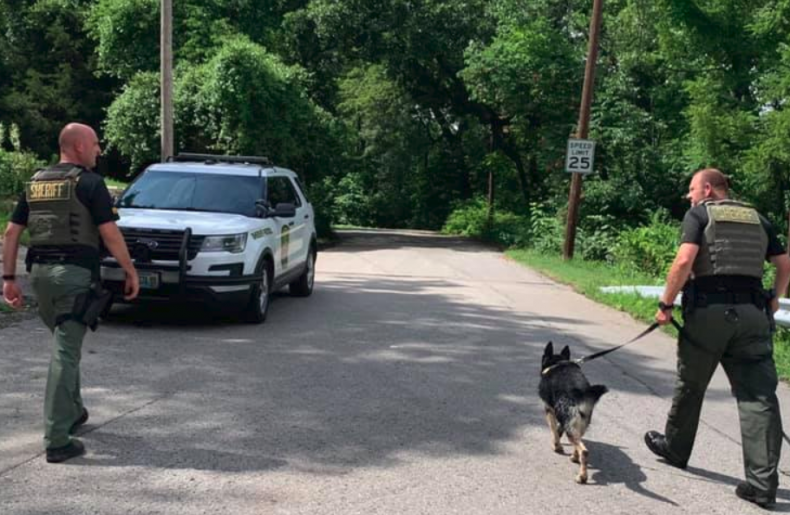 Shared to Facebook and Twitter yesterday, the update quickly attracted hundreds of comments and shares, as memes and comical responses flooded the social media accounts.
One Facebook user commented: "I just feel bad for the K9 officer, I mean he could smell that better and further away than the human officer could hear it even!" The post even gained the attention of the City of Liberty's official Twitter profile, which didn't miss a beat.
The city account wrote back: "Thanks to @SheriffClayCo for airing out a wanted person's dirty laundry and fanning the flames. The Liberty Police Department was surprised to see this incident slip out, which stinks for the arrestee. Fortunately, no-one was injured during his arrest."
The suspect's personal information or mugshot was not released by the police. One deputy told local media outlet KOMU-TV the arrest took place in the 800 block of Marilynn Avenue.
It's not the first time surprise flatulence has sparked trouble.
In November last year, Florida police said in an arrest affidavit that a woman who "farted loudly" in a Dollar General store was arrested after threatening to gut a man that complained.
Shanetta Yvette Wilson, 37, was charged with aggravated assault with a deadly weapon without intent to kill following the altercation with the man, who was identified by deputies as John Walker.
A complaint alleged Wilson took out a "lock back knife" after the pair got into a verbal disagreement about the noise. Walker said he was left "in fear that he was going to be stabbed by the defendant," the affidavit said, first reported by the Miami Herald newspaper.