Missouri Could Become Second Red State to Expand Medicaid Amid Coronavirus Pandemic
Amid the coronavirus pandemic, Missouri voters have the chance to expand Medicaid for hundreds of thousands of residents during the state's primary elections on Tuesday, August 4.
The proposed amendment to the Missouri constitution would expand eligibility to include residents between the ages of 19 and 64 whose income is at or below 138 percent of the federal poverty level—roughly $18,000 for a single person and $35,000 for a family of four.
Medicaid expansion has been a rife partisan debate ever since it was enacted in 2014, but it's become an even more timely discussion amid the COVID-19 health crisis. The federal and state health insurance program for people with low incomes or disabilities has been expanded by a majority of states, but 13, most of which are run by Republicans, have opted out of it.
If voters go for the measure, Missouri would be the second red state to expand Medicaid amid the ongoing health crisis. The proposed expansion would take effect on July 1, 2021, if it's passed.
Oklahoma narrowly approved a ballot initiative in late June to expand Medicaid to eligible adults who need health insurance. The measure passed with just over a 6,000-vote margin, which was less than one full percentage point.
The passage was a blow to President Donald Trump's campaign against the Affordable Care Act. Oklahoma became the fifth state run by conservatives to approve an expansion at the ballot box during Trump's tenure in the White House. Maine was the first in 2017, followed by Idaho, Nebraska and Utah in 2018.
Enthusiasm for the measure among Missourians was evident by the 350,000 people who signed the petition to get the amendment onto the ballot this spring. It was twice the amount of signatures legally required to get a ballot initiative.
Since then, millions of Americans have lost their private insurance plans after becoming unemployed due to the virus outbreak. A study from the nonpartisan consumer advocacy group Families USA estimated that 5.4 million American workers were stripped of their health insurance between February and May. In Missouri, more than 700,000 people filed unemployment claims from mid-March through the first week of July.
Advocates for the Medicaid amendment say it would create jobs, bring billions of federal taxpayer dollars back to the state and make health care available for thousands of residents. Studies show that it would expand coverage for approximately 230,000 Missourians.
A July report from the Center on Budget and Policy Priorities found that the states that have already implemented Medicaid expansion are better positioned to respond to the coronavirus outbreak and the accompanying economic downturn. The study also estimated that 28,000 Missourians with disabilities would gain access to coverage under Medicaid expansion, as would 34,000 essential workers.
"Now more than ever, our frontline health care providers and other essential workers deserve the utmost protection," said A.J. Bockelman, the campaign manager for Healthcare for Missouri, which is leading the "Yes on 2" campaign in support of the amendment. "These are hardworking Missourians in positions such as home health aides, restaurant workers and delivery drivers whose jobs don't provide health insurance."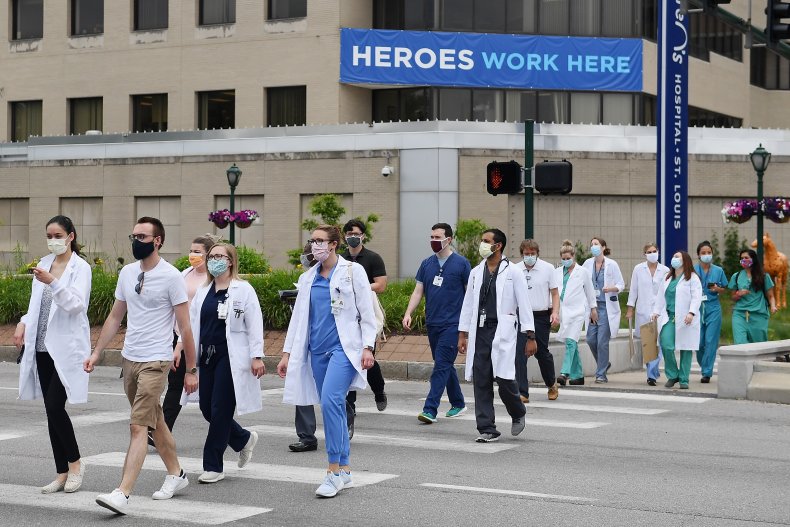 Opponents of the Medicaid expansion measure argue it will add a high amount to the state budget, which is already seeing a historic shortfall due to a major drop in revenue. The shortfall has already forced Republican Governor Mike Parson to make more than $400 million in budget cuts.
Parson said earlier this year that it wasn't the time "to be expanding anything in the state of Missouri" and that "there's absolutely not going to be any extra money whatsoever."
But the Missouri Chamber of Commerce has endorsed the amendment as a pro-jobs measure that can fuel economic growth amid the current recession. The chamber said economic projections showed expanding the health care program could add 16,000 jobs per year for five years and expand the state's economic output by $2.5 billion. Plus, a fiscal analysis by the Center for Health Economics and Policy at Washington University in St. Louis predicted Medicaid expansion would save the state up to $39 million after it was implemented.
"Let's not miss this chance to bolster our economy during this recovery while expanding access to health care for our fellow Missourians," Daniel P. Mehan, president and CEO of the Missouri Chamber of Commerce and Industry, said in a statement.