Missouri Duck Boat Update: 17 Branson Victims Identified, Nine From One Family
Authorities have released the names of the 17 people who lost their lives when a duck boat attraction overturned and sank in Branson, Missouri on Thursday, July 19.
The identities of the victims, who ranged in age from one to 76-years-old, were released in a statement issued by the Stone County Sheriff's office on Friday according to The Kansas City Star. The list included the names, ages and states where the victims lived.
Nine of the victims were from one Indiana family who had 11 relatives on the duck boat that evening, five of which were adults and four were children under the age of 10. Angela, Arya, Belinda, Ervin, Evan, Glenn, Horace, Maxwell and Reece Coleman lost their lives in the accident. The other two members of the family who were on the boat who survived include a 13-year-old boy and his aunt.
Tia Coleman, who survived the accident along with her nephew, told local news outlets that her "heart is very heavy" and that she lost all of her children and her brother-in-law in the capsize.
Five casualties were from Missouri and included married couple William and Janice Bright. Other state residents who died were William Asher, Rosemarie Hamann and Bob Williams. Williams was the boat's captain and was known informally as "Captain Bob."
Arkansas father and son Steve and Lance Smith were among the victims of the boating accident. Loren Smith, the daughter and sister of the victims, was on the boat as well but survived, suffering a concussion. According to a report from The Sacramento Bee, Steve Smith was a retired math teacher.
Leslie Dennison from Illinois, another victim of the accident, was on the duck tour with her son and granddaughter when the boat began sinking. Later in the hospital, the granddaughter said that Dennision saved her, according to a local news report.
Thirty-one people were on board the "Ride the Ducks" tour Thursday when thunderstorms caused severe winds up to 60 mph to make the water turbulent and difficult to navigate. A video taken by a witness shows massive waves rocking the boat, making it impossible to reach the shore.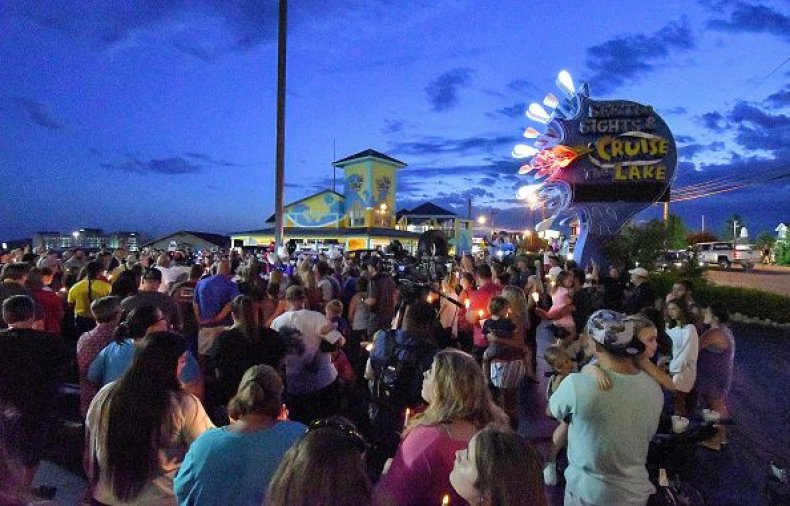 About 300 people gathered in southwest Missouri on Friday to mourn the 17 victims, according to a report by the Associated Press. The news wire also reported that Senator Claire McCaskill will examine "legislative solutions" to increase the safety of duck boats. Missouri's other senator, Roy Blunt, called the deadly incident a "tragedy that never should have happened."
Below is the list of Missouri duck boat victim names reported by the Stone County Sheriff's office.
William Asher, 69, of Missouri
Rosemarie Hamann, 68, of Missouri
Janice Bright, 63, of Missouri
William Bright, 65, of Missouri
Angela Coleman, 45, of Indiana
Arya Coleman, 1, of Indiana
Belinda Coleman, 69, of Indiana
Ervin Coleman, 76, of Indiana
Evan Coleman, 7, of Indiana
Glenn Coleman, 40, of Indiana
Horace Coleman, 70, of Indiana
Maxwell Coleman, 2, of Indiana
Reece Coleman, 9, of Indiana
Leslie Dennison, 64, of Illinois
Bob Williams, 73, of Missouri
Lance Smith, 15, of Arkansas
Steve Smith, 53, of Arkansas