Missouri Set to Become First State Without an Abortion Clinic in Just Four Days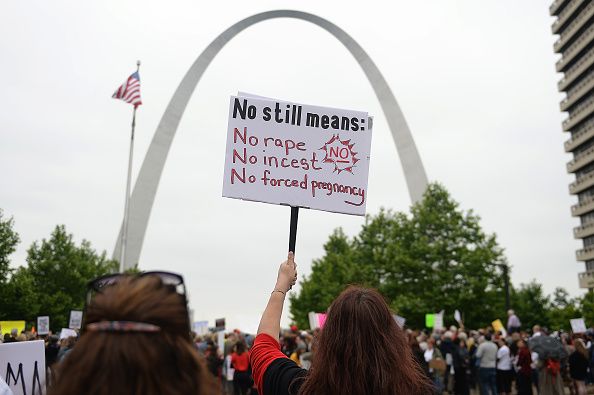 Planned Parenthood announced on Tuesday that the last remaining abortion clinic in Missouri is expected to shut down in the upcoming days after the state allegedly declined to renew it's annual license.
"This is not a drill. This is not a warning. This is a real public health crisis," Leana Wen, the president and CEO of Planned Parenthood Federation of America, said in a statement.
The abortion rights group said Missouri's health department is "refusing to renew" its license to operate in the state. Without the license, the state's last remaining abortion clinic in St. Louis would close in four days.
Missouri is currently one of six states with just one abortion clinic following a series of restrictive anti-abortion laws signed by conservative state legislatures. Kentucky, Mississippi, Missouri, North Dakota, South Dakota and West Virginia have all been left with just one health facility performing the procedure.
If the facilitty is shuttered, Missouri would be the first state without an abortion clinic since the landmark Supreme Court ruling Roe v. Wade. The 1973 decision legalized abortion nationwide and made it a constituional right for women to have access to the procedure.
The possible closure of Missouri's abortion clinic comes amid a series of laws in conservative states limiting access to the procedure. Earlier this month, Alabama and Georgia signed into law some of the most restrictive anti-abortion measures in the country.
According to a report by CBS News, the Missouri Department of Health and Senior Services notified Planned Parenthood last week about three issues that could affect their renewal. The group said it would solve two of the problems, which included adding an extra pelvic exam for women seeking abortions and adjusting their state-mandated counseling services.
The last issue was reportedly related to a state investigation of "deficient practices." The health department had requested interviews with seven doctors who worked at the facility. Planned Parenthood said only two people could be interviewed, as the rest were not officially employed by their organization.
"What is happening in Missouri shows that politicians don't have to outlaw abortion to push it out of reach entirely," Jennifer Dalven, director of the ACLU Reproductive Freedom Project, said in a statement. "This has been their end game for years, but it's contrary to what the overwhelming majority of people in this country want."
According to a new survey by CBS News, Americans do not want to see Roe v. Wade overturned. Sixty-seven percent of those polled want the landmark decision to stay as is, while 28 percent want it to be overturned,