Missouri Flooding Map, Evacuations: Entire Towns Evacuated As Flooding in Midwest Continues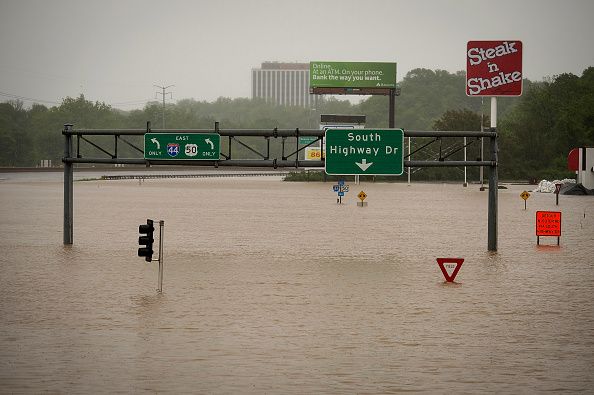 Another small town in Missouri has been evacuated due to extreme flooding thanks to a "bomb cyclone" that are affecting parts of the Midwest.
The 130 people living in Lewis and Clark village in Missouri have fled due to rising flood waters, the Kansas City Star reported. The village, which is nearby Atchison, Kansas, and an hour north of Kansas City, currently has no power and the roads are closed due to the floodwaters. Buchanan County emergency management director Bill Brinton told the Kansas City Star on Wednesday that most of the residents have already left.
"About 60 percent of the people have evacuated and the rest are in the process," Brinton told the publication. "They've got trucks loaded waiting to evacuate if needed."
The town of Craig, Missouri, was also evacuated on Tuesday, the Holt County Sheriff's Department told Accuweather. Officials are asking anyone still in the area to leave due to a "mandatory evacuation." The Missouri State Highway Patrol said on Twitter on Wednesday that a temporary levee around the town had breached, which caused more flooding and the evacuation.
"Temporary levee built around Craig, Missouri, has breached at the NW Corner of town. Craig is starting to take on water," MSHP Troop H tweeted, along with a video.
On Wednesday, the National Weather Service Missouri Basin River Forecast Center tweeted that as temperatures rise, the center expects more flooding in parts of Missouri.
"MBRFC expects more flooding as temperatures rise. Maps show snow depth & temperature probability," the National Weather Service tweeted on Wednesday.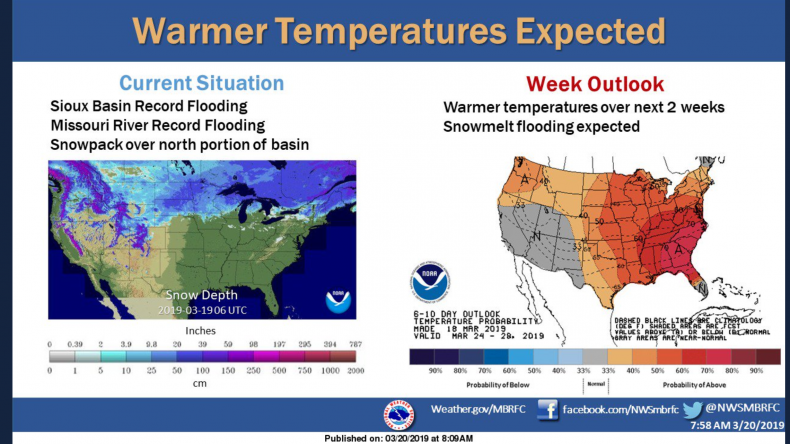 Severe flooding has impacted several states in the Midwest. Since the flooding began, three people have died and two are currently missing, WLS-TV reported. On Monday, Missouri Governor Mike Parsons urged residents to be aware of the impacted areas and use caution in flooded areas.
"Our prayers go out to our neighbors in Nebraska and Iowa who have been hit with devastating flood impacts," Governor Parson said in a statement. "As flooding in Missouri continues to keep roads closed and impact homeowners and farmers, I encourage Missourians to stay alert and be cautious while near impacted areas. Never drive onto a flooded road, no matter how low the water may appear."
Professor Michael Mann, director of the Penn State Earth System Science Center, previously told Newsweek, that storms like the bomb cyclone impacting the Midwest would continue to become more extreme due to climate change.
"There is evidence that climate change is increasing these underlying factors, supporting the development of more intense 'bomb cyclones' and nor'easters, packing tropical storm–scale winds and dumping huge amounts of precipitation," Mann previously said. "So we expect even more extreme events of this sort if we continue to warm the planet by increasing the concentration of greenhouse gases in the atmosphere from fossil-fuel burning and other human activities."