At Missouri, Free Speech and Racial Equality At Odds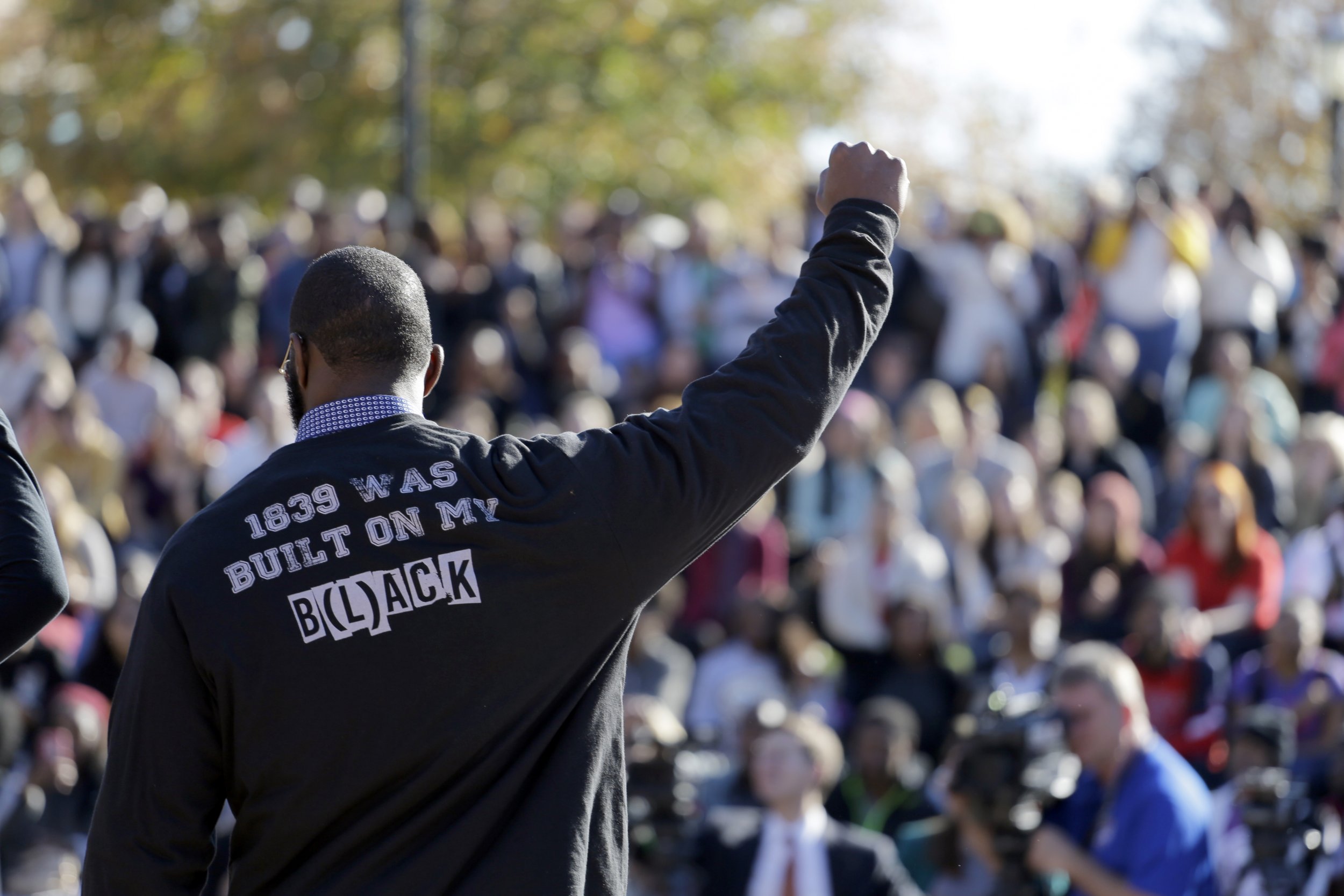 While it may be foolhardy to assume anything related to this week's protests and upheaval at the University of Missouri is an absolute truth, here is one assumption: many people of diverse backgrounds yearn to combat racism. They begin by finding a bedrock of consensus on some issue related to this problem. They begin with common ground.
And so it was ironic—and yet indicative of what a bizarre week it has been in Columbia, Missouri—that common ground was ground zero for the divisiveness. Carnahan Quadrangle, a common area on the UM campus on Monday afternoon became the staging ground for a skirmish between two estimable goals: racial equality and free speech.
Only hours earlier University of Missouri system president Tim Wolfe had tendered his resignation in the wake of a student's hunger strike and the football team's pledge to cease all football-related activities until he stepped down. "Change comes from listening, learning, caring and conversation," Wolfe said during his resignation speech. "We have to respect each other enough to stop yelling at each other, and start listening. And quit intimidating each other…"
Wolfe's resignation was still making its way through the small intestine of Monday's news cycle when another mouthful was swallowed. A group of ethnically diverse UM students, joined by a few faculty members, actively bullied Tim Tai, a student photographer on a freelance assignment for ESPN, as he attempted to document their tent city protest celebration on Carnahan Quad.
"You don't have a right to take our photos," said one white student as the rabble pressed toward Tai.
"I do," countered Tai as the crowd chanted "Go! Go! Go!" "It's the same First Amendment that protects you for standing there," he added.
A few minutes later Melissa Click, a professor of mass media at Missouri, confronted the videographer who recorded that stand-off between Tai and the crowd, Mark Schierbecker. "You need to get out," Click told him as she put a hand in his camera.
"I actually don't," said Schierbecker.
"All right," replied Click, turning to the tents and unintentionally providing the largest mass media lesson in which she will ever take part. "Who wants to help me get a reporter out of here? I need some muscle over here!"
And with that, the fight was on. Civil Rights, versus the First Amendment. Free speech vs. "Free at last!" As if the two ideals could not coexist. As if championing one implied that you were dismissive of the other. All of this taking place on Carnahan Quad, a public space. Common ground.
How did we get here? The University of Missouri, like probably all campuses across the country and all walks of American life, has been the site of ugly racist incidents. Only last March members of the University of Oklahoma's Sigma Alpha Epsilon (SAE) fraternity were videotaped chanting an ugly racist song, a song they had been taught, ironically, at a "leadership event" at a national SAE conference.
The University of Missouri is just two hours away from Ferguson, Missouri, and so the events of August, 2014, are a fresher wound. As black students staged protests, others took to Yik Yak to make threats such as, "if any black person got in their way protesting, they'd step on their fat lips." Someone else threatened to burn down the school's black culture center.
One student, a recent grad, noted that during Black History month a few years ago, someone posted a flyer for an on-campus meeting that referenced fried chicken and watermelon. Missouri's black students have been stung by racism numerous times. Which brings us to the events of the past semester and the past few days, a timeline that is not comprehensive but is exhaustive, and exhausting:
Friday, September 12: Payton Head, the school's student body president, who is African-American, posts on Facebook that young people in a pickup truck repeatedly yelled the N-word at him while he walked along fraternity row. He said he'd been the victim of a similar attack last spring.
"I really just want to know why my simple existence is such a threat to society," Head wrote. "For those of you who wonder why I'm always talking about the importance of inclusion and respect, it's because I've experienced moments like this multiple times at THIS university, making me not feel included here."
Sunday, October 5: During a rehearsal for the Legion of Black Collegians Royalty Court at Traditions Plaza on campus, a white man, presumably intoxicated, walks onto the stage. He is asked to leave repeatedly, but refuses. Eventually he complies but while exiting says, "These niggers are getting aggressive with me."
Later that night graduate student Jonathan Butler (@_Jonathan Butler) tweets a message to Wolfe (@UMPrez) and school chancellor R. Bowen Loftin (@bowtieger) that reads in part, "by refusing to address RACISM @Mizzou you are implicitly saying that you're ok w/students being called niggers."
Monday, October 6: Chancellor Loftin tweets, "Last night Traditions Plaza – built to celebrate our oneness – was a venue for racism and hate. LBC Homecoming Court was targeted." Meanwhile, students and faculty stage a sit-in against racism and to protest administrative inaction.
Thursday October 8: Chancellor Loftin issues an edict that diversity and inclusion training will be mandatory for all incoming students, faculty and staff. ""Racism exists at Mizzou," says Loftin. "It's not everyone. It's not necessarily even overt sometimes, but it's there and we have to deal with it. We can't afford to waste any individual no matter where they come from, what their background might be."
Saturday, October 10: The school's homecoming parade is interrupted by a demonstration. A group of students calling themselves Concerned Students 1950 ( the year an African-American was first admitted to Missouri's law school) position themselves in front of Wolfe's car. Butler is one of the protestors. Wolfe declines to get out of his car and speak with them, which he will later apologize for when he resigns.
Tuesday, October 20: Concerned Students 1950 issues seven demands. The first reads in part that Wolfe must "write a handwritten apology" and "acknowledge his white male privilege." The second begins, "We demand the immediate removal of Tim Wolfe as UM system president."
Sunday, October 25: A swastika scrawled in feces on the tile of a dormitory bathroom is reported at 2 a.m. Police are called to investigate.
Tuesday, October 27: Wolfe meets with members of Concerned Students 1950, but there is no resolution.
Monday, November 2: Butler announces that he is beginning a hunger strike. Butler, who earned a bachelor's degree in business administration from Missouri, is pursuing a master's degree in educational leadership and policy. He vows not to eat until Wolfe resigns.
Saturday, November 7: Some 30 African-American members of Missouri's football team, whose record is 4-5, announce they will not participate in any football activities until Wolfe is removed. The players post a photo of them with arms interlocked.
Sunday, November 8: UM football coach Gary Pinkel says he and the entire football team will cease football activities until Wolfe resigns. At stake is a potential $1 million penalty Missouri would be obliged to pay its upcoming opponent, Brigham Young University (BYU), should it not play. Wolfe's annual salary is approximately half that figure.
That night, an unidentified Missouri player tells ESPN's Brett McMurphy that the UM locker room is divided on this issue. ""As much as we want to say everyone is united, half the team and coaches -- black and white -- are pissed," the player says. "If we were 9-0, this wouldn't be happening."
Monday, November 9: Wolfe resigns. A few hours later, so does Loftin. A tent city on Carnahan Quad becomes the epicenter for the protest movement. Tai heads over to cover it as a freelancer and encounters resistance. As does Schierbecker. Signs on the quad read "MEDIA GO AWAY."
Tuesday, November 10: The University of Missouri Police Department (MUPD) sends out an alert "asking individuals who witness incidents of hateful and/or hurtful speech or actions to call the police immediately" and provides a phone number.
Melissa Click resigns her "courtesy appointment" as a member of the school's journalism department, but retains her position in the department of communications.
On Carnahan Quad, students and faculty apologize to members of the media and say that they are welcome.
Dale Brigham, a popular professor of nutrition, informs his students that the exam scheduled for Wednesday will go on as scheduled. Responding to an email from an African-American student who said he was afraid to step on campus and hoped to take the exam at a later date, Brigham writes, "If you don't feel safe coming to class, then don't come to class. I will be there, and there will be an exam administered in our class.If you give into bullies, they win. The only way bullies are defeated is by standing up to them. If we cancel the exam, they win; if we go through with it, they lose. I know which side I am on. You make your own choice."
Wednesday, November 11: Hunter Park, 19, of Rolla, Missouri, is arrested for posting terroristic threats on Yik Yak. One post on the social media site that allows users to post anonymous messages reads, "I'm going to stand my ground tomorrow and shoot every black person I see."
Also, Payton Head posts on Facebook the following: "The KKK has been confirmed to be sighted on campus. I'm working with the MUPD, the state trooper and the National Guard." After a campus police alert repudiates all of the above, Head deletes the post and follows it with a post that reads, "I'm sorry about the misinformation that I have shared through social media."
Terrell Jermaine Starr, a freelance journalist, writes an Op-Ed for the Washington Post under the headline, "There's a good reason protesters at the University of Missouri didn't want the media around." In the column Starr opines, "As reporters, we have to drop our sense of entitlement and understand that not everyone wants to be subjects of our journalism. Our press passes don't give us the license to bully ourselves into any and all spaces where our presence is not appreciated."
This ran in the same newspaper that 42 years earlier broke the Watergate scandal by doing exactly that.
Word of Brigham's e-mail to his students the night before becomes national news. Salon.com runs a story under the headline, "White Missouri professor shames black students for heeding violent threats." Former Missouri wide receiver T.J. Moe, a team captain in 2013 who is white, tweets in defense of Brigham. "Grow up. We are raising a society of more cowards."
Hours later Brigham sends out an email to his class: "The exam is cancelled. No one will have to come to class today. And, I am resigning my position."
Thursday, November 12: Student body vice president Brenda Smith-Lezama tells MSNBC, "I personally am tired of hearing that First Amendment rights protect students when they are creating a hostile and unsafe learning environment for myself and for other students here."
****
The University of Missouri had initially declared a "white out" for the game against BYU this Saturday in which all students and supporters of the Tigers would be asked to don white shirts. They have since rescinded that declaration, although the team will still dress in all-white uniforms (the Tigers ordinarily wear all-black uniforms for home games).
Meanwhile, the battle rages on. Jason Whitlock, a prominent African-American columnist, has written a few columns this week excoriating Concerned Students 1950, questioning the validity of their complaints, and saying, "'Cry Wolfe' is how this entire episode should be remembered." Others on the opposite side of the line of scrimmage wondered aloud if it even mattered whether the complaints levied by Head and Butler were fabricated or orchestrated. Wasn't the greater good, they posited, that change had been effected and that a greater awareness of racism had been raised.
At the end of a tumultuous week in Columbia, Missouri, Concerned Students 1950 had effected dramatic change on campus by exercising its right to assemble and its right to free speech. And anyone who stood it its way was swiftly marginalized. It was a new, and in the opinion of some, refreshing, double standard.
This Saturday night UM faces BYU (a school whose African-American enrollment is less than 1 percent, by the way) in Kansas City. It is a game that the Tigers have already won in the sense that they will not pay out $1 million for missing it. Presumably, the two teams will meet on a level playing field