Missouri GOP Gov. Denies Hiding Study Proving Mask Effectiveness Against COVID
Republican Missouri Governor Mike Parson has refuted claims that his office hid a study that it commissioned which showed the effectiveness of face masks against COVID-19.
Parson called reports of the allegedly hidden study "purposefully misleading." He said that data contained in the study had been available on the state's COVID-19 dashboard for months.
On November 1, 2021, Alex Tuttle, Parson's liaison to the state Department of Health and Senior Services, wrote an email to the department asking, "Can you provide examples of local mandates and how those mandates impacted the spread of COVID in those areas?"
The health department returned its completed study 48 hours later, the Missouri Independent reported.
The study compared the 2021 COVID-19 infection and death rates in the cities of St. Louis and Kansas City and the counties of Jackson and St. Louis County with the rest of the state. All four areas had instated mask mandates by July and August of that year.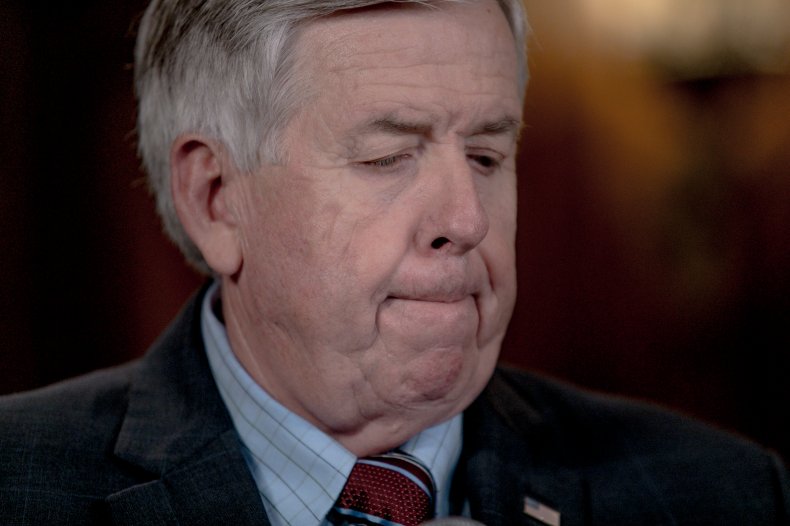 The study showed that the masked regions had lower rates of infection compared to unmasked regions. While regions with mask mandates reported an average of 15.8 newly confirmed COVID-19 cases per day for every 100,000 residents, regions without mask mandates reported an average of 21.7 cases per day for every 100,000 residents.
In a November 3, 2021 email forwarded to Parson's office, state health Director Donald Kauerauf wrote that the study showed that masked regions reported "a lower positivity rate per 100,000 and experienced lower death rates."
However, the study itself was neither made public nor used in material the department prepared for cabinet meetings, the Missouri Independent reported.
Parson's office and the health department hadn't responded to the Missouri Independent's requests asking why the data was never shared publicly or in cabinet meetings.
However, in a 12-tweet thread published Thursday evening, Parson accused the report's lead author of writing "a purposefully misleading article" that "handpicked information" and "took the data out of context."
"The (health department's) Nov. 3 email review of case rate data among jurisdictions was based on data that has been publicly available on our (state COVID-19) dashboard for more than a year," Parson wrote.
"There is no definite evidence that proves mandates solely saved lives and prevented COVID-19 infections in Missouri's biggest cities," Parson continued. "The comparisons shown in the analysis do not account for any outside variables, such as health care access, testing rates, and especially vaccination rates for each location."
Nevertheless, the study's findings contradicted Parson's public position against mask mandates.
"Dictating mask mandates when we have the vaccine is ignoring the real solution and eroding public trust," Parson wrote in July Facebook and Twitter posts.
"Imposing mask mandates regardless of vaccination status is WRONG and goes against current CDC guidelines," he continued. "(Mask mandate) policies that don't consider vaccination status reduce the incentive of getting the vaccine and undermine its integrity. The vaccine is how we rid ourselves of COVID-19, not mask mandates that ignore common sense."
On August 19, Missouri Attorney General Eric Schmitt sued the four aforementioned regions to block enforcement of their mask mandates.
As of Thursday, Missouri ranks 17th amongst U.S. states with the highest number of COVID-19 cases and related deaths.