Missouri GOP Moves to Ease Gun Laws Two Days After Homeless Man Shooting
The Missouri Senate approved a proposal on Wednesday to exempt firearms and ammunition produced in the state from all taxation, just two days after a homeless man was shot dead in an execution-style killing in broad daylight in downtown St. Louis.
Senator Rick Brattin, a Republican, sponsored the legislation that received preliminary approval from the chamber by a margin of 21 votes to eight.
Brattin argued firearms taxation undermines Missourians second amendment rights, commenting: "Levying these taxes upon a constitutional right is one that we need to definitely protect. Taxation is a hindrance limiting the ability of people to exercise that right."
The legislation was opposed by Missouri Democrats, with Senator Karla May saying: "The only thing a gun can do is take a life."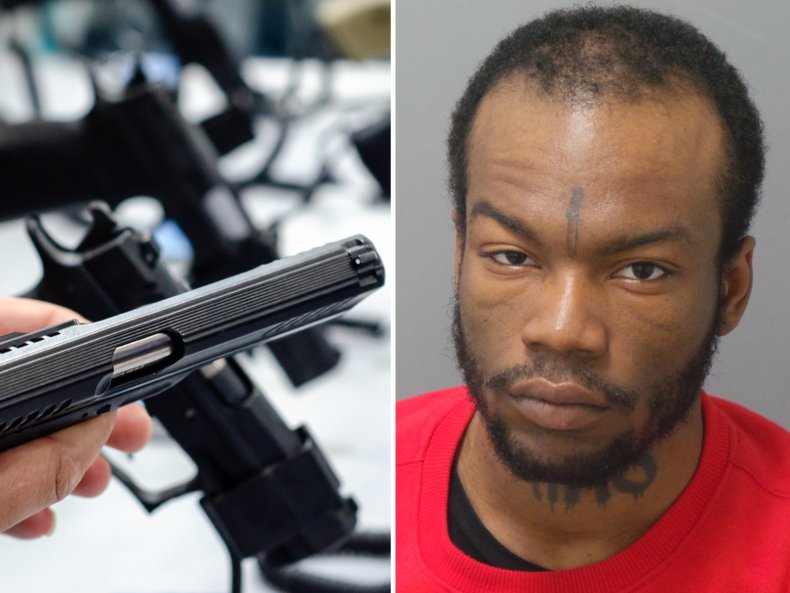 Addressing her Republican opponents, May added: "You want to keep making it easier for people to get guns."
If the legislation passes another Senate vote, it will move over to the House, which is also Republican controlled.
The vote followed Monday's fatal shooting of David Saldana in front of St. Louis's Globe Building, with footage of the incident being widely shared on social media.
In the video a man approaches Saldana—who is sitting on the curb—from behind and then shoot him once, leaving the victim dead.
Speaking to local network KMOV News 4, Syed Sajid said he arrived on the scene just minutes after the shooting.
He commented: "When I came here, I'd seen people standing outside, the guy was on the ground. I heard he was shot from close range.
"There was the construction guys in that building. There were workers from the other building. So, it was shocking for the whole downtown. And a lot of people went up close seeing how his face looked."
Police arrested 23-year-old Deshawn Thomas near the scene, and on Tuesday charged him with first degree murder and armed criminal action in relation to the incident.
Brattin acknowledged the shooting on Wednesday, commenting: "He literally executes him on the side of the road."
However, he blamed the level of crime in the city on other issues, including the performance of St. Louis' Circuit Attorney's office.
Newsweek has contacted Senator Brattin for comment.
In February the Missouri House voted against a Democrat-introduced bill that would have banned children from carrying firearms in public without adult supervision.
Justifying the decision, Republican Tony Lovasco said: "While it may be intuitive that a 14-year-old has no legitimate purpose, it doesn't actually mean that they're going to harm someone. We don't know that yet."
In October three people were killed, including the attacker, after a gunman opened fire at St. Louis' Central Visual and Performing Arts High School.