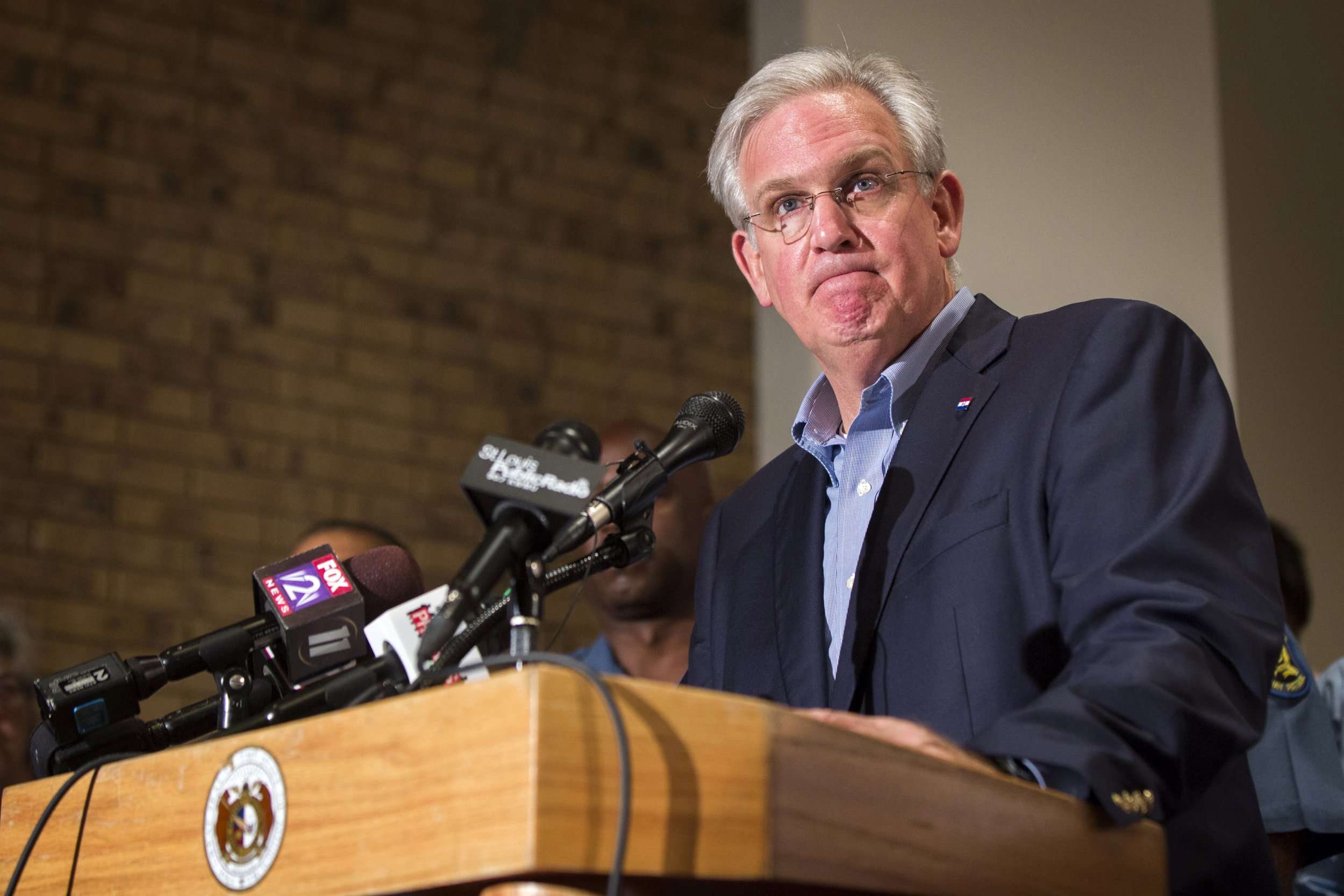 The office of Missouri Governor Jay Nixon was unaware that a video of the late Michael Brown—the 18-year-old black teen whose death last Saturday has spawned over a week of protests and riots—had been released to the public, the Governor said Sunday. On Sunday morning, Nixon appeared on various talk shows, saying he "deeply" disagreed with the video's release.
The video, released by Ferguson Police Chief Tom Jackson on Friday, allegedly depicted Brown stealing a box of cigars from a local convenience store moments before local Ferguson police officer Darren Wilson shot and killed him. Police say that they were pressured by the media to release the video, although the U.S. Justice Department strongly advised Ferguson law enforcement against releasing it.
Representatives for Brown's family, while not denying the teen appeared in the footage, say that the video's timing does not correlate with the altercation that led to Brown's death. The police later said the officer didn't approach Brown as a suspect before he was killed. Witnesses claim that Brown was unarmed and surrendering before he was shot multiple times by Wilson.
Appearing on NBC's "Meet the Press" segment Sunday morning, Nixon said the decision to release the video was "not helpful" in the ongoing investigation of Brown's death. Brown's family accused police of "character assassination" for releasing the deceased teen's video.
"We were certainly not happy with that being released, especially in the way that it was," Nixon said. "It appeared to cast aspersions on a young man that was gunned down in the street. It made emotions raw."
The video was one reason protests escalated on Friday night, which included incidences of rioting and looting unlike the night before. The violent turn prompted Nixon to declare a state of emergency and impose a curfew in Ferguson on Saturday night. Seven people were arrested for violating the curfew and one person, a male, was shot and is currently in critical condition. Nixon believes that the curfew "made a difference" on Saturday night, however.
Nixon claimed that the tension in Ferguson has caused "old wounds" and "deep wounds" to re-emerge.
"When you see your son gunned down in the street and then you see a police chief begin an attempt to attack his character, that's just not the way to operate and we've made that clear to everyone," he said.