Republican Missouri Governor Mike Parson said during a Tuesday press briefing that Mark and Patricia McCloskey, who were captured on video brandishing firearms as Black Lives Matter protesters marched past their home in June, had "every right" to attempt to protect their private property.
In the video, which went viral on social media, Mark McCloskey can be heard to yell, "Keep moving!" while holding what appears to be an assault rifle as demonstrators gather on the sidewalk in front of the McCloskey home. His wife, Patricia, can be seen holding what looks like a handgun. St. Louis Circuit Attorney Kim Gardner said in June her office was "currently working with the public and police to investigate these events." Charges were not immediately filed against the McCloskeys, but Gardner has received criticism for investigating the case.
Governor Parsons defended the McCloskey's actions Tuesday. "That couple had every right to protect their property," Parson said. "They have the ability to do that as private citizens like everyone else."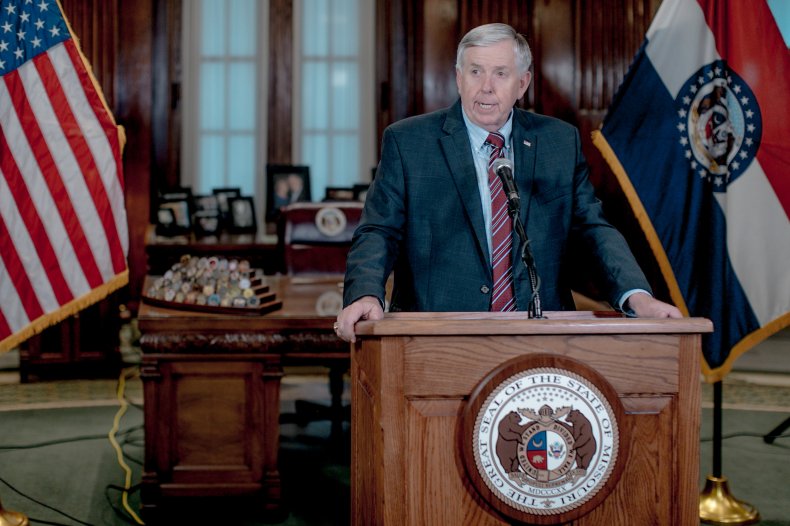 Parson also said he had spoken to President Donald Trump about the event involving the McCloskeys. "[Trump] understands the situation in Missouri," Parson said. "He understands the situation in St. Louis and how out of control it is for a prosecutor to let violent criminals off and not do their job and try to attack law-abiding citizens. The conversation I had with the President, said that he would do everything he could within his powers to help with this situation and that he would be taking action to do that."
In a statement sent to Newsweek on Wednesday, Gardner said that even though Governor Parson and President Trump "continue to play politics with the handling of this matter, spreading misinformation and distorting the truth, I refuse to do so. As I always do, I am reviewing all the available facts and the law and will apply them equally, regardless of the people involved."
"It is unbelievable the Governor of the state of Missouri would seek advice from one of the most divisive leaders in our generation to overpower the discretion of a locally elected prosecutor," Gardner continued. "It is also incredible that at a time when our nation is dealing with a rapidly spreading deadly virus and our State reported a record number of new infections, they are launching these dog-whistle attacks against me. They should be focused on their jobs, and I'll focus on mine."
The McCloskeys, who are both personal injury lawyers, said they armed themselves because they felt their lives were in danger. In a July interview with Sean Hannity on Fox News, Patricia McCloskey said the protesters threatened to kill her and her husband.
"They were going to come in there," Patricia McCloskey said. "They were going to burn down the house. They were going to be living in our house after I was dead."
In a June statement released by their former attorney Al Watkins, the McCloskeys said they were supporters of Black Lives Matter. "The McCloskeys want to make sure no one thinks less of BLM, its message and the means it is employing to get its message out because of the actions of a few white individuals who tarnished a peaceful protest," the statement said.
Supporters of the McCloskey's actions say they were exercising their rights under the Castle Doctrine which allows Missouri residents to protect themselves and their belongings with deadly force. Homeowners in Missouri, a "stand your ground" state, can shoot people for illegally entering their yards or driveway.
Some who oppose what the McCloskeys did, such as Circuit Attorney Gardner, believe the rights of the demonstrators were violated.
"Make no mistake: we will not tolerate the use of force against those exercising their First Amendment rights, and we will use the full power of Missouri law to hold people accountable," Gardner said in a June statement.
Updated 11:16 p.m. EST 07/15/2020: This story has been updated with a statement from St. Louis Circuit Attorney Kim Gardner.