Missouri Governor Asks For National Guard Reinforcements After Riots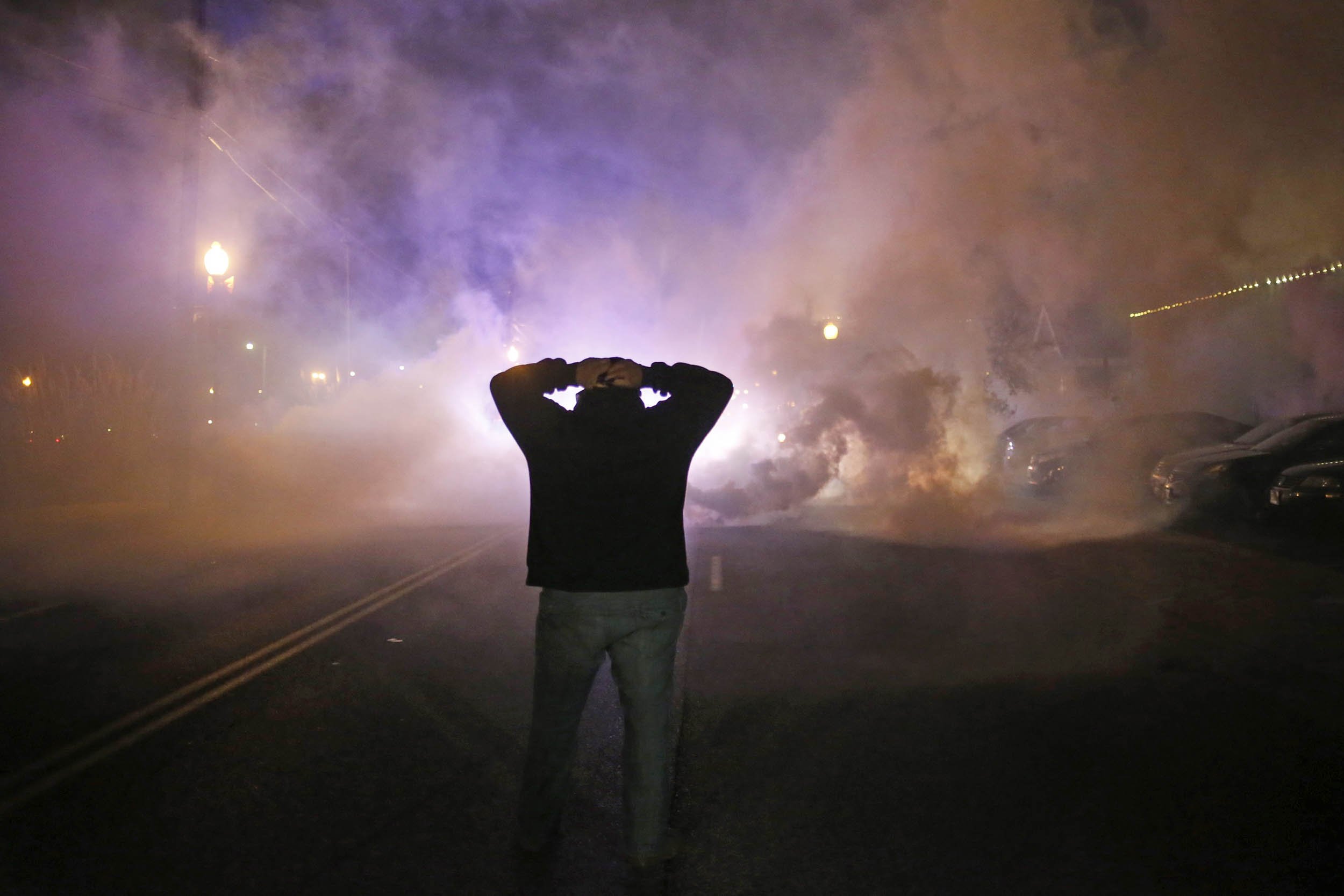 FERGUSON, Mo. (Reuters) - Aiming to head off more looting and rioting, Missouri's governor on Tuesday ordered National Guard reinforcements into the St. Louis suburb of Ferguson following overnight violence ignited by the clearing of a white police officer in the fatal shooting of an unarmed black teenager.
Attorneys for the family of Michael Brown, the 18-year-old who was shot to death by officer Darren Wilson in August, condemned the grand jury process that led to Monday's decision not to bring criminal charges against the officer.
About a dozen buildings in Ferguson burned overnight and 61 people, mostly from the St. Louis area, were arrested for crimes including burglary, illegal weapons possession and unlawful assembly, police said on Tuesday. Shops were looted during the unrest.
The case underscores the sometimes tense nature of race relations in the United States. The St. Louis County grand jury's decision also led to protests in other major U.S. cities. The people who took to the streets in Ferguson seemed to disregard calls for restraint issued by President Barack Obama and others.
Police fired tear gas and flash-bang canisters at protesters on Monday night. Police said protesters fired guns at them, lit patrol cars on fire and hurled bricks into their lines.
Brown family lawyers Benjamin Crump and Anthony Gray said in a news conference the process had been unfair because the prosecutor in the case had a conflict of interest and Wilson was not properly cross-examined. They said a special prosecutor should have been appointed.
"This process is broken. The process should be indicted," Crump said.
Missouri Governor Jay Nixon said he was meeting with law enforcement and bolstering the National Guard deployment to ensure that people and property are protected in the days ahead.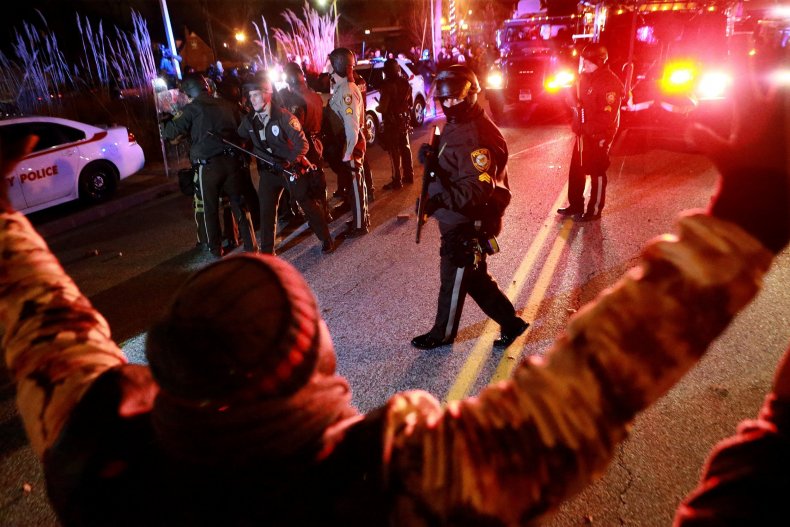 In Focus
People across the country demonstrated for the second night on Tuesday after a grand jury in Ferguson, Mo. announced its decision not to indict police officer Darren Wilson in the shooting of Michael Brown.
Launch Slideshow

21 PHOTOS
"Violence like we saw last night cannot be repeated," Nixon said on his Twitter feed. His office said "the Guard is providing security at the Ferguson Police Department, which will allow additional law enforcement officers to protect the public."
While news channels aired Obama's live remarks calling for restraint from the White House on one side of the screen, they showed violent scenes from Ferguson on the other.
"This is going to happen again," said Ferguson area resident James Hall, 56, as he walked past a building smoldering from a blaze set during the street protests in the city that is predominately black and the police force is mostly white.
"If they had charged him with something, this would not have happened to Ferguson," he said.
Although no serious injuries were reported, St. Louis County Police Chief Jon Belmar said the rioting on Monday night and early Tuesday morning was "much worse" than the disturbances that erupted in the immediate aftermath of the August shooting.
The smell of smoke hung in the air along a stretch of West Florissant Avenue in Ferguson. The street was closed by police but heaps of broken glass and piles of rubble accumulated in front of the few buildings that had not been boarded up ahead of time.
"We see that Michael Brown's death has been spit upon by the criminal justice system here," said the Reverend Michael McBride, an activist from California.
"Now is the opportunity for the president to really be my brother's keeper," said McBride.
TWO SIDES OF TRAGEDY
In the city of St. Louis, where windows were broken and traffic was briefly stopped on a major highway overnight, Police Chief Sam Dotson vowed a stronger response on Tuesday night.
Schools in Ferguson and its surrounding cities said they planned not to open on Tuesday and city offices in Ferguson were also closed.
Officials disclosed the grand jury's ruling well after sunset and hours after saying it was coming, a set of circumstances that led to protesters taking to the streets well after dark.
Wilson could have faced charges ranging from involuntary manslaughter to first-degree murder. Brown's family said through their lawyers that they were "profoundly disappointed" by the grand jury's finding.
Wilson offered thanks to his supporters, saying "your dedication is amazing," in a letter attributed to him posted on Tuesday on a Facebook page for those who have rallied to his side.
Attorneys for Wilson, who was placed on administrative leave and has avoided the spotlight since the shooting, said he was following his training and the law when he shot Brown.
Wilson told the grand jury that Brown had tried to grab his gun and he felt his life was in danger when he fired, according to documents released by prosecutors.
"I said, 'Get back or I'm going to shoot you,'" Wilson said, according to the documents. "He immediately grabs my gun and says, 'You are too much of a pussy to shoot me.'"