Missouri Governor Eric Greitens Denies Blackmailing Mistress With Explicit Pictures
Missouri Governor Eric Greitens has adamantly denied claims that he threatened to disclose naked pictures of his mistress if she went public about their affair.
In his first interview since admitting to the 2015 affair, Greitens told the Associated Press Saturday there was "no blackmail" and "no threat of violence" by him in what he described as a months-long "consensual relationship" with his former hairdresser.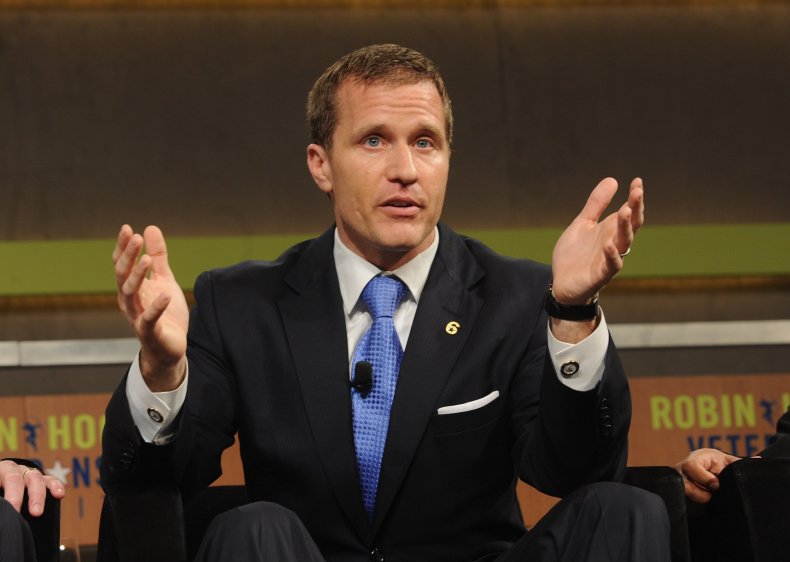 Greitens also said he had no plans to leave office, despite calls from Republican and Democratic lawmakers for him to resign.
Shortly after Greitens delivered his State of the State address in January, St. Louis news station KMOV reported that he had had an extra-marital affair in 2015 as he was preparing to run for governor.
The station played a recording suggesting that Geitner had threatened to release partially nude pictures of his mistress if she ever spoke publicly about their relationship.
In the footage, recorded by the woman's former husband, the woman says that Geitner had bound her hands and blindfolded her, taken a photograph of her partially nude, and warned her to remain silent about their affair at an encounter at his St. Louis home.
Geitner refused to answer "yes" or "no" when asked if he had bound and blindfolded the woman and taken a photograph, but flatly denied using the photographs to coerce her.
He also denied claims by the ex-husband's attorney that he had slapped the woman when he learnt she had slept with her husband.
"This was a consensual relationship," Greitens said. "There was no blackmail, there was no violence, there was no threat of violence, there was no threat of blackmail, there was no threat of using a photograph for blackmail. All of those things are false."
A former Navy Seal officer and Rhodes scholar and founder of a veterans charity, Greitens ran on a family values platform in his successful gubernatorial campaign.
His wife, Sheena, has stood by Greitens, and said in a previous statement they share "a loving marriage and an awesome family."
"Anything beyond that is between us and God," she added.
Greitens himelf said he had no plans to step down following the revelations about his affair.
"The mistake that I made was that I was engaged in a consensual relationship with a woman who was not my wife. That is a mistake for which I am very sorry," he said.