Missouri Governor Warns of Vaccine Shortages as Joe Biden Makes Doses Deal
Missouri Governor Mike Parson warned on Thursday that he faced a statewide COVID-19 vaccine shortage as President Joe Biden secured a deal for 200 million more doses by the end of July, according to the administration.
Posting on social media, Governor Parson said "every vaccinator in every region" of Missouri was requesting more vaccines than they were receiving, because the state simply did not have enough doses to meet demand.
"Vaccine scarcity is NOT limited to any one region of Missouri," Parson said. "EVERY vaccinator in EVERY region is requesting more vaccines than they are currently receiving, because quite simply the demand for vaccines still far outweighs the supply, and we are doing everything we can to get vaccines out as quickly as supply will allow."
The Republican issued his warning as Missouri continued to hover at the bottom of the vaccination table, with Our World in Data finding that roughly 11 percent of people in the state had received at least one coronavirus vaccine dose.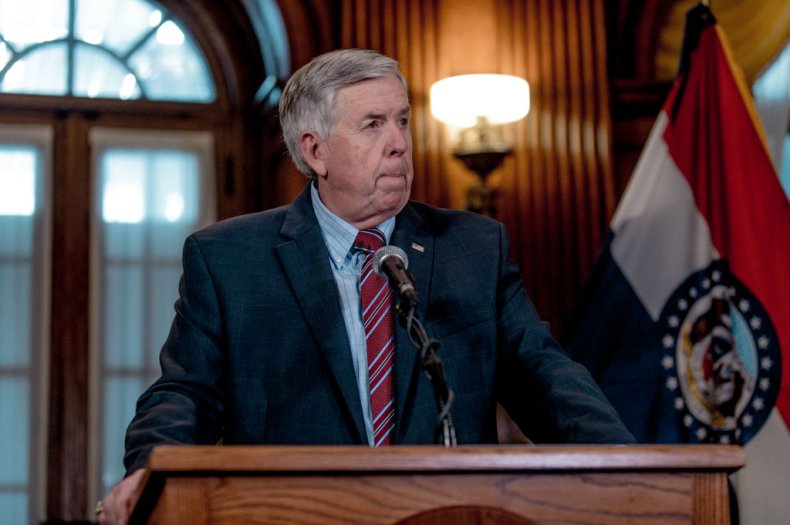 The New York Times vaccine rollout tracker has reported that around 8.5 percent of Missourians have had at least one dose of the vaccine, while only 2.7 percent have received the recommended two doses.
Newsweek has contacted the governor's office for further comment on Missouri's vaccine shortage.
The Biden administration revealed on Thursday that it had secured a deal for 200 million more COVID-19 vaccine doses by the end of July, with Pfizer and Moderna supplying 100 million vaccine doses each.
President Biden also said the delivery of 100 million doses that were due to arrive by the end of June would be expedited, landing in the hands of distributors by the end of May—a potentially life-saving improvement.
Speaking to National Institutes of Health staff on Thursday, Biden said: "It may not sound like the urgent progress we need, but let's be clear. When I took office, just three weeks ago, this country did not have a plan or enough vaccines, or people to vaccinate Americans... all Americans, at any time, in any point in 2021.
"Within three weeks, round-the-clock work with so many people—people standing behind me and in front of me—we've now purchased enough vaccine supply to vaccinate all Americans."
But he also warned that the U.S. would likely face "setbacks" down the road as the rollout of existing vaccine deliveries continued to stall in some states.
At the time of writing, the U.S. has vaccinated around 13 people in every 100—putting the country behind Israel, the United Arab Emirates and the United Kingdom, according to Our World in Data numbers.
The Centers for Disease Control and Prevention reports that more than 68 million COVID-19 vaccine doses have been delivered so far, while only 46 million have been administered. A little more than 34 million Americans have received one or more vaccine doses.
Newsweek, in partnership with NewsGuard, is dedicated to providing accurate and verifiable vaccine and health information. With NewsGuard's HealthGuard browser extension, users can verify if a website is a trustworthy source of health information. Visit the Newsweek VaxFacts website to learn more and to download the HealthGuard browser extension.