Missouri Man Crushed by Toyota Prius He Was Stealing the Catalytic Converter From
A Missouri man was reportedly crushed to death by a Toyota Prius after he attempted to steal the car's catalytic converter Friday.
Police in Kansas City, Missouri responded to a call for medical assistance after the unidentified man was pinned by the car while allegedly attempting to strip it of the valuable part. The man initially called for assistance and a passerby attempted to use a jack to free him, but he died before he could be helped, according to a report from KCTV.
An investigation into the incident is ongoing and no further details are currently available. Newsweek attempted to reach the Kansas City Police Department by phone but was directed to voicemail.
Catalytic converters are an important part of a vehicle, reducing toxic pollutants from the exhaust system. They are often sought after by thieves because they are easily removed and made out of an assortment of metals that can be quickly sold for scrap. Scrap values can be worth hundreds of dollars for certain models.
However, replacing the stolen car part is far more expensive, often amounting to thousands of dollars for unlucky victims. Cars missing the part are not able to properly function and will fail the state inspections and emissions tests often required to operate a vehicle.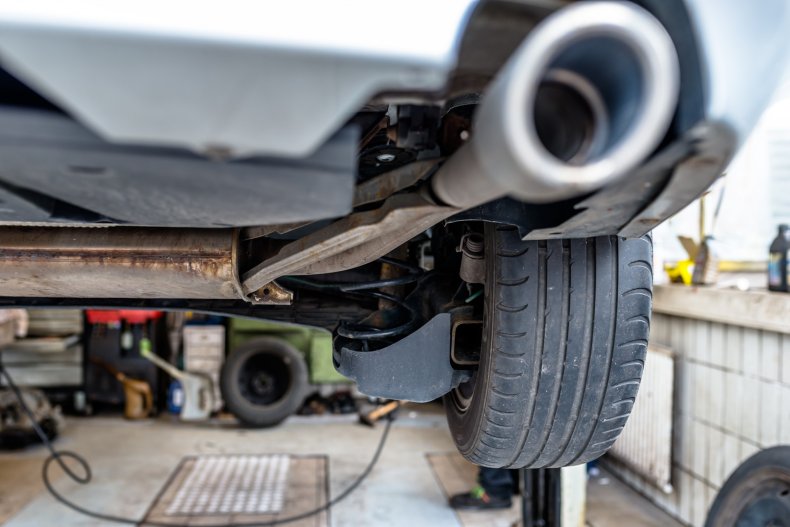 Thieves have been crushed while attempting to steal the part before. A man in Swindon, England was killed after attempting to steal the part from the lot of an auto repair shop in November 2019, according to a January 31 report from The Telegraph.
"I arrived [at work] around 8 a.m. and I could see a pair of legs on the floor sticking out from under a car which had a black car-jack near the front wheel," the shop's owner told the outlet in a statement. "I called my boss, [and] he told me to call an ambulance."
Getting under a vehicle for more innocent reasons can also sometimes be deadly.
A mechanic in New York City was reportedly killed on December 21 after being crushed in a Manhattan parking lot by a failing car lift.
A Spokane, Washington man was killed by his car while he attempted to perform maintenance outside his home on December 5.
Nevada investigators suspected that man working on his car in July 2019 may have been the particularly unfortunate victim of a 6.4 earthquake, after the vehicle fell on top of him during the tremor.
Statistics suggest that failing car jacks may also be responsible for thousands of injuries every year.