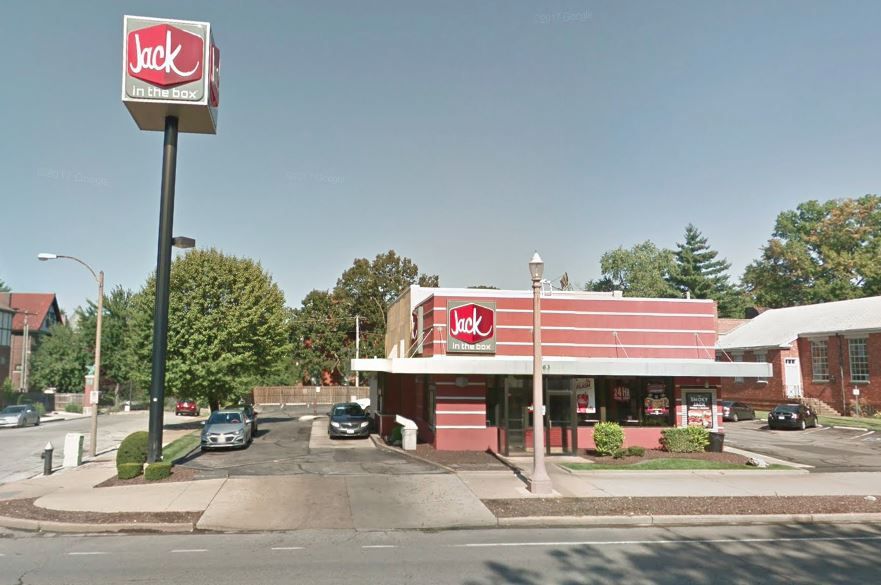 A St. Louis man has died in a freak accident at a Jack in the Box drive-thru.
Charles Wood Jr., 20, was reaching for his meal through his car window when he realized the window was too far away. He opened the door to grab his food, but accidentally put his car in reverse and drove into a tree, pinning himself against it.
Police said he suffered severe injuries to his torso, neck, head and legs. Wood was taken to the hospital for treatment but was pronounced dead. According to the St. Louis Post-Dispatch, Wood visited the fast food restaurant on South Grand Boulevard at around 10 p.m. on Wednesday night. He lived in Velda City, in northwest St. Louis.
Jack in the Box did not immediately respond to a request for comment.
Last week, a 2-year-old Missouri girl named Felicity was killed by an ice cream truck while crossing the road. She had just bought an ice cream at the truck in Wentzville. The girl was rushed to a local hospital but later died from her injuries. According to KSDK-TV in St. Louis, the ice cream truck driver was left "terribly distraught."
A GoFundMe campaign was launched on behalf of Felicity's father, Andrew Karam, to help with funeral costs and counseling. Donations exceeded the $50,000 target and now sit at $54,000. The fundraiser is being run by Felicity's aunt, Rachel Zeik. "My sister and brother-in-law lost their most amazing two-year-old today," Zeik said.
"She will be missed by so many. She was the fourth girl out of five girls. She was taken from us too soon by a tragic accident with an ice cream truck. Her smile and personality will be forever remembered. Please remember our sweet Felicity."
Stan Stnav, president of Cool Times Ice Cream (the truck's owner), said the locally-owned company was "especially heartbroken" because they often get to know the kids and parents in the area. "Our hearts go out to the family of the little girl who died in this tragic accident in Wentzville yesterday," Stnav said, according to Fox News.