Missouri Mayor Laments 'No Way to Control' Crowded Pool Party Amid Coronavirus Pandemic
A Missouri mayor has expressed concern after seeing images of a crowded pool party by the Lake of the Ozarks amid the coronavirus pandemic, but lamented that there is no way to shut down such activities.
John Olivarri, mayor of the small town of Osage Beach situated on the edge of the Lake of the Ozarks, made the remarks on Sunday as videos of the crowded event circulated online.
"My concern is for our workers and whether some of the folks that have come down might be creating a health problem for the community, absolutely," Olivarri said, The Kansas City Star reported. "But the only other thing that you could do would be shut it down. I don't know how you would shut down Lake of the Ozarks. There's no way to control that."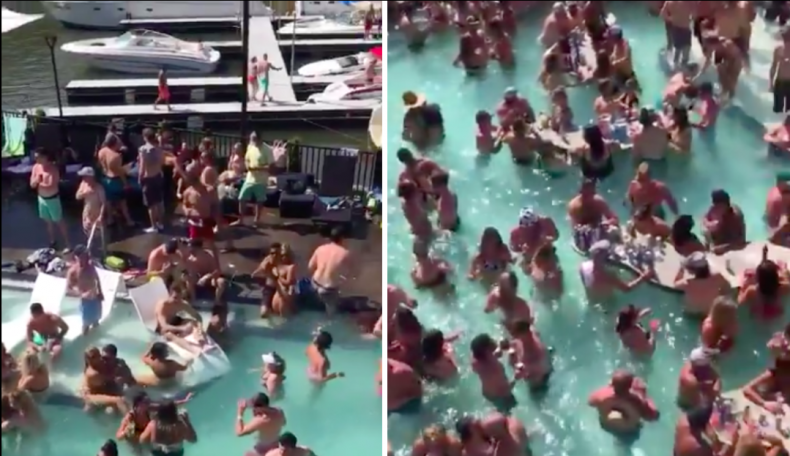 Newsweek has reached out to Missouri's Governor Mike Parson, a Republican, and the Missouri Department of Health and Senior Services for comment.
Videos of the crowded pool party by the Lake of the Ozarks went viral online, as many came out to relax and enjoy the long Memorial Day weekend. Attendees of the large event were filmed enjoying the pool and sun while sipping drinks, without following social distancing guidelines.
The White House coronavirus task force has asserted that public gatherings should not exceed 10 people, even as states continue to reopen. Masks are also recommended in public, and people in public should maintain six feet of distance from one another as much as possible.
Scott Pasmore, an anchor for CNN affiliate KTVK, shared a clip to Twitter with the caption: "No covid concerns at the lake of the ozarks."
Bryce Derrickson, a web producer for the Ozark's KOLR 10 News, shared a video of the pool party as well. "This is a video from Snapchat maps in the Lake of the Ozarks Saturday," he wrote.
Claire McCaskill, a former Democratic senator from Missouri, strongly criticized the gatherings, retweeting Derrickson's post.
"Embarrassing for my state. Hope none of them have parents fighting cancer, grandparents with diabetes, aunts and uncles with serious heart conditions. Because clearly they could care less," McCaskill, who served in the Senate from 2007 to 2019, wrote.
Olivarri said that local law enforcement did not have the ability to respond to every concern about people violating social distancing guidance.
"The businesses have some responsibility, but I'll be real honest with you, no one thought that it was going to be easy trying to enforce some of the governor's guidelines," he said, The Star reported. "It gets down to the tolerance level and the expectation and if you know that you don't want to be out there and be part of it, the best thing is to stay home."
Dr. Debora Birx, the response coordinator for the White House coronavirus task force, warned on Sunday that Americans should follow social distancing guidance as they enjoy the Memorial Day weekend.
"We've learned a lot about this virus, but we now need to translate that learning into real change behavior that stays with us so we can continue to drive down the number of cases," Birx said during an interview with ABC's This Week. "This only works if we all follow the guidelines and protect one another."
"We really made it clear that during this reopening social gatherings should not be more than 10 people even if they're outside," the public health official added.
As of Monday morning, Missouri had reported 11,988 cases of the novel coronavirus. Of those infected, 681 have died.