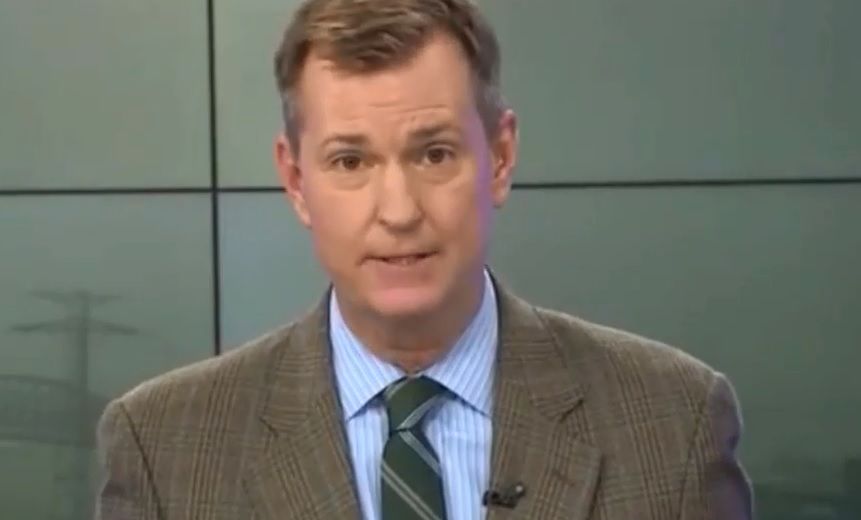 A Missouri television station has reversed a decision not to discipline a morning news anchor for uttering a racial slur on air, announcing on Friday that the journalist will take an indefinite leave from the anchor's desk.
KTVI TV and former news anchor Kevin Steincross each apologized for the incident where Steincross referred to Martin Luther King Jr. as "Martin Luther Coon Jr," as he discussed an upcoming event to honor the slain civil rights leader on January 17.
"Station management and I have agreed that I need to step away from the anchor desk for now. I will begin working now to regain your trust. I know the work I need to do will take time, and I will do everything I can do to address the pain I caused," Steincross said in a video published on KTVI's website. "For 22 years, I have reported and anchored the news on Fox 2. Now my job is to regain the trust of our entire community."
"Rather than reporting the news, I've been the news, and a mistake I've made has been the topic of conversation throughout our region. Last week I apologized for speaking, I've since had the opportunity to reflect and to learn, what I should have done then and what I'm doing now is apologize for the pain my mistake caused. I am truly sorry," Steincross said.
Steincross made the mistake during the 5 a.m. broadcast and apologized later that day during the 9 a.m. show after a viewer complaint. KTVI and Tribune Media, the station's parent company, initially announced that they would not discipline or fire Steincross for the error, despite calls for the journalist to be removed from his position from the St. Louis County chapter of the National Association for the Advancement of Colored People (NAACP), along with other organizations and community members.
In addition to Steincross' video, KTVI station management also issued an apology to the community, saying in part: "During the past week, we have met with or spoken to representatives from the NAACP, the Urban League, the Greater St. Louis Association of Black Journalists, and other civic groups in the area about the seriousness with which we approach issues of importance to our community. We are committed to the healing process and moving forward together through open dialogue and action."
In his video message, Steincross said repeatedly apologized for the pain he caused.
"Words matter. Words have been and still are, used to inflict pain and to make people feel less than equal. I know that," Steincross said. "I know my words, especially in the context of Dr. King's name and heading into the weekend when we celebrated his birth, inflicted and reopened deep wounds for my friends, my colleagues, and you, our viewers. No apology can heal those wounds. I only hope that time and my efforts will show who I am in my heart. I will live the rest of my life knowing how much pain I caused."
Steincross began working at KTVI in 1996 as a general assignment reporter. He has not appeared on the air since January 17.
Steincross' mistake is the same made by a meteorologist in New York earlier in January. The meteorologist, Jeremy Kappell, was later fired by the tv station. However, King's daughter, Dr. Bernice King, criticized the decision, saying that the error was an opportunity for rehabilitation and training.