Missouri Newspaper Blasts Josh Hawley, Suggests He Aims to 'Incite More' Violence
A prominent Missouri newspaper ripped Senator Josh Hawley in a scathing opinion article from its editorial board, suggesting that the Missouri Republican aims to "incite more" violence.
The St. Louis Post-Dispatch, the largest publication by circulation in the St. Louis metropolitan area, published the editorial on Thursday after Hawley attacked the Department of Justice for sending law enforcement around the country to investigate harassment and threats made against school personnel. On Monday, Attorney General Merrick Garland issued a memo citing a "disturbing spike" in harassment and threats against school administrators, staff and teachers over masking requirements and teaching students about racism.
"Can I just say you know you've lost the argument when you're sending FBI agents to try to silence voting, taxpaying parents, trying to silence them. I can't think of an instance in American history where anything like this has happened before. It's another first for Joe Biden and it's a bad one," Hawley told Fox News host Tucker Carlson on Tuesday, slamming the Justice Department's efforts to investigate legitimate threats and harassment.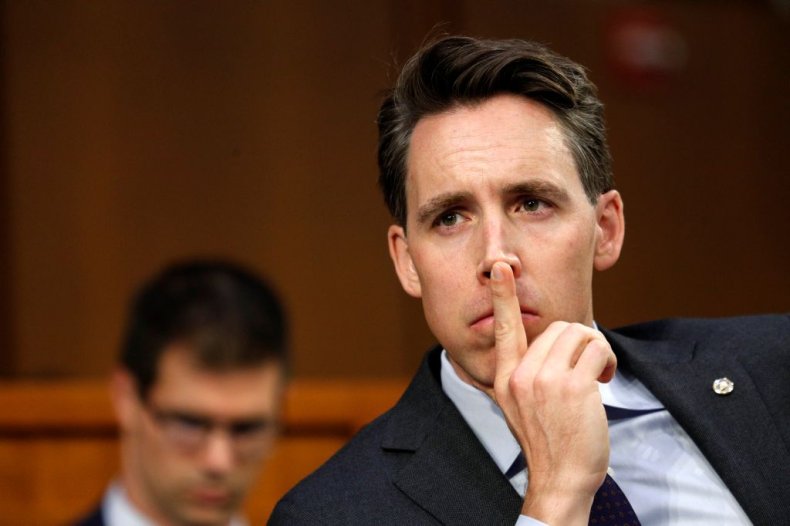 The editorial board took aim at Hawley and other GOP officials opposing the Justice Department's efforts to protect school personnel.
"[Senator] Josh Hawley...offers the Orwellian notion that confronting harassment and intimidation by parents against school board members is, in itself, harassment and intimidation. Is Missouri's Republican junior senator trying to incite more of the kind of violence he incited on [January] 6?" the editors wrote.
"What is happening in society today when people interpret their constitutional right to free speech as a right to disrupt public meetings, hurl insults and threats at officials in public forums and even physically assault those officials?" they asked.
Hawley has been a key promoter of the baseless conspiracy theory that the 2020 presidential election was "rigged" or "stolen" in favor of President Joe Biden. The GOP senator has faced substantial backlash for opposing the formal certification of Biden's electoral college victory, as well as infamously raising his fist in support of Trump supporters who went on to attack the U.S. Capitol on January 6.
"Given the parameters of Garland's memo—'criminal conduct'—these GOP politicians are explicitly siding with those who promote mayhem and mob rule, and against law enforcement. Given the events of [January] 6 and its aftermath, perhaps that shouldn't be surprising," the editorial board concluded.
Newsweek reached out to Hawley's press secretary for comment but did not immediately receive a response.
Previously, Missouri's The Kansas City Star has published editorials condemning Hawley's behavior as well.
"Hawley's mind is permanently closed, open only in the service of his ambition. He will say or do anything to further his prospects, whether it's the White House or a bottle of wine from the top shelf. The man who raised his fist in support of the mob that raided the Capitol on [January] 6 was never going to vote against his coconspirator in the Capitol riot," the newspaper's editorial board wrote after Hawley voted to acquit Trump of inciting the violence against the legislative branch of government at the conclusion of a February Senate trial.
Trump was impeached by the House of Representatives for inciting the violent attack. Ten Republican House members voted to impeach Trump along with their Democratic colleagues. Although Trump was later acquitted by the Senate, a majority of senators (57) voted "guilty."
That included seven GOP senators, making the decision the most bipartisan Senate conviction vote against a president in U.S. history. However, this fell short of the high constitutional threshold for a successful guilty verdict, which would have required a two-thirds majority of the 100-member body.