A man carrying a firearm was arrested at a Walmart in Missouri on Thursday, prompting discussions about open carry laws.
The man, who was identified by the Springfield Police Department as being in his twenties, was dressed in body armor and military fatigues and carrying a firearm. Although no shots were fired, his presence and actions, which came at a time when recent shootings have people on high alert, caused those in the store to panic, flee and call police about an active shooter.
On Saturday, more than 20 people were killed during a shooting at a Walmart in El Paso, Texas. The shooting is being investigated as a domestic terrorism incident and the suspect was charged with capital murder.
During Thursday's incident in Missouri, the suspect attempted to leave the store but was detained at gunpoint by an off-duty firefighter until police arrived. Police told KYTV that the suspect had multiple weapons, including an "assault-style" firearm, and about 100 rounds of ammunition.
"His intent was not to cause peace or comfort," Lieutenant Mike Lucas told KYTV. "He's lucky he's alive still, to be honest."
In Missouri, there isn't a statute that prohibits the open carrying of a firearm and certain permit holders are explicitly allowed to open carry, according to the Giffords Law Center. People with a valid concealed carry permit, who are lawfully carrying a firearm may briefly openly display the firearm.
However, they may not do so in an angry or threatening manner that wasn't necessary for self-defense.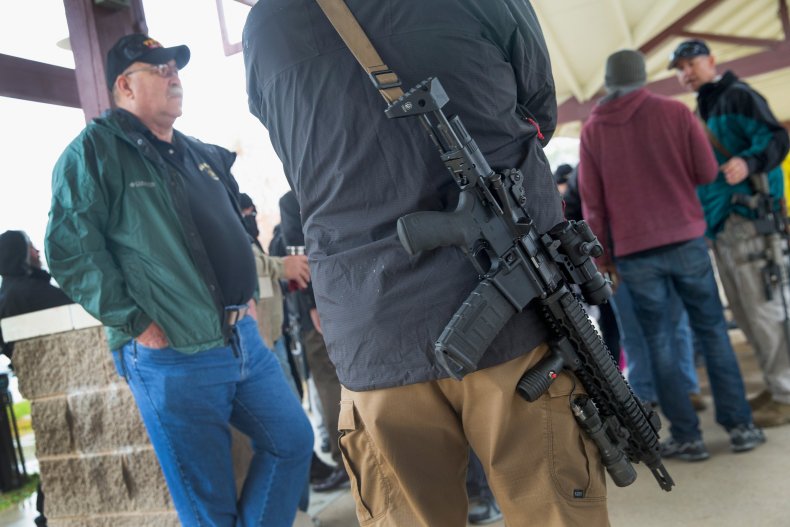 Open carry is when a person has a firearm in their possession and that firearm is visible to the public. It differs from concealed carry, which requires a person to hide their firearm from public view, which could be done by way of a holster or by keeping it in a bag.
In Missouri, according to the National Rifle Association (NRA), anyone who is over the age of 19 and legally permitted to own a firearm can carry a rifle or handgun without a permit. Those who are 18 years of age and a member of the United States Armed Forces or have been honorably discharged can also carry without a permit.
The NRA also noted that a permit is not required to carry a concealed handgun if the person is at least 19 years of age and can legally carry a firearm. Those who are 18 years old and a member of the military or have been honorably discharged can also carry a concealed handgun without a permit.
Open carry laws have raised debate among gun owners. Critics of open carry have pointed out that it's a tactical disadvantage for someone to be aware that you have a weapon and what that weapon is. Others have noted that open carry requires other firearm owners to asses a person's intentions.
The Springfield Police Department has not released the name of the suspect or what charges he could face.