Missouri Police Officer Dies Days After Being Charged for Punching Female Cop on Duty
A St. Louis police officer has passed away just days after he was charged with physically assaulting a female officer on duty.
On Saturday, Sgt. Keith Barrett of the St. Louis Metropolitan Police said that officer Rashard C. Lovelace, 31, had died, according to the St. Louis Post-Dispatch.
A spokesperson for the St. Louis Metropolitan Police Department told Newsweek Sunday that "officers responded to a call for a 'Shooting' in the 4100 block of Walsh and located an adult male deceased, suffering from an apparent self-inflicted gunshot wound" at around 11:30 a.m. local time Saturday.
"The male was pronounced deceased at the scene and identified as Rashard Lovelace," the spokesperson added. "Rashard Lovelace was a 31-year old black male and had been an SLMPD officer for 1.8 years. The Force Investigation Unit responded and is handing the ongoing investigation."
At the time of his death, Lovelace was facing four counts of fourth-degree domestic assault for allegedly assaulting a female police officer on several occasions while on duty, reported the Post-Dispatch. Lovelace was in a relationship with the victim during the assault, according to court documents.
Lovelace was accused of punching the officer in the chest twice and aggressively placing his hands around her neck twice between July and August 2020.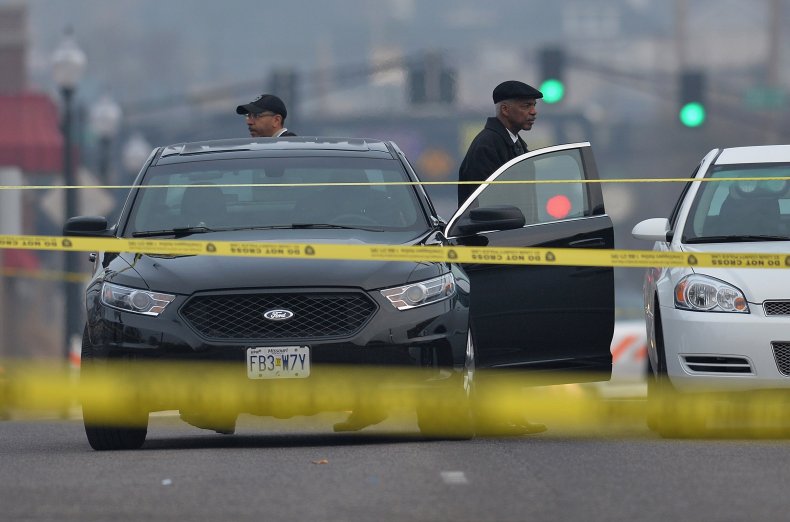 At least four police officers became witnesses and issued testimonies in charging documents.
Lovelace was released earlier this week after a judge had initially revoked his bond. One condition attached to Lovelace's bond ordered the officer to remain at a distance from his alleged victim.
The deceased officer's next court appearance was scheduled for May 18. He was still employed by the police department at the time of his death.
Newsweek reached out to the St. Louis Metropolitan Police Department for comment. This story will be updated with any response.
Lovelace's case came after two other St. Louis cops were charged with rape earlier this year, according to the Post-Dispatch.
Lafeal Lawshea, 38, who has worked for the department since 2008, was charged with forcible rape, forcible sodomy, sexual misconduct and victim tampering. He allegedly contacted one of his victims and told her to deny the allegation.
Sgt. Jatonya Clayborn-Muldrow was accused of tampering with a witness in Lawshea's case. Police say she told an alleged victim that the assault was "a misunderstanding."
A judge released Torey Phelps, 38, who has worked for the department since 2007, on house arrest after he was charged with raping a female victim. Both officers accused of rape have not yet been dismissed from the force, the Post-Dispatch reported.
St. Louis, a major city in Missouri situated along the Mississippi River, has a crime rate of roughly 81 per 1000 residents, one of the highest in America, according to Neighborhood Scout. More than 99 percent of towns and cities have a lower crime rate than St. Louis.
In January 2021, St. Louis was listed in Neighborhood Scout's top 100 most dangerous cities in America.
5/2/2021 3:50 p.m. ET: This story has been updated to include a statement to Newsweek from the St. Louis Metropolitan Police Department.