How Many Officers Have Been Killed in 2017? Missouri Cop Latest Police Fatality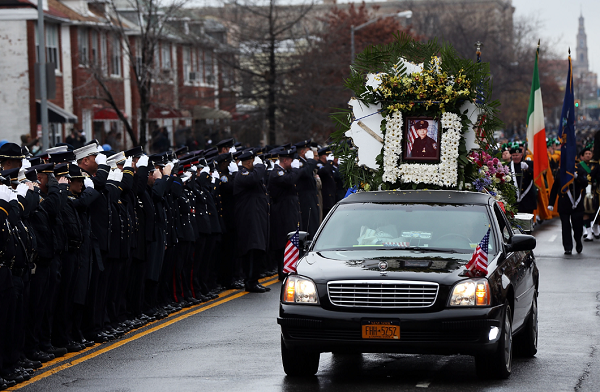 A Missouri cop who was shot and killed recently became the 28th officer to die in a firearms-related incident in 2017.
The officer, 37-year-old Gary Michael, was conducting a routine traffic stop when the driver exited his vehicle and started firing off rounds of bullets, according to a report by the Missouri Highway Patrol. The officer returned fire, but and the suspect, identified as 39-year-old Ian McCarthy, was able to return to his car and drive away after wounding Michael, police said. Although McCarthy reportedly crashed his vehicle two blocks away from the scene of the shooting, authorities have not yet captured him. It is unclear if he suffered any injuries from the shooting or the crash.
Sergeant Bill Lowe of the Missouri Highway Patrol told 41 Action News that there was no dash-cam or body-cam footage of the altercation. However, he noted that Michael had pulled McCarthy over regarding a registration violation.
"You know it's a tragedy obviously for his family, it's a tragedy for Clinton Police Department, but it's a tragedy for this community," Lowe said. "You know, he was doing his job. He was there protecting and serving, and that's what we are called to do, and he did it."
Police deaths have been increasing in 2017. Seventy-four officers have died so far this year, while the total number of fallen officers in 2016 was 75, according to the National Law Enforcement Officers Memorial Fund, which tracks officer deaths. Firearms-related incidents in particular are increasing at an alarming rate, with the number of cops who have been shot and killed on the job up 18 percent from this time last year. As of Monday, 28 cops had been killed by gunfire in 2017, while 34 officers were shot and killed in all of 2016.
Traffic-related deaths are up 15 percent after 31 officers died in vehicle-related incidents, compared to 27 who died in accidents in 2016. Fifteen officer deaths have been listed as "other causes" so far in 2017, compared to 14 in 2016.
Due to the uptick in police killings, governors in Louisiana, Kentucky, Mississippi and Texas have signed legislation declaring attacks against police a hate crime. Legislators in 14 other states also have introduced at least 32 bills, often referred to as "Blue Lives Matter" bills, designed to protect officers, according to a recent HuffPost analysis.
A native of Clinton, Michael was serving his first year on that city's police force when he was killed.