Missouri Polling Place Relocated After Man Drives Car Into Building, Threatens Workers, Pours Water on Voting Machines
A polling place in Missouri was forced to relocate Tuesday after a man drove his car into the building and shouted death threats as he poured water on voting machines and workers.
The unidentified man reversed his car into The Friendly Temple Baptist Church in north St. Louis around 9:30 a.m., before entering the building and going berserk. The man had cast his vote at the same location only minutes before he returned.
"He just went on a rampage then," said Gary Stoff, Republican director of the St. Louis Board of Election Commissioners to the St. Louis Post-Dispatch. "We don't know what set it off."
Witnesses reported the man had poured water and flipped over tables and chairs as he made a series of threats. Those present barricaded themselves inside the church's kitchen. There were no injuries and damage to the church was said to be minor.
Police who responded to the incident detained the man and took him to a hospital for evaluation. They were said to be planning to file charges against the man. The polling place was later moved to an educational facility about a mile away.
Newsweek reached out to the St. Louis Metropolitan Police Department but did not receive a response in time for publication.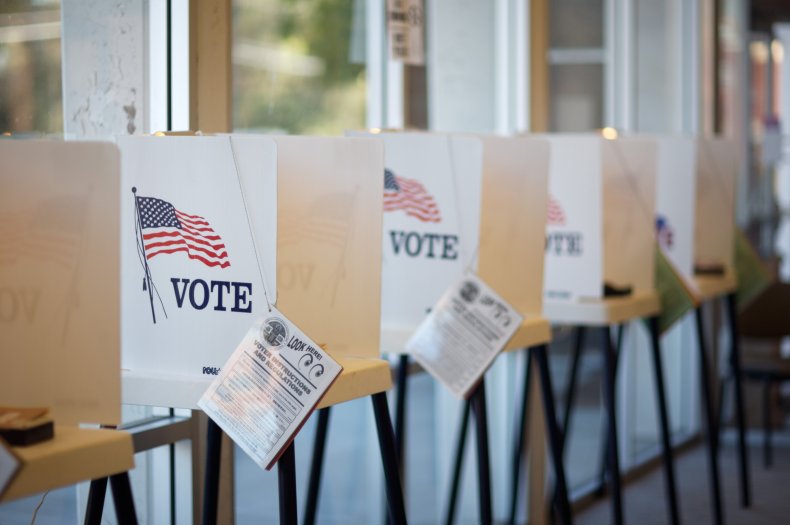 Voters in St. Louis also reported that other issues caused difficulty in voting Tuesday, with breakdowns of electronic equipment used to check in voters blamed for a great deal of frustration. The situation did not improve when some polling places switched to paper ballots.
Delays caused by the technical difficulties reportedly caused some voters to walk away and give up on casting their ballots altogether. The technical problems were said to be present in at least 50 out of 400 polling sites in Missouri.
"They got flustered," St. Louis County Election Director Rick Stream told The Associated Press. "Voters left, they had to go to work. That's on us, we should have had everything working properly."
The stakes were high for the Democratic primaries being held in six states including Missouri on Tuesday. Former Vice President Joe Biden already held a significant lead in the race for the nomination before votes were cast, after a series of impressive wins over Senator Bernie Sanders one week earlier on Super Tuesday.
Biden was projected to be the winner in Missouri by The New York Times before the votes were counted. Polling before Tuesday had suggested that a strong performance by Biden in the state was likely.
Republicans were also voting in Missouri's primary, although President Donald Trump was expected to win easily due to a lack of any major competition.
Missouri Polling Place Relocated After Man Drives Car Into Building, Threatens Workers, Pours Water on Voting Machines | News