Missouri Reports Highest Single-Day Rise in Coronavirus Cases as Businesses Begin to Reopen
As Missouri Governor Mike Parson ended his statewide stay-at-home order and businesses began to reopen on Monday, the state also saw its highest single-day increase in coronavirus cases.
Parson vistied a small number of businesses today to promote the end of his lockdown before returning to the state's Capitol for his daily COVID-10 press briefing. "We believe we are on the downside of this virus," the governor said. "This reopening is a gradual process but we are on the right track."
As of May 5, 8,887 individuals in total had tested positive for coronavirus in Missouri, with 383 deaths caused by the new disease. Nearly 400 new cases and six new deaths were reported on Monday. The number of additional COVID-19 cases is the most reported by the state in one day since the first person in Missouri was confirmed to have contracted the virus in early March.
A recent outbreak at Triumph Foods, a meat packing facility in St. Joseph, infected roughly 300 employees, accounting for much of today's uptick in cases. Parson indicated that all staffers at the location have been quarantined.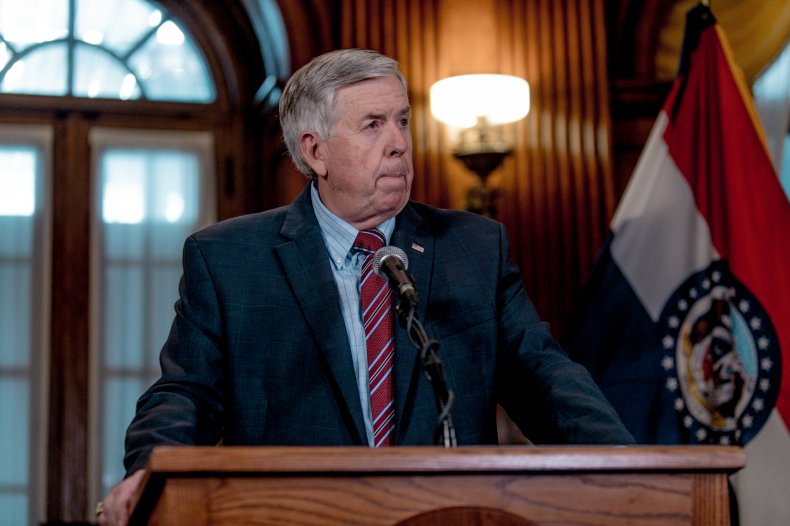 "We did roughly 3,000 tests over the State of Missouri randomly over the weekend and of those 3,000 tests there were 9 that came back positive," the governor said at his daily coronavirus briefing. "You have to take all the numbers as a whole to see how it affects the entire state."
Dr. Randall Williams added that increased testing among symptomatic and asymptomatic individuals was another factor that influenced the spike in positive cases.
Under the state's phased reopening plan, nonessential businesses such as retail stores and restaurants will be allowed to open but employers must maintain social distancing and impose occupancy limits. These limits are expected to be upheld for the foreseeable future despite the expiration of Parson's stay-at-home order. Social gatherings and events will also be allowed to resume as long as people in attendance are able to maintain social distancing.
St. Louis County and the City of St. Louis will not be affected by the plan as both areas are still under stay-at-home orders enforced by local officials.
Parson acknowledged last week that some citizens may not currently agree with the way he has responded to the pandemic, but said he was certain they will look back on his efforts with pride. "We are successfully flattening the curve," the governor added. "With the help of all Missourians, our plan is working. The health care system is not overwhelmed and we are winning the battle."
He also noted that the decision to reopen the economy and allow social gatherings was made with approval from state health officials and based on data over the past few months.
Newsweek reached out to Parson's office for comment. This story will be updated with any response.