Missouri GOP Senator Who Wants Americans to Sue China Says Sanction Won't Stop Him
Sen. Josh Hawley said he didn't care about being the reported target of Chinese sanctions over his push to expose Beijing to U.S. coronavirus lawsuits.
The Missouri Republican told Fox News on Tuesday that China wanted to sue him because he had "the temerity to actually stand up" against the country amid the ongoing pandemic.
He also warned that it was "now or never" for the U.S. to change its relationship with the Chinese government.
"China has said that they are going to sanction me personally, whatever that means. And they're going to sanction my state: the state of Missouri because we've had the temerity to actually stand up."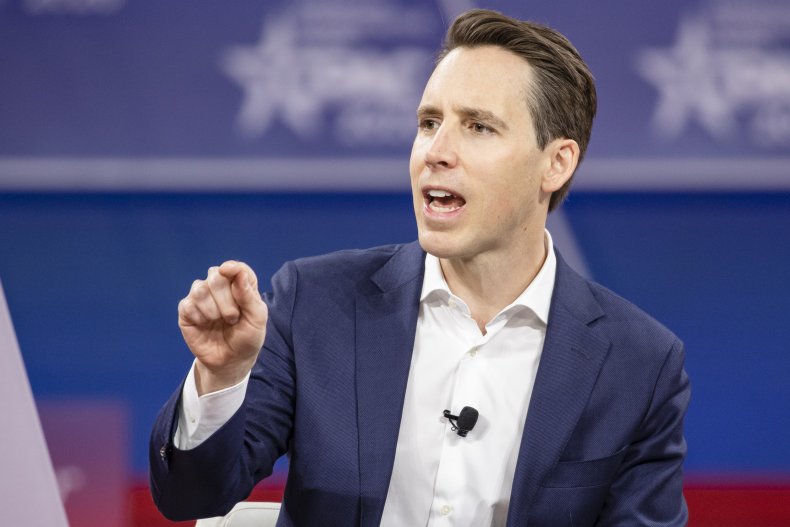 After noting that he had put forward a bill that would allow Americans to sue Chinese officials for damages, Hawley added: "I guess that makes me a target, I don't care. We're going to keep speaking the truth, and we're going to hold China accountable. This is the time. We've got to change our relationship with China. It's now or never."
Asked if there was bipartisan support for "pushback" against China in the Senate, Hawley replied: "Our Democrat friends, they'll talk a game about China, but when it comes to actually rubber to road, what are we going to do about it... it's time for elected officials to stand up and doing something about it."
"We've got to now build new coalitions of other free nations who are willing to partner together and hold China accountable," he later said. "We cannot be satisfied and content with the status quo."
Newsweek has contacted the Chinese embassy for comment. This article will be updated with any response.
Sen. Hawley repeated his call for a shift in U.S.-China relations less than week after a Chinese state-backed newspaper reported that the Missouri Republican would be put on the country's sanction list.
The Global Times report published last Thursday said Beijing was "extremely dissatisfied" with U.S. lawsuits filed against China over the coronavirus pandemic.
Missouri Republicans have been at the forefront of attempts to litigate Chinese officials over the spread of COVID-19, with state Attorney General Eric Schmitt bringing the first lawsuit against Beijing.
Amid allegations that China attempted to cover up the outbreak in its early stages, Hawley has also put forward a bill that would strip China of its sovereign immunity in civil courts—opening it up to coronavirus-related damage claims.