Missouri State Rep. Who Skipped Swearing in to Protest Biden's Win Resigns 1 Year Later
A Republican state representative for Missouri who skipped his own swearing-in last year to protest President Joe Biden's election victory has resigned before the end of his term.
Representative Justin Hill, who represents the 108th district, said in a statement posted on his Facebook page that after being "deeply involved" in developing state policy at the national level for some time, he realized late last year that "the best way to continue these efforts over the long term is to step down from public office and continue my efforts within the private sector."
Hill said he'll move to Florida to build his consulting business and "continue to advance good public policy across the country." He did not offer further details on what his consulting work would entail.
Hill, a former law enforcement officer, was first elected to represent the Missouri district in 2014, the Missouri Times reported. His last day in the Missouri House of Representatives will be Wednesday, the first day of the 2022 legislative session.
"I will be forever grateful to the great people of Lake Saint Louis, O'Fallon, Dardenne Prairie and Wentzville who entrusted me to be their voice in the Missouri House of Representatives," he wrote in the statement.
Hill skipped his own inauguration last year to attend the January 6 rally in Washington, D.C., which preceded the violent attack on the U.S. Capitol building, protesting the certification of Biden's Electoral College victory. He has stated that he didn't take part in the Capitol insurrection along with other supporters of then-President Donald Trump, who instructed the rally crowd to "fight like hell."
Instead, he claimed that he left the rally for lunch while the speeches were still in progress and then watched the mob storm the Capitol building from afar, the Riverfront Times reported.
Without Hill in the Missouri House, there likely will not be enough Republican representatives to override any potential legislation vetoes by GOP Governor Mike Parson without Democratic representatives joining the cause. The GOP House members need a threshold of 109 lawmakers, and they currently have 110.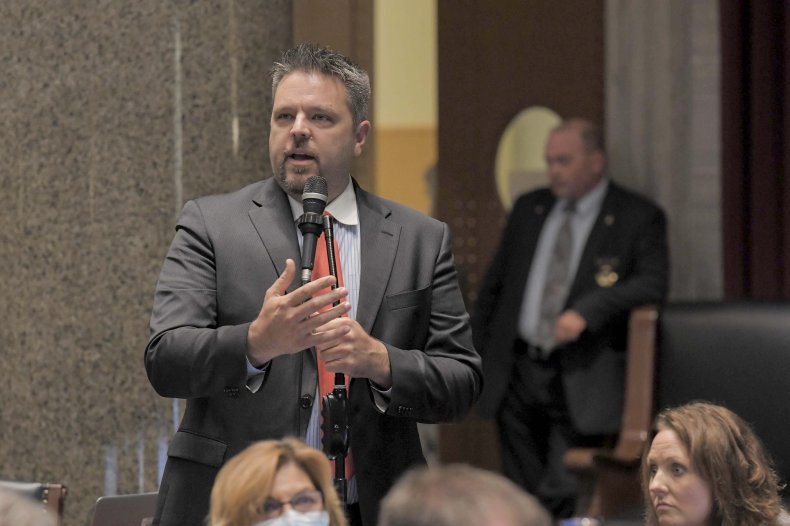 Hill didn't immediately return an Associated Press call to his Capitol office Tuesday.
On top of Hill's planned resignation, Republican Representative Aaron Griesheimer previously told the Missourian that he's also leaving for another job.
Without the two of them, there will be 108 Republican House members.
Correction 1/5/2022, 9:40 a.m. ET: This article was updated to say that Rep. Justin Hill resigned before the end of his term, and not one year into the job. Hill was elected in 2014 and served seven years in the Missouri House of Representatives.
The Associated Press contributed to this report.