Missouri Taxi Firm Rejects Passengers Wearing Masks, Owner Proud of State's Low Vaxx Rate
A taxi company outside of St. Louis has banned vaccinated people or people wearing masks from riding in its vehicles, a move that prompted backlash from some community members.
Charlie Bullington, the owner of Yo Transportation, told KMOV-TV that the company is "very against the vaccine."
Yo Transportation serves many suburban counties outside of St. Louis, providing transportation to various daily actives and special events, according to the company's website.
"We don't allow any type of masks in our vehicles," Bullington told the news station. "We are very against the vaccines, and we do not wish to have people in our vehicle that did the vaccines."
Bullington said he verifies his passengers will abide by the policy before he picks them up, KMOV reported. He also said he researched COVID by reading articles from Truth11 and The High Wire, both of which have reportedly spread misinformation about the virus.
The taxi company owner said he believes masks are "germ catchers."
"Because of what they consider the shedding process of them transmitting their germs to us by contact whether it's a shake of hands, a touch," Bullington said.
The Centers for Disease Control and Prevention (CDC) said that vaccine shedding can only occur when a vaccine contains a weakened version of the virus. None of the vaccines authorized for use in the U.S. contain a live version of the virus.
"I understand Missouri is one of the top three states with the lowest vaccination rate, so I am proud of all the Missouri people for standing against this," Bullington remarked.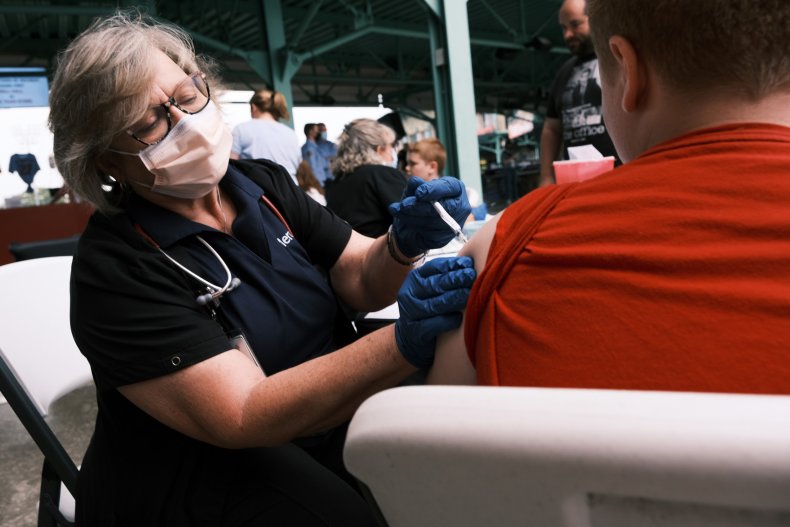 Resident Steven Fletchall told KMOV that he would not use the taxi service.
"I think his taxi is probably the one thing that's got the virus in it now," he said. "If he's allowing people that are unvaccinated to get in his taxi, I sure wouldn't want to get in it."
Another resident, who KMOV did not name, posted on Facebook: "Don't waste your time calling them unless you enjoy riding in their Pink, petri dish cars and are eager to get COVID."
Some residents, however, agree with the policy, with Bullington saying it "sparked up all the good people to call" him and voice their support.
Newsweek reached out to Bullington, but he declined to comment, citing a significant influx in calls due to the policy.
Public health officials in the United States have maintained that both vaccinations and wearing a mask help limit the spread of the virus. The CDC calls the vaccines "safe and effective" and recommends that people, including those who have been vaccinated, to wear a mask indoors "in areas of substantial or high transmission."
COVID-19 cases in Missouri have surged in recent weeks due to the highly-transmissible Delta variant. The state's 7-day average of new cases on August 6 was 3,560, compared to only 1,246 a month earlier on July 6, according to data from John Hopkins University. Just over 42 percent of people in the state have been fully vaccinated against the virus.
The surge in cases has forced one hospital in Springfield, Missouri, to expand its morgue capacity due to increased deaths.