Missouri Town Plants Flags in Dog Poop as Reminder For Owners to Clean Up After Their Pets
One town in Missouri has grown so tired of dogs pooping without their owners scooping that the city is leaving clever reminders equally as noticeable as what the doggies themselves have left behind.
The Springfield Police Department posted photos Wednesday of friendly flag reminders planted into dog poop around town. Each flag has a message to pet walkers. Though most are funny and witty, the police department said "keeping our community clean is not a joke."
The messages range from:
"Is That Your Turd? Cuz That's Absurd."
"Keep SGF Fresh, Pick Up The Mess."
"Drop In The Trash, Not In The Grass."
"This Is A Nudge To Pick Up The Fudge."
"#scoopthepoop"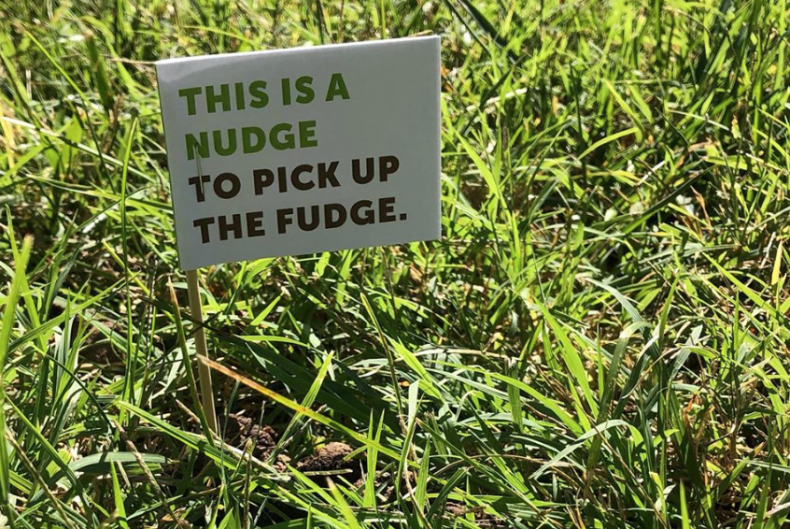 The City of Springfield Environmental Services spearheaded the campaign in its efforts to keep the city clean, and it coincides with other cleanup events like last weekend's neighborhood cleanup in West Central neighborhood, and also the upcoming Medicine Take-Back Event, per the group's Facebook page.
The police department wrote on its Facebook, "While the flags are funny and witty, keeping our community clean is not a joke and in many cases it is against City Ordinance not to clean up your pet's waste (96-27)."
The city's environmental service commented on the police post to say, "The flags are actually made from bamboo and recycled content paper instead of the more common metal and pvc yard flags seen.
"But, rest assured, there are crews associated with the downtown association and the City that manage periodic monthly pet waste removals. These crews are prepared to pick up flags during their next removal."
And whereas some people claim dog poop is "fertilizer" that is good for the grass, the environmental department discredited that theory.
"There is a lot of bacteria and pollution in pet waste that actually created a health hazard for people and other pets when left on the ground. It's also not great for water quality efforts either," the department said in the Kansas City Star.
Despite some residents thanking the city for their efforts to clean up the dog mess, and some even wanting the flags taken to their sides of town, there are always skeptics. Some say the city should place flags for the town's homeless people to clean up. Some call it a waste of taxpayer money to buy the bamboo and print the signs, and others say the city should redirect its efforts elsewhere.
The SGF Environmental Services is an arm of the city's government dedicated to keeping the city beautiful, as most cities in America have in place for beautification purposes.
Missouri Town Plants Flags in Dog Poop as Reminder For Owners to Clean Up After Their Pets | News