St. Louis Mom Makes Free Meals for More Than 100 Kids Every Day
A mother of six is providing free meals to children in her North St. Louis neighborhood, serving more than a hundred kids every day.
Champale Greene-Anderson has run the program, which she calls Champ's Teardrops, out of her house for five years: Each day, she fills up to 150 brown-paper bags containing cookies, fruit, vegetables, juice, peanut-butter sandwiches and other items.
She makes the meals available to kids throughout the day, though the majority of youngsters come by in the morning and afternoon.
"I noticed the kids, they are always hungry," Anderson told WDAF. "They get off the bus and they take off running [because] they never know what I will have in the bag. I switch up and have special treats for my special babies."
Anderson, a health care provider by profession, says that her free-lunch program has grown steadily, with more and more parents bringing their kids by. A GoFundMe campaign she launched in August has already garnered more than $23,500, far superseding her $1,500 goal.
She's looking to use the funding to expand Champ's Teardrops beyond her home into other St. Louis neighborhoods. Anderson says she was inspired by a quote from Mother Teresa: "I alone cannot change the world, but I can cast a stone across the waters to create many ripples."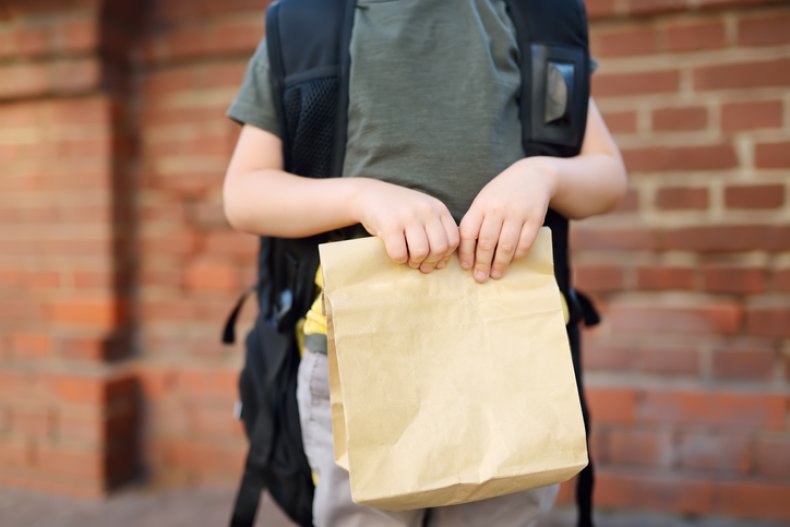 Forty million Americans are affected by food insecurity, according to WhyHunger, forcing them to skip meals or eat less expensive, non-nutritious options. In 2017 alone, more than 13 million children went to school hungry, which, according to numerous studies, can adversely impact educational performance.
Those same studies find that children who eat breakfast have better attendance records and exhibit fewer disciplinary problems. Kids who don't have enough food during the day, though, tend to have lower math test scores and are more likely to repeat a grade.
Close to 75% of US school districts report school-lunch debt—and some have garnered unwanted publicity for how they handle it: Warwick School District in Rhode Island drew sharp criticism when it announced any student with a balance remaining on the account would receive a sunflower-seed butter and jelly sandwich in lieu of a hot meal.
Yogurt maker Chobani stepped in to help cover the $77,000 in lunch debt, and independent nonprofits like School Lunch Fairy have arisen to provide similar assistance, but the problem persists: In March, President Trump proposed cutting the National School Lunch Program by $1.7 billion over the next ten years, and adding new rules for how districts determine which children are eligible for food assistance.
The budget also recommended cuts of $220 billion over the next decade to the food stamp benefits, impacting an estimated 3.1 million Americans.