Missouri's Biggest Paper Says Josh Hawley Brings 'Embarrassment' to State
The biggest newspaper in Missouri has called on people in the state "not to be fooled" by the arguments of its senators in favor of ex-President Donald Trump as he faces an impeachment trial on a charge of inciting the U.S. Capitol riots.
The St Louis Post-Dispatch has been highly critical of Sen. Josh Hawley for peddling falsehoods pushed by Trump that the election was marred by fraud. The publication also says actions played a role in encouraging the riots on January 6.
Although he is enjoying a larger national profile for his stance, Hawley faces pressure within his state. Donors are distancing themselves from him, and local media outlets such as the Post-Dispatch are ramping up their criticism.
Only days after it dubbed him "FrankenHawley," The Post-Dispatch took aim at him again as well as Missouri's other senator, Roy Blunt, who joined Hawley in voting against allowing Trump's impeachment trial to proceed.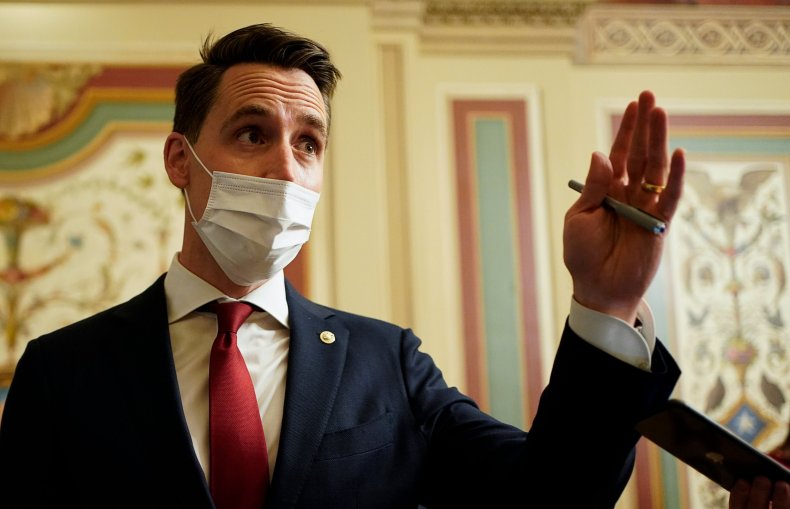 Its op-ed said that trial had presented Hawley and Blunt with an opportunity "to redeem themselves for blindly supporting a man whose conduct was indefensible."
"Instead, they continue bringing additional embarrassment to the state after having flirted with the abolition of democracy in favor of keeping a dictator wannabe in the White House."
Calling Hawley the Senate's "biggest cheerleader" in defending Trump's false claim that he won the election on November 3, the paper condemned his and Blunt's rejection that the former president should be held accountable for inciting the rioters.
"Missourians must not allow themselves to be fooled by the weak boilerplate defenses by Hawley and Blunt."
Citing Hawley's claim that the trial was "unconstitutional" and taking place while President Joe Biden "cancels thousands of working class jobs," the op-ed points to how in fact a bipartisan Senate majority agreed the trial was constitutional.
"The attempt to divert attention to Biden, who has not canceled a single job, is pathetic but oh-so-typical of Hawley."
The paper said that Missouri constituents who correspond with Hawley receive form-letter responses that state how Trump's trial is a diversion from issues like suicides, rising health care and housing costs, and rural internet access.
But the op-ed doubted Hawley's concerns, saying, "It's just a matter of time before Hawley starts asserting that when he fist-pumped the mob as it swarmed the Capitol on Jan. 6, he was actually fist-pumping his attention to suicide, housing costs and rural internet access." This was a reference to the image that went viral of Hawley greeting protesters outside the U.S. Capitol on January 6.
The op-ed also rejected Hawley's claim that his challenge to the impeachment was because he was representing the "legitimate concerns" of Missourians, 41 percent of whom voted to oust Trump.
"Their 'legitimate concerns' deserve a fist-pump, too," it added. Newsweek has contacted the offices of Sens. Hawley and Blunt for comment.