Mister Rogers Google Doodle Celebrates Anniversary of 'Mister Rogers' Neighborhood'
It's been 51 years since Fred Rogers, better known as Mister Rogers, filmed the first episode of Mister Rogers' Neighborhood and started what would be decades of classic children's television.
Friday, Google honored Rogers with a Google Doodle on the homepage of the search engine to celebrate the anniversary of the filming of the first episode. Though the episode didn't air until February 19, 1968, it was filmed months prior on September 21, 1967.
The episode included the now-famous song, "I Like You As You Are" that Rogers sang. Friday's Google Doodle also includes the song along with the trolley from the very first episode and those that followed as well.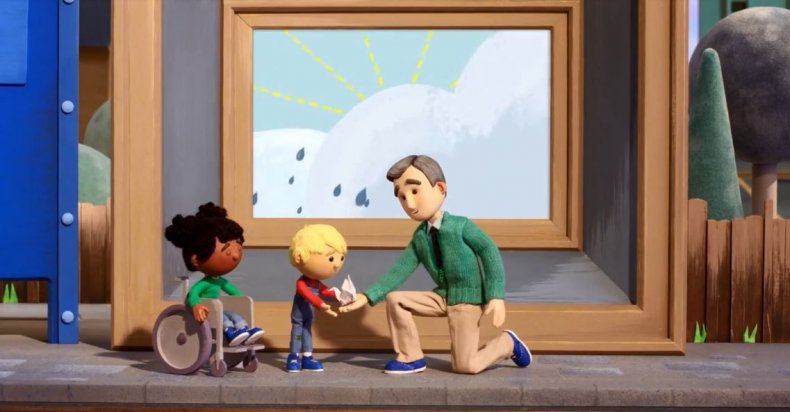 The stop-motion doodle video has the typical opening to Mister Rogers' Neighborhood that pans over the small town Rogers lives in the show, but the doodle video is in stop-motion animation.
The video then shows Rogers walking down a street in a little town, stopping to draw, make an origami swan for a child, riding in his trolley through the neighborhood of make-believe and waving hello to the King and Queen in their castle.
At the end of the stop-motion video, Rogers is shown sitting in his television home, the set of the show, where the majority of the episodes were filmed. As the camera pans out, it shows that Rogers is actually on a screen and kids are surrounding the TV watching him. In his sing-songy voice, Rogers says, "You help to make each day a special day by just your being yourself. There's nobody else in the whole world who's exactly like you and people can like you exactly as you are."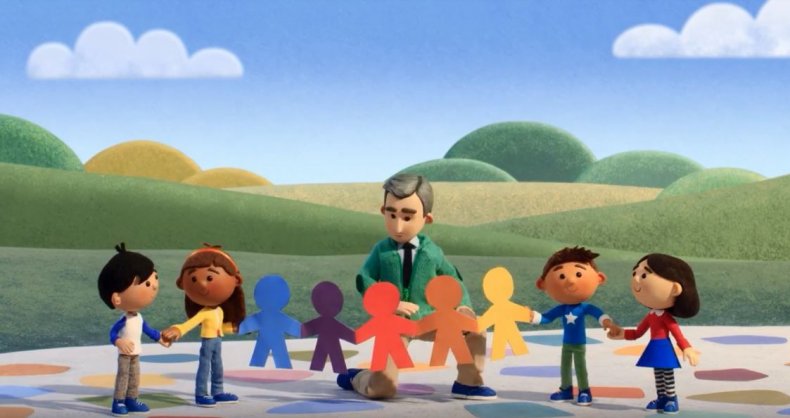 Rogers was known for his episodes on public television that ran for years with the message of inclusion, acceptance and the importance of expressing and talking about emotions. While the show was always made for children, the themes Rogers shared on his show were universal.
During the episodes, Roger does everything from simply changing into his sneakers to visiting a penguin sanctuary and having conversations with puppet or going into the "neighborhood of make-believe."
When the show started filming, Rogers wasn't even 40 but by the time it ended in 2001 he was one of the most beloved people in America. He died of stomach cancer in 2003, two years after filming ended.