Forbes Columnist Blames 'Drunk Female Guests' for Frat Strife, Sparks Twitter Meme, Gets Canned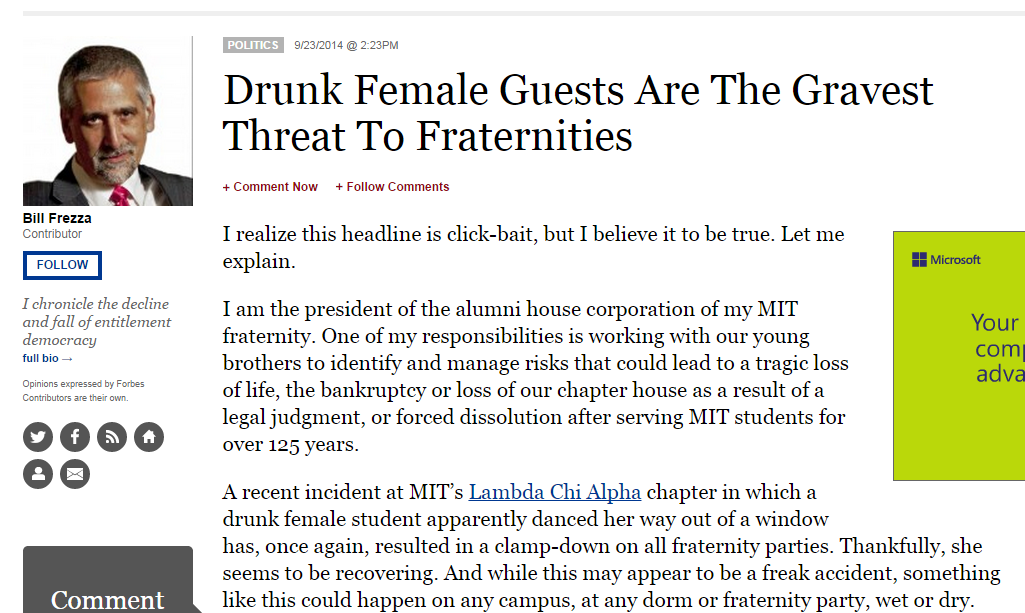 An inflammatory Forbes.com column titled "Drunk Female Guests Are the Gravest Threat to Fraternities" has added to the number of controversial attempts to analyze issues of sexual assault and drinking on college campuses.
Within hours of publication, the piece had been removed from the site, and by Wednesday, Bill Frezza had lost his gig as a part-time columnist for Forbes, the Daily News reported.
The apparent victim-blaming tone of Frezza's column drew comparisons to other pieces on rape and sexual assault at colleges, including recent ones by George F. Will in The Washington Post and James Taranto in The Wall Street Journal that sparked similar controversy.
"Frezza is just the latest example in a long line of writers who have used their media platforms to suggest that college women are getting too drunk and falsely accusing men of rape," writes Tara Culp-Ressler at Think Progress.
"Blaming the problem on other people and taking zero time for self-reflection is exactly how fraternities arrived at their punchline status in the first place," writes Jezebel's Erin Gloria Ryan.
Frezza, who is president of the alumni house corporation of his MIT fraternity, noted in the piece that he expected calls for his defenestration by "feminist web vigilantes" but asked that readers hear him out anyway.
"In our age of sexual equality, why drunk female students are almost never characterized as irresponsible jerks is a question I leave to the feminists," he went on in the column, which was soon taken down but remains archived by Google. "But it is precisely those irresponsible women that the brothers must be trained to identify and protect against, because all it takes is one to bring an entire fraternity system down."
Frezza then warns "my young charges" about the many threats of alcohol poisoning, death, serious injury or false rape allegations "triggered by regrets over a drunken hook-up, or anger over a failed relationship."
The piece was accompanied by a stock photo of an intoxicated woman clutching a wine bottle: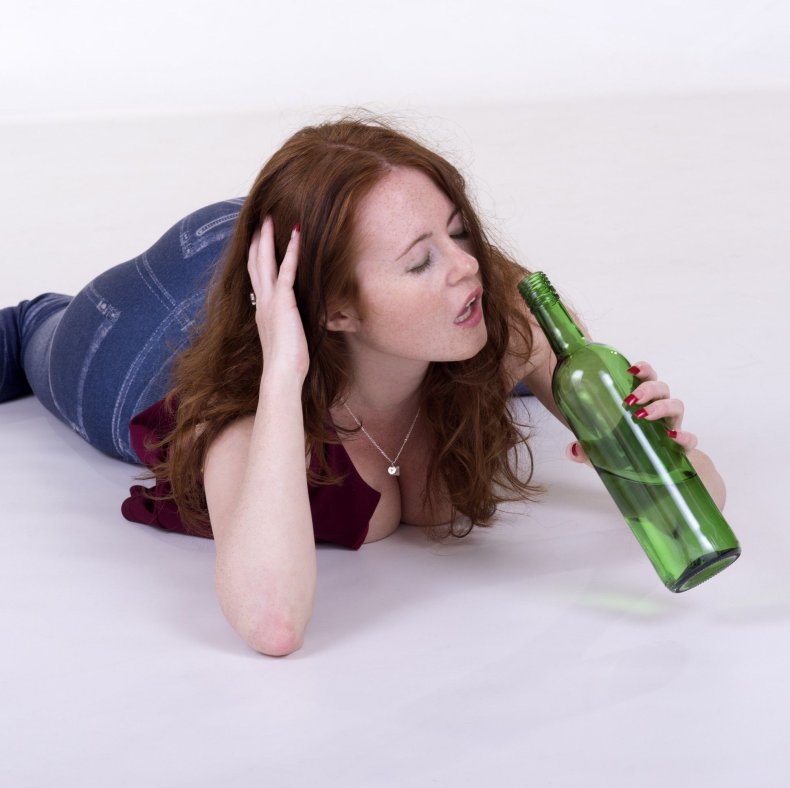 It was Frezza's concerned-looking mug, though, that wound up appearing in a Twitter meme inspired by the piece, which the author then re-tweeted:
Frats and campus administrators have taken action on binge drinking and sexual assault this week, though not in the ways Frezza prescribes. Wesleyan University has ordered its residential frats to begin admitting women after a string of incidents, while eight major national fraternities have joined together to develop training programs on these topics for their members.