MIT Cut Ties With Russia President Vladimir Putin's 'American Oligarch' Linked to Trump Lawyer Michael Cohen Payments
In the midst of special counsel Robert Mueller's investigation into Russian election interference, the Massachusetts Institute of Technology (MIT) has quietly cut its ties with a Russian billionaire who was once on its board of trustees.
Viktor Vekselberg, the Switzerland-based co-founder of Russia's Renovo Asset Management Company, was nicknamed Russian President Vladimir Putin's "American oligarch." His wife and children live in the United States, and his businessman cousin Andrew Intrater is a U.S. citizen. Over the years, Vekselberg has used his Russian business activities to build ties with U.S. institutions, and Renovo works closely with the U.S.-based investment firm Columbus Nova, which is owned by Vekselberg's cousin.
Vekselberg became the president of the Skolkovo Foundation, Russia's answer to Silicon Valley, in 2010, and quickly began forming partnerships with MIT. He was invited to join MIT's board of trustees in 2013, and as recently as 2015 an MIT news bulletin named him one of eight people who would serve a five-year term on the MIT Corporation's board. MIT planned to work with the Skolkovo Institute of Science and Technology, a "tech center" based on the outskirts of Moscow, for around $300 million.
Skolkovo also formed relationships with prominent U.S. tech companies like Microsoft and Cisco. In 2014, the FBI warned companies in Silicon Valley that the partnerships could expose U.S. tech firms to vulnerabilities and make it easier for Russia to spy on the United States.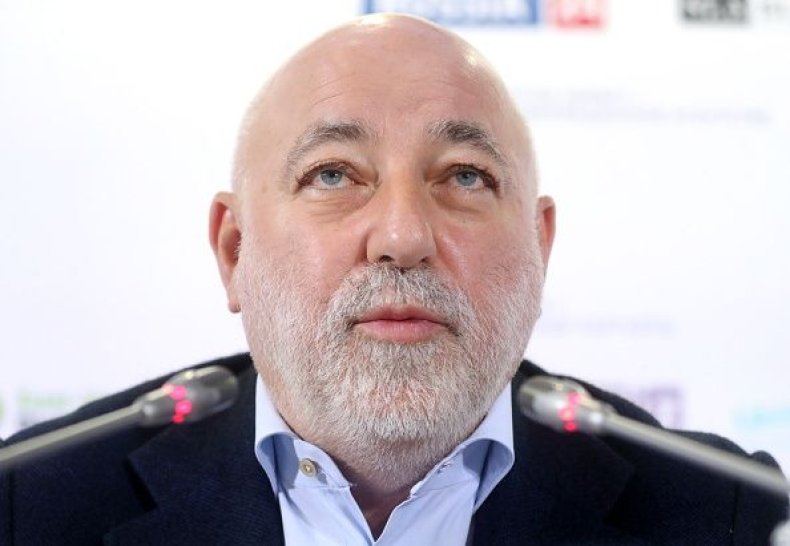 But Vekselberg's place in the Trump orbit and subsequent sanctions have caused him to lose many of those connections at a time when Russian ties appear tainted. The American university removed Vekselberg from its board after he and a handful of Russian individuals and entities were sanctioned in April for interfering in the 2016 election, according to Radio Free Europe. Around $1.5 billion of his assets also were allegedly frozen.
"In 2013, Viktor Vekselberg joined the MIT Corporation, which is MIT's board of trustees. In April 2018, as a result of OFAC adding Mr. Vekselberg to its specially designated nationals list, MIT suspended Mr. Vekselberg's Corporation membership," Kimberly Allen, a spokeswoman for MIT, told Newsweek in an email.
Shortly after Vekselberg was sanctioned, Russian government spokespeople revealed that the government had provided Vekselberg's Renovo Group with financial backing.
At least some of Vekselberg's problems have arisen from his ties to President Trump's former longtime fixer and personal lawyer, Michael Cohen. The Russian's U.S.-based company Columbus Nova hired Cohen as a consultant for $1 million and wired half of that sum to an account Cohen used to pay hush money to the adult film star Stormy Daniels, who claims to have had a sexual relationship with Trump. It is unclear what the $500,000 payment was for or if Cohen ever did consulting work for Columbus Nova.
Cohen has since pleaded guilty to campaign finance violations, among other crimes, and is now cooperating with investigators.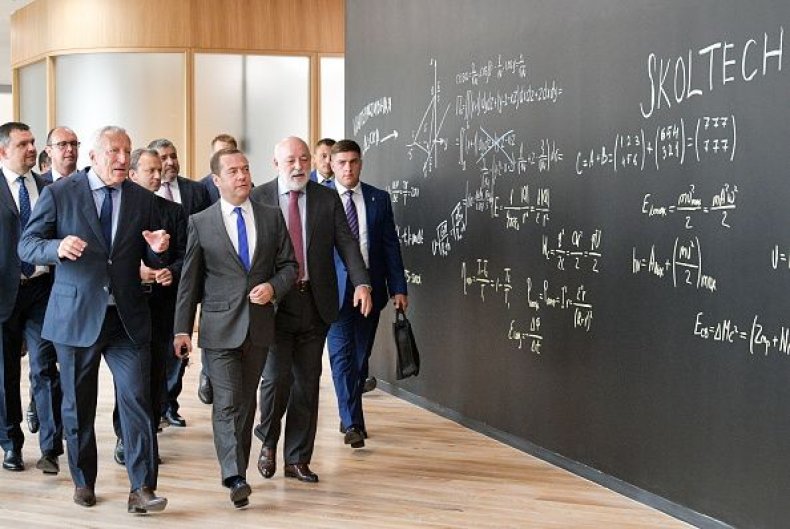 Special counsel Mueller's team questioned Vekselberg in March last year and reports claimed that Mueller had asked the oligarch about his ties to Cohen.
Vekselberg also attended Trump's inauguration ceremony with his cousin Intrater, a move that raised suspicions that the Russian was trying to gain influence in the Trump orbit. Numerous reports later claimed that Vekselberg had bragged about his ties to Trump and his ability to have sanctions lifted on Russia. Bloomberg reported that Vekselberg had discussed sanctions with Cohen directly. Vekselberg's lawyers have denied the reports.
Meanwhile, experts noted that Vekselberg's ties to Trump campaign figures went beyond his connection to Cohen.
"Vekselberg is connected to a few people in Trump's inner circle. In 2014, on a trip to Moscow, Ivanka Trump and Jared Kushner met with Emin Agalarov and attended a private fundraising dinner with Vekselberg," Olga Lautman, an investigative reporter who tracks President Trump's ties to Russia, told Newsweek. "Vekselberg was also at the infamous RT event in 2015 along with [former Trump national security adviser Michael] Flynn and Putin, and was a shareholder in the Bank of Cyprus around the same time Trump's future Secretary of Commerce Wilbur Ross was investing into the bank.
"Eleven days prior to [Trump's] inauguration, Vekselberg met with Michael Cohen at Trump Tower to discuss relations with Russia, and then flew to see Putin in Moscow on January 26, 2017," Lautman continued.
Vekselberg is now lobbying to be removed from the U.S. sanctions list. In December 2018, the Treasury Department announced its intentions to lift sanctions on Russian oligarch Oleg Deripaska's companies, which were sanctioned at the same time as Vekselberg. The companies successfully struck an agreement that would see Deripaska lose control over his companies in exchange for sanctions relief. It is unclear whether Vekselberg's companies are pursuing a similar arrangement.