'Mitch Better Have My Money': Kentuckians Gather Outside McConnell's Office to Protest Alleged Blocking of Stimulus
Kentucky residents recently gathered outside of Senate Majority Leader Mitch McConnell's office to protest his alleged blocking of a second coronavirus stimulus aid package.
According to the Washington Post, some protesters held up signs that read "Mitch better have my money."
The Post also reported that in over a dozen interviews with Kentuckians, including unemployed residents, struggling business owners and housing and labor rights groups, all have expressed needing more aid from Congress, which McConnell has failed to provide.
"We're seeing huge numbers of people needing help," Jason Bailey, the executive director of the left-leaning Kentucky Center for Economic Policy, said according to the Post. "I can't imagine a state that needs additional relief more than Kentucky does."
The protests come as McConnell has blocked an extension of the CARES act which provided unemployment benefits of up to $600 per week during the novel coronavirus pandemic. He has also proposed the HEALS act, in opposition to the House of Representative's HEROES act - a $3 trillion relief legislation passed in May.
The HEALS act, which stands for Health, Economic Assistance, Liability protection, and Schools, is a $1 trillion bill that has "one foot in the pandemic and one foot in the recovery," according to McConnell. The bill would provide a second round of $1,200 stimulus checks, the same as the CARES act, but cuts unemployment benefits down to $200 per week instead of $600.
"So I hope this strong proposal will occasion a real response. Not partisan cheap shots. Not the predictable, tired, old rhetoric as though these were ordinary times and the nation could afford ordinary politics," McConnell said in unveiling the HEALS Act.
McConnell has also criticized the HEROES act, calling it a "multi-trillion-dollar socialist manifesto."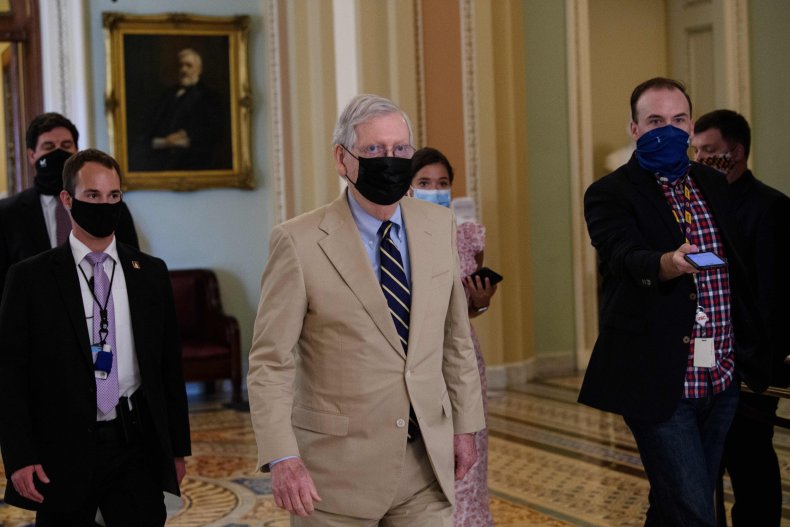 In a recent speech on the Congress floor, McConnell said he opposes the $600 weekly payments, as it "dis-incentivizes re-hiring and re-opening to pay people more to stay home."
While speaking to the Post, Michael Holland, a 59-year-old Kentucky resident who lost his job due to the novel coronavirus pandemic, stated that "The $600 a week has been a lifeline."
"There are some people, I'm sure, that are bringing home more than they were making before the pandemic," Holland told the Post. "But there's also those of us who's making a lot less. ... What about those of us who need a job, and can't get a job, because the coronavirus is coming back?"
McConnell has also faced criticism from prominent lawmakers such as Senate Minority Leader Chuck Schumer, who said McConnell's proposed legislation was "totally inadequate."
According to the Post, McConnell declined to be interviewed but his spokesman, Robert Steurer, stated that McConnell's efforts have directed approximately $12 billion to Kentucky.
Newsweek reached out to McConnell for comment but did not receive a response in time for publication.