Senate Minority Leader Mitch McConnell of Kentucky condemned Representative Marjorie Taylor Greene's recent comments comparing coronavirus masking and vaccine mandates to "the horrors of the Holocaust" under Nazi Germany. He called her words "one of the frequent outbursts that are absolutely outrageous and reprehensible."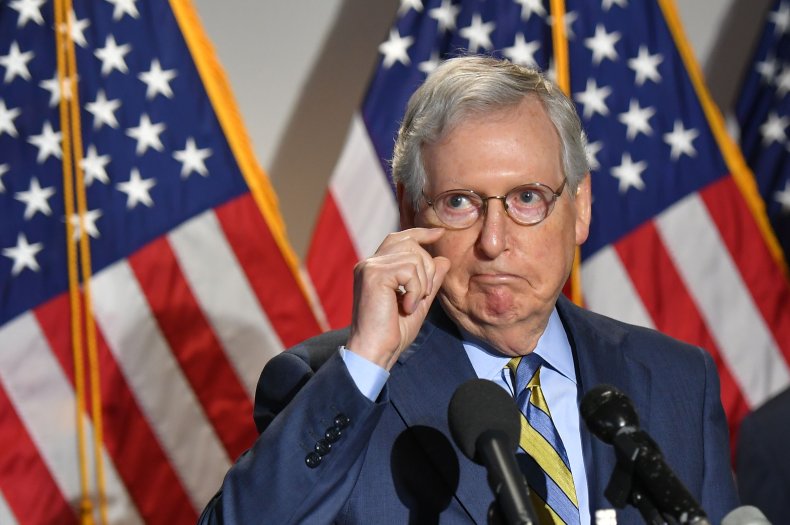 McConnell's rebuke came while talking with reporters at the Capitol on Tuesday afternoon. When asked by CNN correspondent Manu Raju about Greene's remarks, the Kentucky senator said it was out of his (and the Senate's) hands and "any punishment, I assume, would have to be administered by the House."
This is not the first time McConnell has spoken out against the fellow Republican In February, he said the Georgia congresswoman's "loony lies and conspiracies" were a "cancer for the Republican Party and our country."
Though Greene was not mentioned by name in that February statement, the senator referenced conspiracy theories she has pushed in the past, including about the September 11 attacks. After his comments were made public, Greene responded on Twitter. She wrote that "the real cancer for the Republican Party is weak Republicans who only know how to lose gracefully. This is why we are losing our country."
On Tuesday, McConnell also discussed anti-Semitism in the U.S. and around the world, which he termed "a big problem."
"I can tell you as the proud husband of an Asian American that we've addressed hate crimes against Asian Americans, and now we're seeing an outburst of anti-Semitism in our own country," said McConnell, whose wife is former Transportation Secretary Elaine Chao. "I mean, we're accustomed to seeing this around the world, but not in our own country."
The latest controversy around Greene concerns a series of tweets, in which she derides private businesses that impose vaccine mandates or drop mask requirements only for fully vaccinated people. One tweet on Tuesday read: "Vaccinated employees get a vaccination logo just like the Nazi's forced Jewish people to wear a gold star."
House Minority Leader Kevin McCarthy issued a statement on Tuesday that also condemned Greene's comments. It read, in part: "Marjorie is wrong, and her intentional decision to compare the horrors of the Holocaust to wearing masks is appalling. The Holocaust is the greatest atrocity committed in human history. The fact that this needs to be stated today is deeply troubling."
Rep. Steve Scalise of Louisiana, the No. 2 House Republican, also responded to Greene's comments. His spokesperson said in a written statement, "Rep. Scalise does not agree with these comments and condemns these comparisons to the Holocaust."
The newly elected No. 3 House Republican, Rep. Elise Stefanik of New York, responded to Greene's remarks without mentioning her by name. Stefanik tweeted on Tuesday: "Equating mask wearing and vaccines to the Holocaust belittles the most significant human atrocities ever committed. We must all work together to educate our fellow Americans on the unthinkable horrors of the Holocaust. #NeverAgain"
Newsweek contacted Greene's office for comment but did not hear back in time for publication.