Senate Majority Leader Mitch McConnell Has a Plan to Overturn Roe v. Wade
Senate Majority Leader Mitch McConnell outlined his efforts to stack the courts against Roe v. Wade in an interview with an anti-abortion rights video channel this week. The Kentucky Republican also indicated that the Senate would likely hold more voters this session on the fate of abortion in the U.S. including on "some kind of legislation related to Planned Parenthood."
The comments, made to EWTN Pro-Life Weekly, came after a number of state legislatures including Missouri, Alabama, Louisiana and Kentucky instituted near-abortion bans in an attempt to challenge the precedent set by Roe v. Wade in the Supreme Court.
In his interview Thursday, McConnell said that there had been "some encouraging decisions already in recent months related to state prohibitions against funding of Planned Parenthood." He continued that a number of judges who were confirmed to the bench under his watch will aid in bringing the case to the Supreme Court. "I've noticed how a lot of the judges that we have already confirmed just in the last two and a half years have voted in these cases," he said.
McConnell spoke with EWTN Pro-Life Weekly shortly after receiving Susan B. Anthony List's 2019 Distinguished Leader Award, which celebrates anti-abortion rights advocates.
McConnell said his "most important pro-life accomplishment" was the "ushering of judges through" and pointed specifically to his decision not to fill Justice Antonin Scalia's Supreme Court vacancy while Barack Obama was president. "That led to the opportunity for President Trump to make a selection," he said.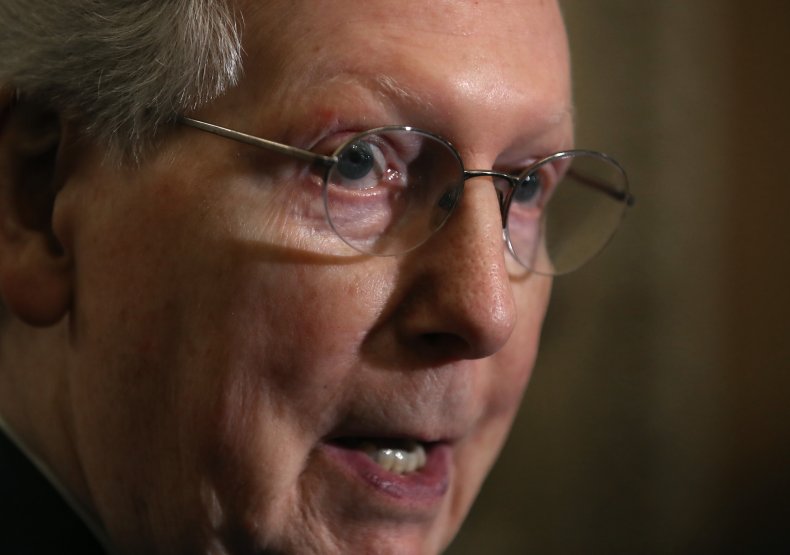 The circuit court judges and Supreme Court Justices that McConnell helped usher in, he said, would help end access to legal abortion because "a lot of the abortion-related decisions have been by activist judges who sort of followed their personal opinion." The judges he confirmed, he said, would not do that.
The anti-abortion access laws passed in a number of states recently will "be winding its way up through the courts," said McConnell. "That gives us an opportunity to begin to pick away at Roe v. Wade."
McConnell said that the Senate would likely have the opportunity to vote on something related to the funding of Planned Parenthood, and also possibly another vote on the Born-Alive Abortion Survivors Protection Act which would require any clinics to care for and try to revive any aborted fetuses "born alive" and prosecute anyone who did not do so. The Born-Alive bill failed to pass the Senate in February, with a final vote of 53-44.