Mitch McConnell Questions Why Jon Stewart Is 'Bent Out of Shape' Over 9/11 First Responders Health Care Bill
It's a war of words between Senate Majority Leader Mitch McConnell and comedian Jon Stewart as swap rhetoric around a bill which would continue funding healthcare and provide restitutions to 9/11 first responders.
On Monday, McConnell responded to jabs made by comedian Jon Stewart about his reluctance to get on board with a bill that would permanently fund healthcare for first responders affected by the toxic air they were exposed to in the aftermath of the 9/11 attacks.
Stewart said on Fox News Sunday: "I want to make it clear that this has never been dealt with compassionately by Senator McConnell. He has always held out to the very last minute, and only then, under intense lobbying and public shaming, has he even deigned to move on it."
The hosts of Fox & Friends asked McConnell earlier today about Stewart's comments, to which he said: "Well, many things in Congress happen at the last minute. We've never failed to address this issue. And we will address it again. I don't know why he's all bent out of shape."
Stewart told lawmakers during a visit to Congress last week that, "There is not a person here, there is not an empty chair on that stage, that didn't tweet out, 'Never forget the heroes of 9/11.' "Well, here they are! And where are they? Your indifference cost these men and women their most valuable commodity—time!"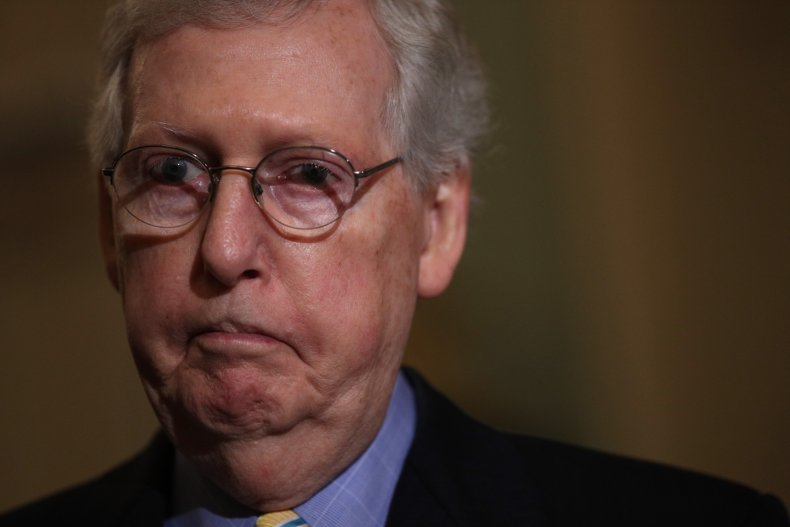 After Stewart's visit, the health care bill passed out of the House Judiciary Committee and will now go to a full floor vote in Congress, where it is expected to pass. But in the Republican-controlled Senate, there is not a veto-proof majority in favor of the bill. When asked about Stewart's visit, McConnell told reporters that he had always handled the bill with compassion in the past, prompting Stewart's retort.
McConnell said he believed the bill would pass the Senate.
It's estimated that more people have now died because of toxins breathed in at ground zero sites than did during the September 11 attacks. The Victim Compensation Fund was passed by Congress in 2011 to compensate those affected by toxins from the World Trade Center, Pentagon and Shanksville attacks and was renewed with additional funding in 2015.
In 2015, McConnell held the funding as political hostage because it was tied to negotiations of the long-term Highway Bill. McConnell reportedly wanted the bill to lift a ban on exports of U.S. oil and when they wasn't agreed to, he removed funding for the 9/11 bill as a negotiating tactic.

"I believe that Senator McConnell was using this as a negotiating position—give us something, we'll give you help for the 9/11 rescue workers," Senate Minority Whip Dick Durbin said to reporters at the time. "And in the end he was the one, Senator Schumer and Gillibrand ticked off every box of every potential opponent, Democrat, Republican, House and Senate, and it all came down to one box at the bottom: Mitch McConnell. He stopped it."
"So far, he has been an enormous obstacle, unwilling to move the bill forward for purely political reasons," Stewart said of McConnell in 2015. "He's not nice."