Mitch McConnell, Amy McGrath Make Final Case to Kentucky Voters as Polls Show Big GOP Lead
Senate Majority Leader Mitch McConnell (R-KY) made his final pitch to retain his seat at a rally in Kentucky last night, while Democratic challenger Amy McGrath also made the last stand of her longshot bid to oust him.
McConnell, leading in polls ahead of the vote, branded the election as the "most important" ever.
At a final campaign event, in which the crowd broke into cheers of "we want Mitch," he said: "I have a confession to make. I have said a couple of times in the past that I thought whatever election we were having that year was the most important one ever. I was wrong. This is the most important election ever."
He hit out at Democrats as a "hard-left, radical party looking down their noses at all of us in what they call flyover country," suggesting there were no moderates left within the party.
"So people that are running down America and people particularly on the coasts looking down at our country need to be defeated tomorrow," he said.
While McConnell went for the hard-left attack line used by many Republicans and President Donald Trump himself, his rival Amy McGrath pitched herself as being "not radical" in her final campaign event.
"I'm not radical, I'm somebody who is common sense. I want to make sure everyone has affordable, accessible healthcare and do it in a common-sense way," she said, WKYT reports, branding herself "an everyday Kentuckian like everybody else."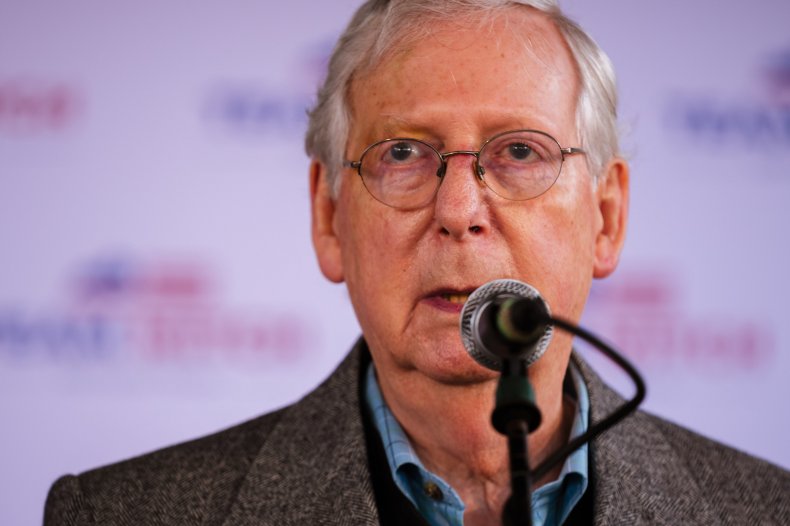 Hitting out at McConnell, she focused on his actions amid the COVID-19 pandemic. He faced criticism from Democrats over the delay in a further stimulus package being agreed.
"The leader of the Senate, even in the middle of a national crisis, is still playing politics," she said. "That's not what our country should be about. That's why I'm running."
McGrath has run a high-profile campaign against McConnell, beating him in fundraising by more than $30 million. Despite this, she trails in the polls with some results showing her lagging behind the Republican by a double figure margin.
Newsweek has contacted the McConnell and McGrath campaigns for comment.
While McConnell is ahead in the race, Trump is also leading Democratic presidential candidate Joe Biden in the state, with polling giving him a double-figure lead there.
Though McConnell looks to have a strong advantage in his race, the same cannot be said for all of the 23 Senate Republicans standing for re-election.
The Cook Political Report rates several of their races as toss-ups while some appear to be leaning Democrat.