Mitch McConnell Sparks Backlash Over 'Scorched-Earth Senate' Warning
Senate Minority Leader Mitch McConnell (R-KY) has been criticized after suggesting ditching the filibuster could create a "scorched-earth Senate," with adversaries taking issue with his past actions in the upper chamber.
McConnell has called for the legislative filibuster to be protected, welcoming some Democratic senators having voiced support for it—suggesting this will allow discussions for a power-sharing agreement to move forward.
Commenting on floor remarks he made on Tuesday, McConnell said: "I made clear that if Democrats ever attack the key Senate rules, it would drain the consent and comity out of the institution.
"A scorched-earth Senate would hardly be able to function. It wouldn't be a progressive's dream. It would be a nightmare."
His tweet ended: "I guarantee it."
His scorched earth comments echoed remarks he made on the Senate floor, defending the legislative filibuster.
McConnell's remarks swiftly drew criticism, with the confirmation of Amy Coney Barrett to the Supreme Court towards the end of President Donald Trump's tenure frequently mentioned. Barrett's appointment was pushed through close to Election Day, to the dismay of Democrats, despite Republicans having opposed former President Barack Obama's attempts to appoint Merrick Garland to the Supreme Court in the final year of his second term.
"You lost all credibility when you stole a Supreme Court seat," Rep. Ilhan Omar (D-MN) wrote, in response to McConnell's tweet.
"The filibuster is a Jim Crow relic. It represents everything wrong with Washington.
"Abolish it."
Zac Petkanas, a Democratic strategist and former adviser to Hillary Clinton, referred to past actions by McConnell as he questioned the minority leader's comments.
"Will you...refuse to hold a vote on a Supreme Court justice nominated by a Dem president?
"Or jam through a replacement to RBG days before an election?
"Or spend a week blocking Dems from taking control of the senate?
"Trembling about your threat of FUTURE scorched earth tactics," Petkanas tweeted.
Joyce Vance, a professor of the practice of law at the University of Alabama and former U.S. attorney for the Northern District of Alabama, branded McConnell's comments hypocritical.
Vance responded to his remarks on Twitter, writing: "Merrick Garland. Amy Coney Barrett. Stop being a hypocrite."
Scott Dworkin, co-founder of campaign group the Democratic Coalition, suggested the situation could not be made worse than when McConnell was in charge of the Senate as majority leader.
"Dude our nightmare was every day you've run the Senate. Nothing could be worse than that. I guarantee it," Dworkin tweeted.
In further comments to Newsweek, Dworkin added: "McConnell's empty and frivolous threats about 'scorched earth' don't scare us, especially since he has almost no power now. We've already been under McConnell's tyrannical rule while Trump was in the White House, and nothing could be worse than that."
Newsweek has contacted McConnell's office for a response to these comments.
McConnell welcomed the Democratic support over the filibuster as a victory, though a representative for Senate Majority Leader Chuck Schumer (D-NY) framed it more as a capitulation after he had asked for assurances it would be kept.
"We're glad Sen. McConnell threw in the towel and gave up on his ridiculous demand," Justin Goodman, a spokesman for Schumer, said in a previous statement.
In contrast, McConnell has said: "With these assurances, I look forward to moving ahead with a power-sharing agreement modeled on that precedent.
He added in a tweet: "With this win, we can move forward with a 50-50 power-sharing agreement built on the 2001 precedent."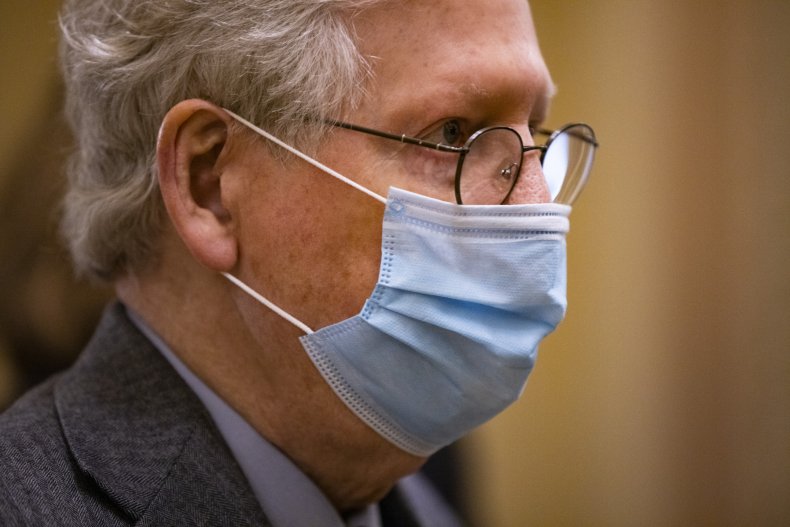 Update 01/27/2021: This page was updated with further comment from Scott Dworkin.