U.S. Senate Minority Leader Mitch McConnell on Tuesday called Russian President Vladimir Putin a "ruthless thug" who invaded Ukraine and "killed thousands of innocent people."
McConnell made the comments when he and other Senate Republican leaders addressed journalists in the Capitol ahead of U.S. President Joe Biden's State of the Union address. The senator, who has been the object of frequent derision from former President Donald Trump since the 2020 U.S. presidential election, was asked by a reporter about Trump recently calling Putin "very savvy" and describing the Russian leader's strategy towards Ukraine as "genius."
The Republican lawmaker, who represents Kentucky in the upper chamber of Congress, didn't hold back in giving his opinion on Putin.
"What President Putin is, is a ruthless thug who's just invaded another sovereign country and killed thousands of innocent people," McConnell replied. "That's what President Putin is."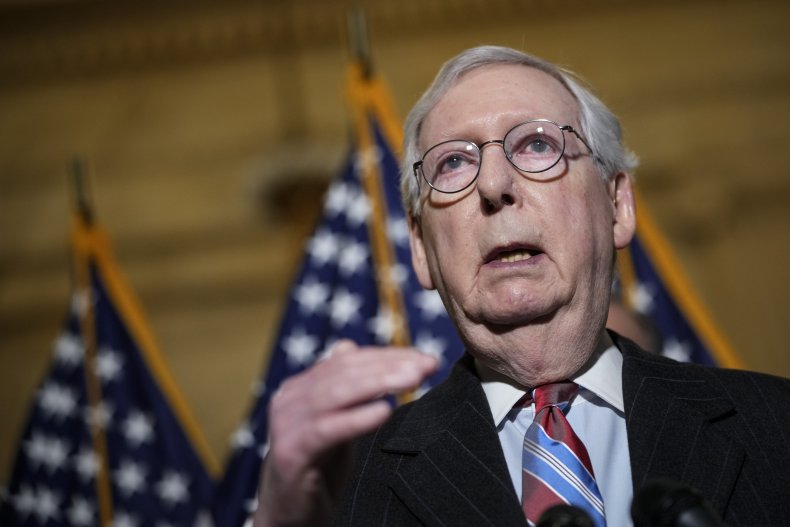 In his February 22 appearance on The Clay Travis & Buck Sexton Show, Trump told the radio hosts that the Russian invasion "never would have happened" if he had been reelected.
"You know what the response was from Biden?" he said. "He didn't have a response."
Trump called Putin "pretty savvy" with his military strategy, which the former president also categorized as "genius."
Trump has repeatedly criticized McConnell following the 2020 presidential election after the senator refused to accept Trump's false claims about voter fraud. In a February 9 statement, Trump referred to the Kentucky lawmaker as "Old Crow" and claimed he is "soft against what Republicans are about."
McConnell has largely refrained from criticizing Trump directly, but he has frequently condemned the Capitol riot from January 6, 2021, and dismissed claims of election fraud.
During his talk with reporters Tuesday, McConnell expressed support of Biden's policies on Ukraine after previously raising concern that the U.S. response was not enough to stop Putin. He also praised the "heroism" of the Ukrainian people and their "extraordinary president," Volodymyr Zelensky.
When asked about the rhetoric from other Republicans over Biden's response to the situation in Ukraine, McConnell said: "I think there's broad support for the president and what he's doing now."
He continued: "Our biggest complaint is, what took him so long? Much of this might have deterred any aggression in advance. But yes, we're all together behind the Ukrainian people."
McConnell also spoke approvingly of the international response to Putin's invasion, singling out the efforts made by Germany, Switzerland, Sweden and Finland.
"We're thrilled at the changes that have occurred in NATO," McConnell said. "And I think I've seen our country pretty unified. As a matter of fact, the whole world seems to be unified. Who would have thought we'd see demonstrations in the streets of Russian cities? And that takes some courage as well."
Newsweek contacted McConnell's office for further comment but did not hear back in time for publication.