Mitch McConnell Condemns Steve King's Racist Rhetoric, But Won't Comment on President Trump's 'Random' Race Remarks
Senate Majority Leader Mitch McConnell has condemned Representative Steve King's comments as racist, saying that they have "no place in the Republican Party, the Congress or the country." But when it comes to addressing President Donald Trump's racially tinged remarks, McConnell stays quiet.
Earlier this week, McConnell suggested King "find another line of work" after the Republican congressman defended his past comments on white nationalism and white supremacy. An interview published by The New York Times quoted King as wondering how those two terms became so "offensive."
"There is no place in the Republican Party, the Congress or the country for an ideology of racial supremacy of any kind," McConnell said. "I have no tolerance for such positions and those who espouse these views are not supporters of American ideals and freedoms. Representative King's statements are unwelcome and unworthy of his elected position."
Amid the backlash, King was relieved of his committee assignments by his fellow House Republicans. He also defended the use of those terms, even as GOP leaders rebuked him. King said in a statement that his comments were "completely mischaracterized" and slammed Republican leaders for making a "political" decision to condemn him.
The GOP's denunciation of King and his comments left some wondering why the party did not take the same approach when it came to President Trump's controversial language.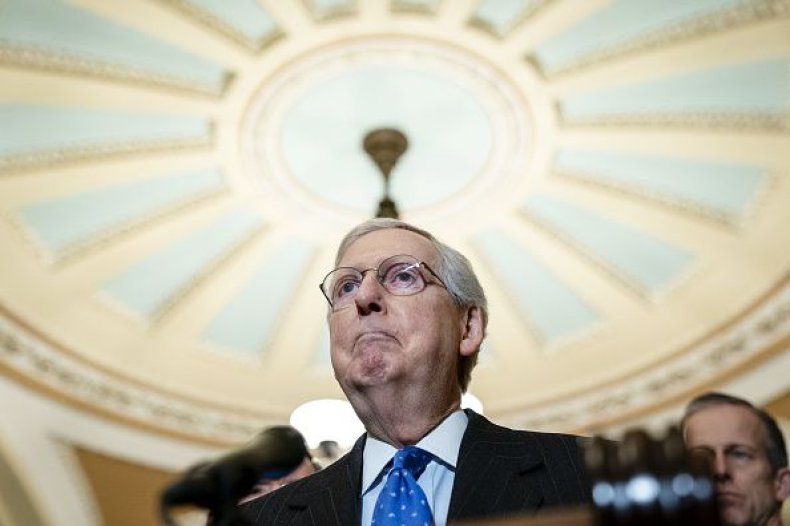 Trump, like King, has been accused of exacerbating the country's racial divisions and supporting white supremacists and nationalists. The most notable example was his refusal to condemn the white nationalists involved in 2017's deadly "Unite the Right" rally in Charlottesville, Virginia. Following the rally, which resulted in the death of 32-year-old Heather Heyer, Trump said there was blame to be placed "on both sides."
Trump was also criticized for declaring himsrlf a "nationalist" during a midterm campaign rally in October.
"We're not supposed to use that word. You know what I am? I'm a nationalist, OK? I'm a nationalist," Trump said during the event in Houston, prompting a cheer from the crowd.
But when asked by a reporter about the distinction between King's and Trump's rhetoric, McConnell said that he did not intend to remark on the president's comments.
"Look, it's been my practice for the last couple of years not to make sort of random observations of the president tweeting and other stuff. Congressman King clearly uttered words that are unacceptable in America," McConnell said.
When asked why he decided to finally rebuke King, who has a history of making racially charged remarks, McConnell told reporters that he had not "been following every utterance of Congressman King.
"But I certainly followed this one. And I think the House Republican Conference is right," McConnell said.