Mitch McConnell Cornered Over Stimulus Checks As Lawmakers Mount Pressure
Senate Majority Leader Mitch McConnell (R-KY) faces mounting pressure to facilitate stimulus checks being boosted to $2,000 after the House of Representatives passed a measure to increase the payments.
The House voted on the move on Monday, with it passing 275-134, and Senate Minority Leader Chuck Schumer (D-NY) has said he intends to move it forward in the Senate on Tuesday. In outlining this action, Schumer pinned its fate squarely on McConnell.
"There's strong support for these $2,000 emergency checks from every corner of the country," he said.
"Leader McConnell ought to make sure Senate Republicans do not stand in the way of helping to meet the needs of American workers and families who are crying out for help."
Sen. Bernie Sanders (I-VT) also upped pressure on McConnell, by threatening to block a move to override the president's veto of the defense funding bill unless a vote on the $2,000 checks is held.
"The House passed a $2,000 direct payment for working people. Now it's the Senate's turn," Sanders tweeted.
"If McConnell doesn't agree to an up or down vote to provide the working people of our country a $2,000 direct payment, Congress will not be going home for New Year's Eve. Let's do our job."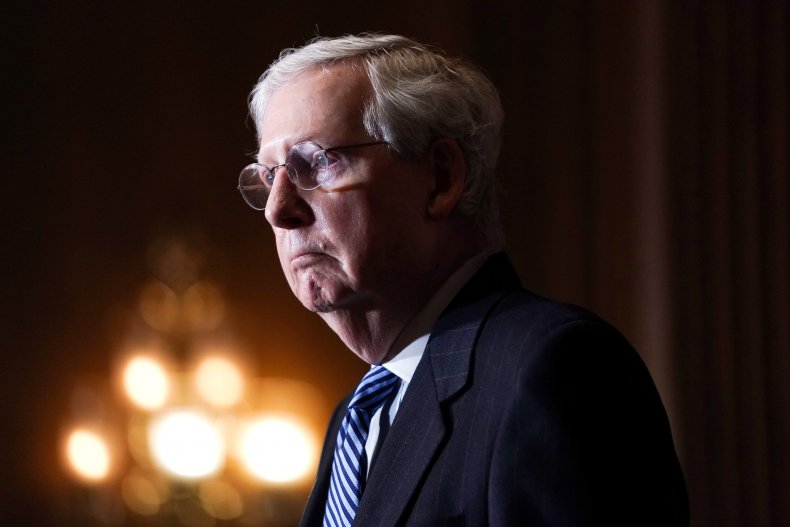 On top of this, further pressure has come from President Donald Trump to up the stimulus check spending.
"Give the people $2000, not $600," he tweeted, in response to details of Sanders' potential filibuster move. "They have suffered enough!"
House Speaker Nancy Pelosi (D-CA) referenced the president's support of the move as she pressed for the Senate to pass the measure.
"The House and the President are in agreement: we must deliver $2,000 checks to American families struggling this Holiday Season," she tweeted.
"The House just passed the #CASHAct—it's time for the Senate to do the same."
Despite this pressure, it remains unclear whether the CASH Act will pass in the Senate.
Republican opposition to higher spending was a key reason for the previous stalemate in agreeing bipartisan legislation and this may prove a hurdle once again.
McConnell has previously shown his willingness to hold up stimulus action, with the Democrats' HEROES Act and an updated version of that legislation both languishing in the Senate after passing the House.
He has also been willing to break rank with Trump of late, drawing the ire of the president for congratulating Joe Biden for his presidential election success.
Newsweek has contacted McConnell's office for comment on his stance on the move to boost the stimulus checks to $2,000.