Mitch McConnell Could Be on Collision Course With Trump on Path to Regain Senate Majority
Senate Minority Leader Mitch McConnell has acknowledged that he could be on a collision course with former President Donald Trump on his path to regain power and unity for the GOP.
With Trump gone and Democrats in control of both chambers, McConnell, the de facto leader of the Republican Party, faces the tough task of quelling the escalating GOP infighting to regain control of the Senate. And he knows that the path could lead him to a collision course with the former president and his loyal base.
On Saturday evening, McConnell told Politico that he would not hesitate to intervene if Trump endorses candidates—such as his daughter-in-law Lara Trump, whose name has been mentioned for a potential North Carolina Senate run—that will endanger the party's chances of recapturing a majority in the upper chamber.
"My goal is, in every way possible, to have nominees representing the Republican Party who can win in November," he said. "Some of them may be people the former president likes. Some of them may not be. The only thing I care about is electability."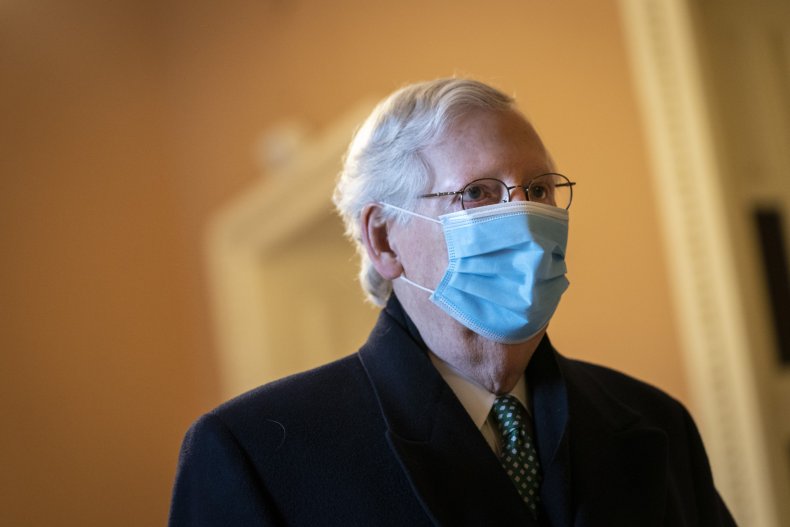 McConnell explained that he's not predicting that Trump-backed candidates would necessarily lack electability, but made clear he would wade into future primary races to help ensure the GOP regains control.
The Kentucky senator voted to acquit Trump on Saturday. Afterwards, he said during a scathing floor speech that the Senate did not endorse the former president's actions, arguing that the upper chamber's decision was due to the matter falling outside of their jurisdiction.
"There's no question, none, that President Trump is practically and morally responsible for provoking the events of the day," he said.
"The people who stormed this building believed they were acting on the wishes and instructions of their president. And having that belief was a foreseeable consequence of the growing crescendo of false statements, conspiracy theories, and reckless hyperbole which the defeated president kept shouting into the largest megaphone on planet Earth."
When asked by Politico, McConnell declined to reveal whether he would oppose a 2024 Trump run. "I'm focused on '22," he said.
The recently concluded impeachment proceedings and trial has further fueled the escalating GOP "civil war." Trump allies, including Representatives Matt Gaetz of Florida, Jim Jordan of Ohio and Andy Briggs of Arizona, have vowed to support primary challengers of House GOP members who crossed party lines to vote for impeachment.
The seven Republican senators who joined Democrats in voting to convict Trump—Susan Collins, Bill Cassidy, Pat Toomey, Mitt Romney, Richard Burr, Ben Sasse and Lisa Murkowski—have also faced backlash from conservatives and Trump loyalists.
Trump has left the White House with virtually no public platform, but his grip on the GOP is still evident in the latest group of Republican Senate candidates, including Josh Mandel.
"In Washington, I will pulverize the Uniparty—that cabal of Democrats and Republicans who sound the same and stand for nothing," said Mandel, as he announced his candidacy to replace Ohio Senator Rob Portman earlier this month.
"I'm all in to advance the America First Trump Agenda and to oust [Representative] Anthony Gonzalez!" he added in a follow up tweet.
Newsweek reached out to Trump representatives for comment. This story will be updated with any response.