Mitch McConnell Criticized for Calling Coronavirus Bill 'Urgent' Priority After Leaving D.C. for the Weekend
Senate Majority Leader Mitch McConnell is facing scrutiny over his decision to send senators home for the weekend as the House sought to finalize its coronavirus response bill to provide relief for families amid the outbreak.
On Sunday evening, McConnell tweeted a statement from his iPhone announcing that passing a coronavirus relief package would be an "urgent" priority for Senate this week.
Critics were quick to leap on the GOP senator, however, pointing out that while he had sent senators home for the weekend and reportedly returned to Kentucky himself, House representatives had been working to solidify the Families First CoronaVirus Response Act, passing the bill on Saturday.
The House passed the bipartisan relief package, which includes provisions for paid emergency leave for those affected by the COVID-19 outbreak, as well as free testing for those who need it, in the early hours of Saturday morning.
While the bill saw bipartisan support, with 363 Republicans and Democrats coming together to vote in favor of the measure, 40 GOP members voted against it and Independent Justin Amash voted "present."
In a statement, Senate Minority Leader Chuck Schumer said it was "remarkably irresponsible and out of touch for Sen. McConnell to send senators out of town in the middle of a public health crisis before the House passed this vital people-focused legislation."
According to The Washington Post, McConnell had already been absent from negotiations on the coronavirus response legislation on Friday, with the senator attending a judicial event in Kentucky with Supreme Court Justice Brett Kavanaugh that day.
Schumer was not the only one to take aim at McConnell, with a number of commentators hitting out at the Senate majority leader for his handling of the situation.
"Oh cool, you're back from your three day weekend? There's like a 1000 more cases than when you left," political commentator and MSNBC show host Chris Hayes said in a response to McConnell's Sunday tweet.
"Define 'urgent,' Mr. Weekender," MSNBC host Joy Reid weighed in.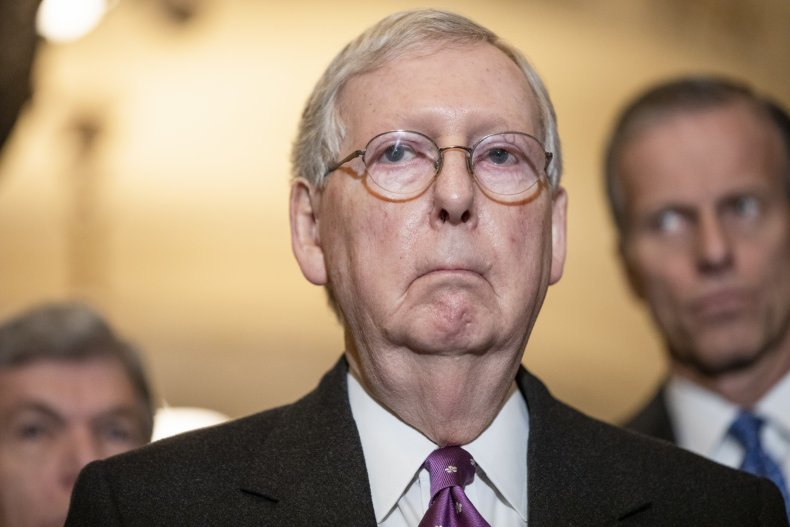 Republicans have defended the decision to send senators home for the weekend, however, with McConnell's own statement pointing out that the House had not yet finalized the coronavirus response bill when he made the decision on Friday.
"First, we still need to receive the final version of the House's coronavirus relief legislation," McConnell said.
"I know Senators on both sides are carefully reviewing the details and are eager to act swiftly to help American workers, families, and small businesses navigate this challenging time," he asserted.
Approached for comment by Newsweek, a spokesperson for McConnell provided a copy of the Senate majority leader's statement and stressed the fact that Senate has yet to receive the House bill on the Senate side.
Asked whether that would still have been the case had senators remained in D.C., the spokesperson did not immediately respond.
It is expected that the Families First CoronaVirus Response Act will be a priority for Senate on Monday, with President Donald Trump already voicing his support for the measure, paving the way for the bill to move forward.
Mitch McConnell Criticized for Calling Coronavirus Bill 'Urgent' Priority After Leaving D.C. for the Weekend | U.S.