Mitch McConnell Defends Family History by Invoking Barack Obama: 'We Both Are Descendants of Slave Owners'
Senate Majority Leader Mitch McConnell on Tuesday defended his ancestors who owned more than a dozen slaves around the time of the Civil War by comparing his ancestry and position on reparations to that of former President Barak Obama—the first black president of the United States.
"You know, I find myself looking at the same position as President Obama," the Kentucky Republican told reporters after Senate Republicans' weekly lunch meeting. "We both oppose reparations and we both are the descendants of slave owners."
McConnell's defense of his great-great-grandparents owning 14 slaves, who ranged in ages from 1 to 30 years old, was uncovered through county "Slave Schedules" from the 1850 and 1860 censuses that were obtained by NBC News. The majority leader's response showed that his position against reparations, which would mean descendants of those enslaved in America should receive some degree of economic compensation, remains unchanged, despite the topic recently being of focus before congressional committees.
McConnell did not say whether he was aware of his distant relatives owning slaves.
The issue of reparations was revisited by the House Judiciary Subcommittee on the Constitution, Civil Rights and Civil Liberties last month. The day before the June 19 hearing featuring prominent African American writers, scholars and activists, McConnell expanded on his opposition to reparations, explaining that America has even "elected an African American president."
"I don't think reparations for something that happened 150 years ago, when none of us currently living are responsible, is a good idea," McConnell told reporters. "We've tried to deal with our original sin of slavery by fighting a civil war, by passing landmark civil rights legislation. We've elected an African American president."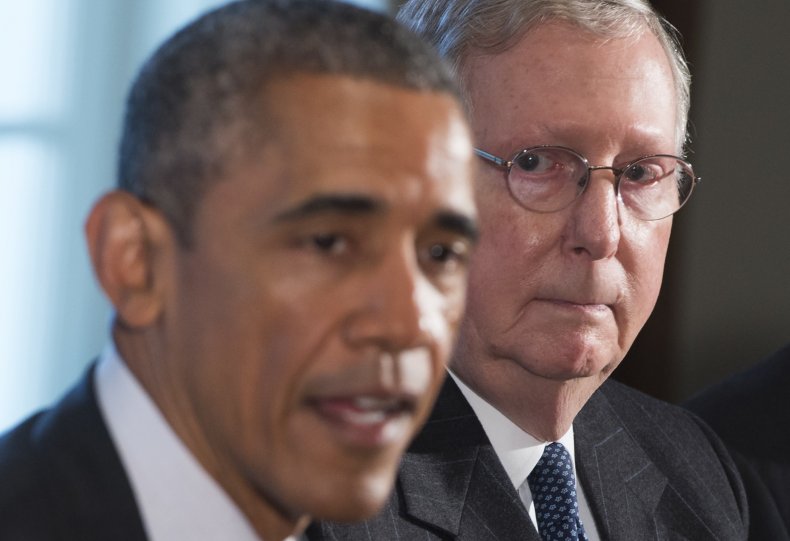 Leading up to the 2008 election, then-candidate Obama stated his opposition to reparations as something that would draw too much attention to the past and not enough toward investing in the future.
"I think the reparations we need right here in South Carolina is investment, for example, in our schools," he said during a July 2007 CNN Democratic primary debate.
He revisited the topic in an NAACP 2008 questionnaire posed to both him and his GOP opponent, the now late Senator John McCain of Arizona.
"I fear that reparations would be an excuse for some to say, 'we've paid our debt' and to avoid the much harder work of enforcing our anti-discrimination laws in employment and housing," Obama said in a written response. "[T]he much harder work of making sure that our schools are not separate and unequal; the much harder work of providing job training programs and rehabilitating young men coming out of prison every year; and the much harder work of lifting 37 million Americans of all races out of poverty."
He continued: "These challenges will not go away with reparations. So while I applaud and agree with the underlying sentiment of recognizing the continued legacy of slavery, I would prefer to focus on the issues that will directly address these problems – and building a consensus to do just that."
As McConnell stated, Obama reportedly has ancestors who also were slave owners. The ancestors of Obama's white mother, which would be Obama's great-great-great-great-grandfather, also owned slaves in Kentucky, according to amateur genealogical researcher William Reitwiesner and reported by The Guardian.