Mitch McConnell Blames Election Fraud That Benefited Republican on Democrats Not Tackling Negligible Voter Fraud
Following the announcement of a special election in North Carolina amid allegations of election fraud that benefited the GOP candidate, Senate Majority Leader Mitch McConnell attempted Tuesday to pin the blame on Democrats, accusing them of going "silent" and endeavoring to weaken election laws.
Mark Harris, the embattled North Carolina congressional candidate who faced allegations of election fraud, said Tuesday he will not run again in a new election. And House Democrats are in the midst of pushing a new initiative unveiled that same day, the Voting Rights Advancement Act, aimed at restoring a provision of the Voting Rights Act previously struck down by the Supreme Court.
The legislation would reinstate the requirement for states to seek federal approval when making changes to their voting systems, but the majority leader labeled the push as an attempt by Democrats to "erode the integrity of our elections even further."
"We were hit with left-wing talking points insisting that voter fraud wasn't real," McConnell said on the Senate floor. "Never happens, they said. Fraud just didn't happen, that modest efforts to ensure that voters are who they say they are and are voting in the proper place were really some sinister right-wing plot to prevent people from voting."
But the allegations of wrongdoing in the state are centered on election fraud—not voter fraud—as the GOP senator suggested. Stronger voter I.D. laws have been pushed by Republicans, who say they would increase the integrity of elections, while Democrats have opposed them, saying requiring such forms of I.D. disproportionally prevent Democratic and minority voters from casting ballots. Such voter I.D. laws would not have prevented the North Carolina election fraud from taking place. Studies have shown that examples of voter fraud are extremely rare in the United States.
"Now that an incident of very real voter fraud has become national news and the Republican candidate seems—seems—to have benefited, these long-standing Democratic talking points have been really quiet," McConnell said, speaking of North Carolina's 9th congressional district. "Haven't heard much lately from the Democrats about how fraud never happens. They've gone silent."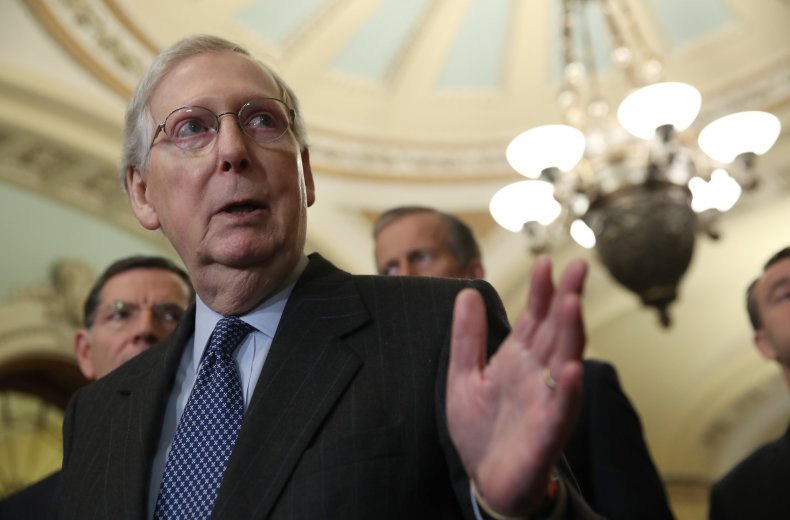 House Majorty Leader Steny Hoyer, a Democrat, suggested Republicans were trying to "weasel out" of the spot they've found themselves in by Harris not re-running.
"The GOP talks about fraud all the time," Hoyer told reporters. "Maybe they ought to be looking in their own eye, as the Bible tells us. Here, there is no doubt there was fraud."
State elections officials ordered the congressional district hold a special election after an investigation concluded a political operative of Harris conducted a "coordinated, unlawful, and substantially-resourced absentee ballot scheme." In the weeks and months following the 2018 election, voters came forward to say McCrae Dowless, the GOP operative hired by Harris, personally collected their absentee ballots, along with others that Dowless paid to help. In North Carolina and many other states, such an act known as "ballot harvesting" is illegal. Dowless and his associates also reportedly altered some ballots, including forging voter and witness signatures. Harris has denied he was aware of any wrongdoing, despite being previously warned about Dowless's controversial past.
The roughly 900-vote victory Harris had over his Democratic opponent, Dan McCready, was not enough for elections officials to certify the outcome amid the fraud allegations. Harris, who eventually advocated for another election, said due to his "health situation, the need to regain full strength and the timing of this surgery the last week of March, I have decided not to file in the new election for Congressional District 9."
McConnell knocked Democrats for their new voting rights legislation not addressing ballot harvesting, questioning their motives when it came to the practice alledgedly occurring in California during the 2018 midterms. Orange County GOP Party Chairman Fred Whitaker in an email last fall blamed the county flipping from red to blue on ballot harvesting of more than 250,000 vote-by-mail drop-offs. The practice is not illegal in California, and local officials told the San Francisco Chronicle they did not know how many ballots were turned in by third party people or groups and which party it benefitted.
"Harvest balloting has thrown out an election result in the U.S. House of Representatives. Legal in California, illegal in North Carolina," McConnell said. "So, maybe that helps explain why the voter protection act contains no effort whatsoever to crackdown on ballot harvesting."