Senate Minority Leader Mitch McConnell is not supportive of former President Donald Trump's idea of pardoning those who have been found guilty in connection to the January 6 riot at the United States Capitol.
When asked Tuesday about Trump possibly running again and then granting the rioters legal reprieves, McConnell broke away from the former president, according to The Hill. "My view is: I would not be in favor of shortening any of the sentences for any of the people who pleaded guilty to crimes."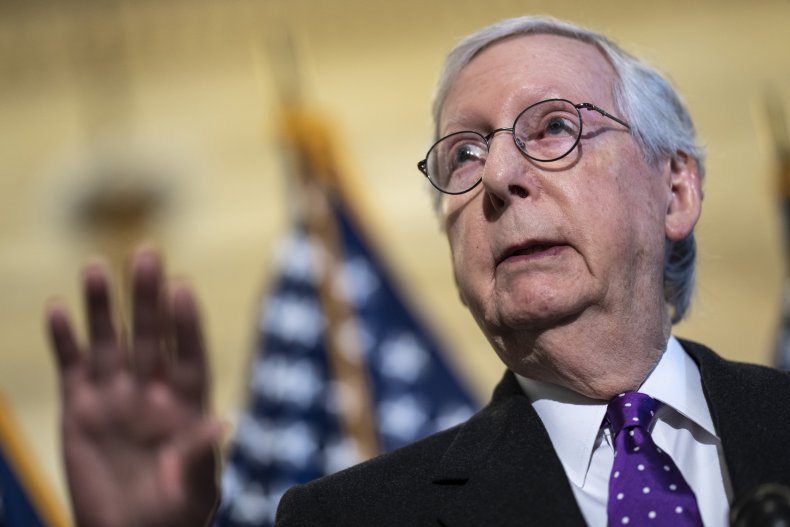 During a rally in Texas over the weekend, Trump said, as he once again, teased another presidential campaign, that, if he were to become the 47th president of the United States, he would provide pardons.
"If I run and if I win, we will treat those people from January 6 fairly. We will treat them fairly. "And if it requires pardons, we will give them pardons. Because they are being treated so unfairly."
Also over the weekend, Trump put out a statement in which he stated that former Vice President Mike Pence did have the authority to change the results of the 2020 election but that "he didn't exercise that power." Trump, in his Sunday evening statement, also mentioned, for the first time, that he, in fact, wanted Pence to have "overturned the Election" on January 6.
On Tuesday, McConnell told reporters what happened on January 6 as something not seen in the history of the United States. "What we saw here on January the 6th was an effort to prevent the peaceful transfer of power from one administration to another, which had never happened before in our country."
Despite the efforts of the rioters to disrupt the proceedings at the Capitol, McConnell says that the election had already been decided and was final prior to January 6.
"Well, I can speak for myself, the election of 2020 was decided December the 14th of 2020 when the Electoral College certified the winner of the election."
Prior to McConnell's comments on Tuesday, Trump's spokesperson released a statement in which the former president referred to those lawmakers on the House Select Committee investigating the Capital riot "traitors." Trump also said the committee should be investigating Speaker of the House Nancy Pelosi and Pence.
"Therefore, the Unselect Committee should be investigating why Nancy Pelosi did such a poor job of overseeing security and why Mike Pence did not send back the votes for recertification or approval, in that it has now been shown that he clearly had the right to do so!"
Newsweek reached out to Trump's spokesperson for comment but did not hear back in time for publication.