Mitch McConnell Doesn't Want to Escalate Feud After Trump Called Him 'Stone Cold Loser'
Senate Minority Leader Mitch McConnell of Kentucky chose not to escalate tensions between himself and former President Donald Trump when asked about Trump's recent insults towards him.
Trump called McConnell a "dumb son of a bitch" and a "stone-cold loser" during an April 10 speech to the Republican National Committee (RNC) at his Mar-a-Lago resort in Palm Beach, Florida. He made the comments while accusing McConnell of not adequately defend him during Trump's second impeachment trial in February.
When asked about Trump's name-calling on Tuesday, McConnell responded, "What I'm concentrating on is the future."
"What we are confronted with here is a totally left-wing administration with a slight majority in the House, a 50-50 Senate, trying to transform America into something no one voted for last year," McConnell continued.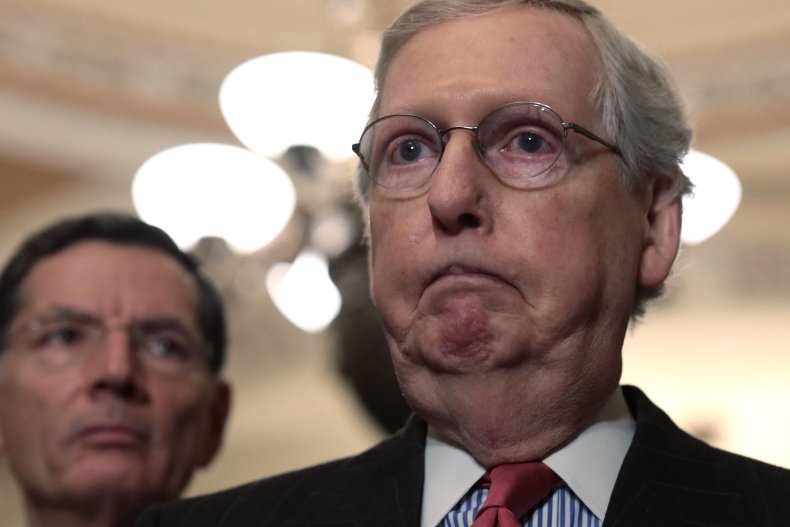 During Trump's speech to the RNC, Trump said that he helped McConnell win re-election in Kentucky. He also mocked McConnell's wife, Elaine Chao, for resigning as Trump's transportation secretary in response to Trump's alleged role in inciting the deadly January 6 Capitol riot.
"I hired his wife. Did he ever say thank you?" Trump told the RNC. He then sarcastically commented that Chao had "suffered so greatly" because of the riot.
McConnell wasn't present during Trump's speech. He hasn't spoken with Trump in months and has told advisers that he plans to never speak to him again, according to The Washington Post. Trump has said he has no interest in speaking to McConnell either.
Trump's insults against McConnell gained him criticism from Illinois Republican Congressman Adam Kinzinger.
"Classy as always," Kinzinger wrote in a Saturday night tweet. "I remember when my fellow Republicans would have condemned this stuff but, that was a whole 4 years ago."
Arkansas Republican Governor Asa Hutchinson also criticized Trump for insulting McConnell.
"Anything that's divisive is a concern and it is not helpful for us fighting the battles in Washington and at the state level," Hutchinson told CNN's State of the Union on April 11. "In some ways, it's not a big deal what he said. But at the same time, whenever it draws attention, we don't need that."
"We need unity," Hutchinson continued. "We need to be focused together. We have slim majorities or slim numbers in Washington and we got battles to fight, so we need to get beyond that."
The weekend speech marked Trump's latest insults towards McConnell.
McConnell didn't vote in favor of Trump's second impeachment trial in the Senate. But he did say that Trump was "practically and morally responsible for provoking" the Capitol riot. In response, Trump called him a "dour, sullen and unsmiling political hack."
Newsweek contacted McConnell's office for comment.